January 11, 2016
Peanut Butter Chocolate Chip Crunch Cookies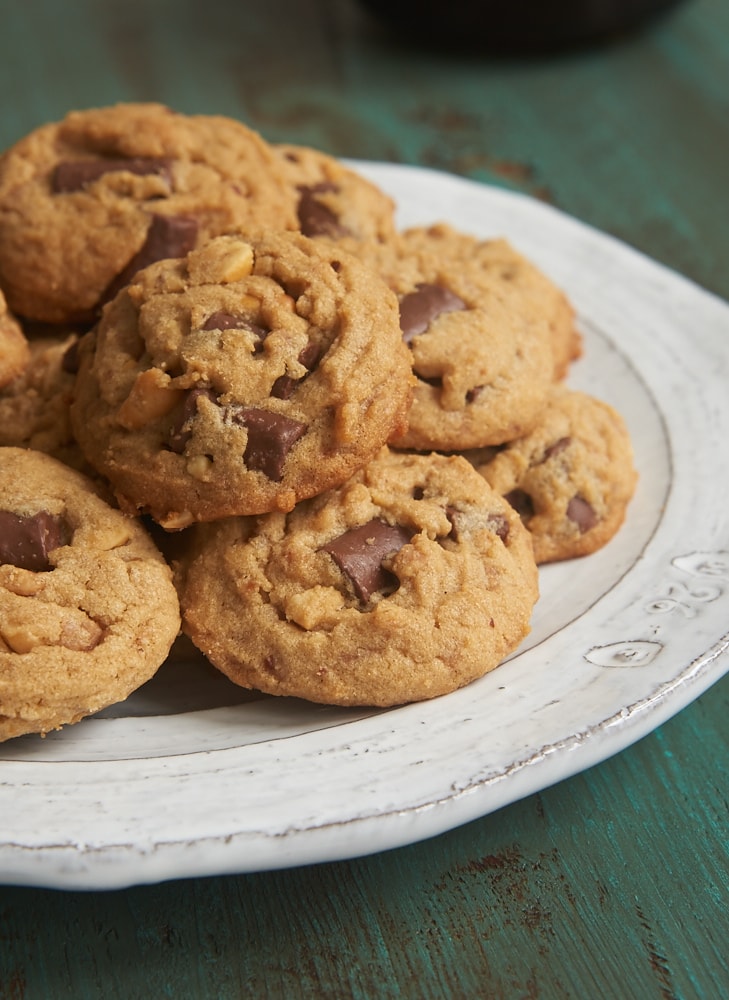 Simple flavors are great, but sometimes you just want a little more. Something with lots of flavors that are so, so good together. Something with a little bit of crunch, perhaps. Something like these Peanut Butter Chocolate Chip Crunch Cookies!
These beauties start out as a traditional peanut butter cookies made with crunchy peanut butter for even more peanut flavor. Then come the chocolate chips, because what goes better with peanut butter than chocolate? Toffee bits join the party and bring their signature crunch and flavor. The result is a fantastic, irresistible cookie that instantly became a new favorite around here.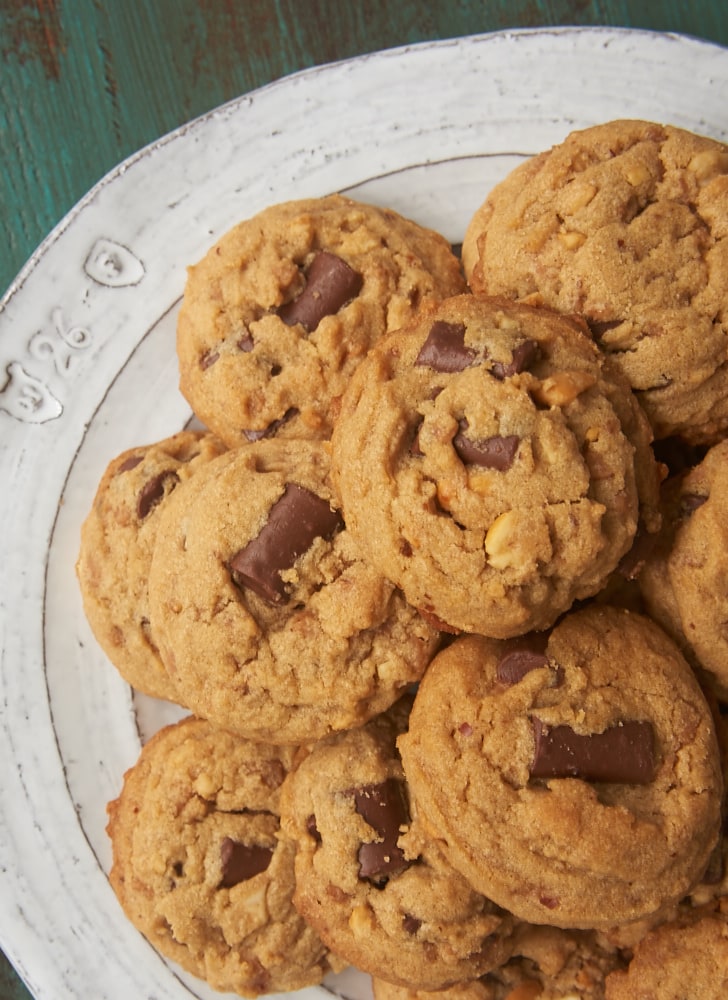 You can tell by all the cookies recipes here at BoB that I love to bake batches and batches of them. I've made all kinds of cookies, but I think my favorites are the kinds that are just big celebrations of my favorite flavors. And peanut butter and chocolate rank pretty high on my list of favorites. But what I think makes these really shine is the added crunch from the peanuts and toffee.
I tend to give away the vast majority of the things that I bake. But sometimes there are things that we just can't stand to see go. We kept a bunch of these irresistible cookies for ourselves and enjoyed snacking on them while Quinn took some time off from work. Luckily, this recipe makes a big batch so you can share some with your friends and still have plenty for yourself!
Peanut Butter Chocolate Chip Crunch Cookies
Yield: about 48 cookies
Prep Time: 20 minutes
Cook Time: 15 minutes per pan
Peanut Butter Chocolate Chip Crunch Cookies take the classic peanut butter and chocolate flavor combination and add some crunch with peanuts and toffee.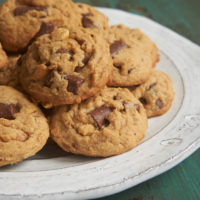 Ingredients:
1 & 1/4 cups all-purpose flour
1/2 teaspoon baking powder
1/2 teaspoon baking soda
1/4 teaspoon salt
1/2 cup unsalted butter, softened
1/2 cup granulated sugar
1/2 cup firmly packed light brown sugar
1 large egg
1 teaspoon vanilla extract
1 cup crunchy peanut butter
1 cup semisweet chocolate chips
1/2 cup toffee bits
Directions:
Preheat oven to 350°F. Line baking sheets with parchment paper or silicone liners.
Whisk together the flour, baking powder, baking soda, and salt. Set aside.
Using an electric mixer on medium speed, beat the butter, sugar, and brown sugar until light and fluffy. Add the egg and vanilla, and mix well. Mix in the peanut butter.
Reduce the mixer speed to low. Gradually add the flour mixture, mixing just until combined. Stir in the chocolate chips and toffee bits.
Drop the dough by tablespoonfuls onto the prepared pans. Bake 12 to 15 minutes, or until lightly browned. Cool on the pan for 5 minutes. Then transfer the cookies to a wire rack to cool completely.