November 17, 2014
Cranberry Cheesecake Pie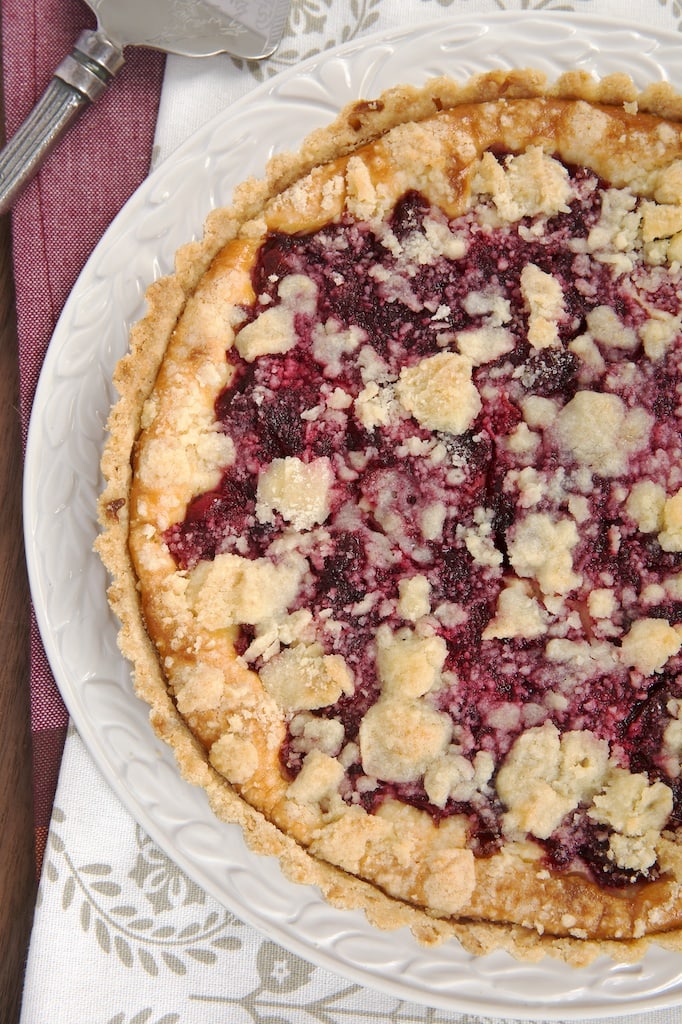 I've never been a big fan of cranberry sauce with my Thanksgiving turkey. I know that puts me in the minority, but it's just not my thing. That's, of course, not to say that I don't enjoy cranberries and cranberry sauce in other ways. And those ways mostly involve dessert.
This particular cranberry dessert is a new favorite for us. It is a fabulous pie-cheesecake hybrid that features that great sweet/tart cranberry flavor in a big way. It's smooth, cool, creamy, and absolutely delicious.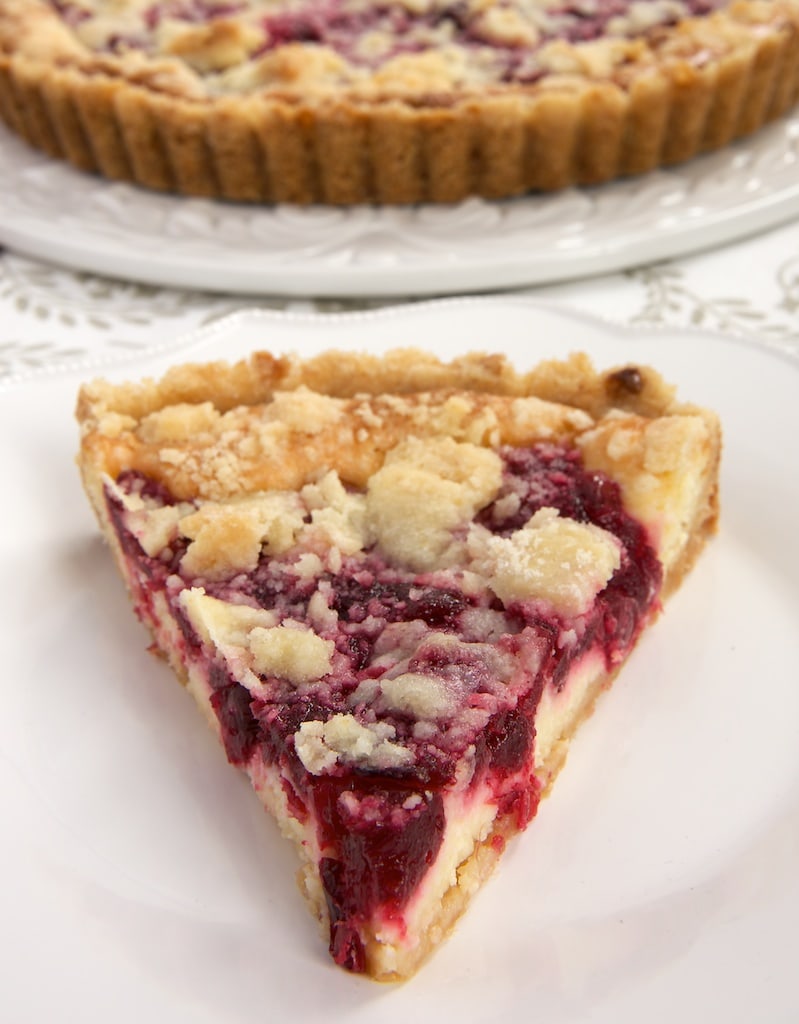 There are so many layers going on here. And if you have followed me for a while, you know that makes me so very happy, as I just adore layered desserts. This one starts with a simple buttery crust. That's followed by a thin layer of cheesecake. Then the cranberry sauce shows up for the party. And it's all topped with a crumb made from part of the crust mixture. It's really beautiful in its rustic way.
Let's have some real talk for a minute. The cranberry filling is essentially a homemade cranberry sauce. If you want to skip that step, you can always use your favorite store-bought cranberry sauce. Or, use your favorite homemade variety. Either is fine as long as you feel it will convey well to dessert.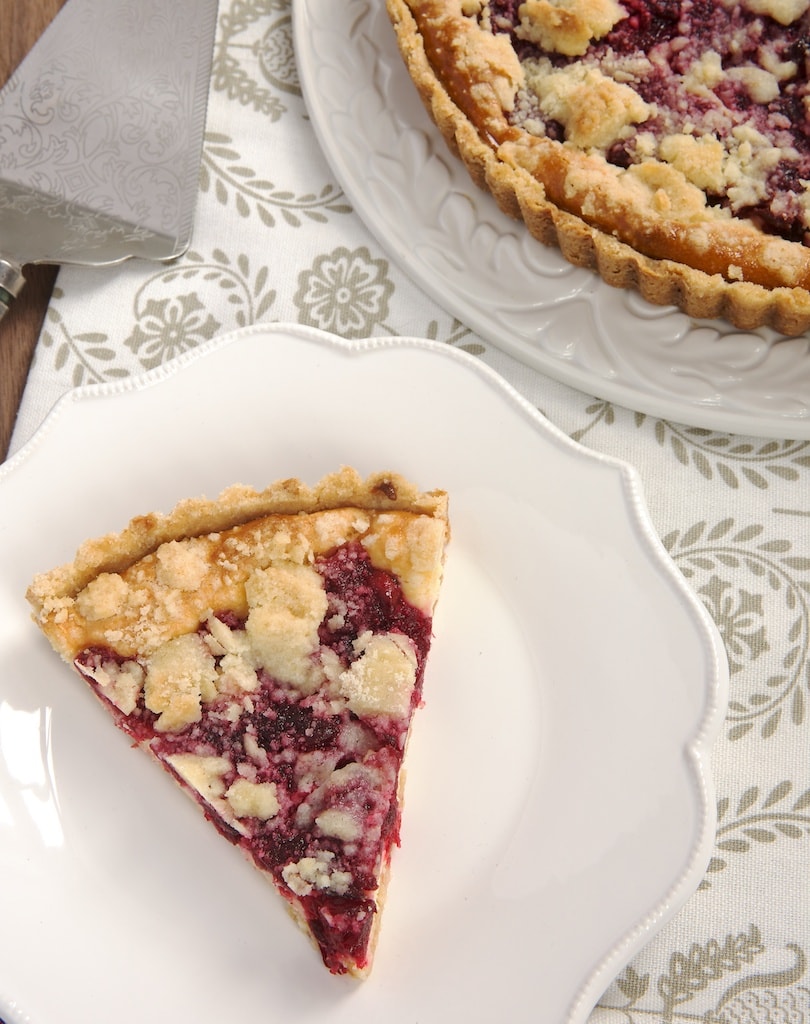 This Cranberry Cheesecake Pie is a great addition to your Thanksgiving dessert table. If you're looking for even more Thanksgiving dessert ideas, be sure to see my Best Thanksgiving Pies and Best Thanksgiving Desserts.
Love cranberries? Find more cranberry recipes by clicking here.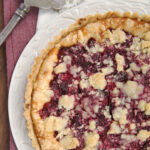 Ingredients
For the cranberry filling:

8 ounces cranberries
6 tablespoons granulated sugar
1/2 teaspoon lemon zest
1 teaspoon lemon juice
1/2 cup water

For the crust and crumb topping:

1 1/4 cups all-purpose flour
1/2 cup granulated sugar
1/2 teaspoon baking powder
1/4 teaspoon salt
1/2 cup unsalted butter, cold and cut into 1/2-inch cubes

For the cheesecake:

8 ounces cream cheese, softened
1/2 cup granulated sugar
1 large egg
1 teaspoon vanilla extract
Instructions
To make the cranberry filling:
Combine cranberries, sugar, zest, juice and water in a heavy saucepan. Bring to boil over medium-high heat. Then, decrease heat to medium-low and simmer for 10 minutes or until cranberries are soft. Set aside to cool.
To make the crust:
Preheat oven to 350°F.
Whisk together flour, sugar, baking powder and salt. Add butter and mix with pastry blender or fork until mixture is crumbly and holds together when pinched. Set aside 1/2 cup of mixture.
Transfer remaining crust mixture to 9-inch pie or tart pan. Press crust firmly and evenly into pan. Bake for 10 minutes. Then, set aside to cool slightly.
To make cheesecake filling:
Place cream cheese and sugar in large mixing bowl. Using electric mixer on medium speed, beat until light and fluffy. Add egg and vanilla, and mix until combined and smooth. Pour cheesecake filling over slightly cooled crust. Spread evenly.
Drop cranberry mixture by teaspoonfuls over cheesecake filling, leaving about 1/2-inch border around edges.
Crumble remaining crust mixture over top of cranberries.
Bake 30 to 35 minutes, or until edges are golden brown and cheesecake filling is set.
Cover and refrigerate for at least 2 hours before serving. Keep refrigerated.
http://www.bakeorbreak.com/2014/11/cranberry-cheesecake-pie/
Copyright 2016 Bake or Break
This recipe was originally developed in my continuing collaboration with Go Bold with Butter, where I am a paid contributor.
This post contains affiliate links.