August 23, 2014
Blueberry Bread Pudding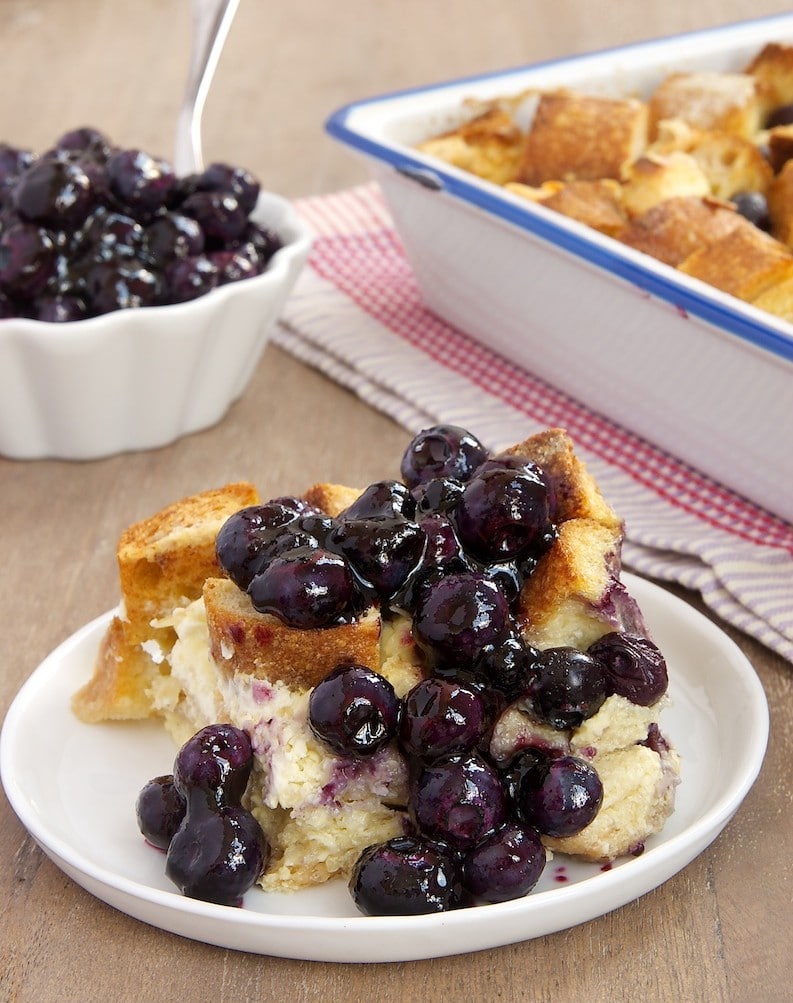 As the days of summer are dwindling, I'm trying to squeeze in as many summer fruit recipes as I can. I found myself with an abundance of blueberries after a grocery ordering blunder. I ended up with twice as many as I meant to get. But hey, if that's an occasional consequence of ordering groceries for delivery, I'm okay with that.
Knowing I needed a way to use up a bunch of those blueberries, I started brainstorming some baking ideas. I happened to remember finding a recipe for Blueberry Bread Pudding that used lots and lots of fresh berries in the pudding as well as in a sauce. Also knowing how much I love bread pudding, I knew it was meant to be.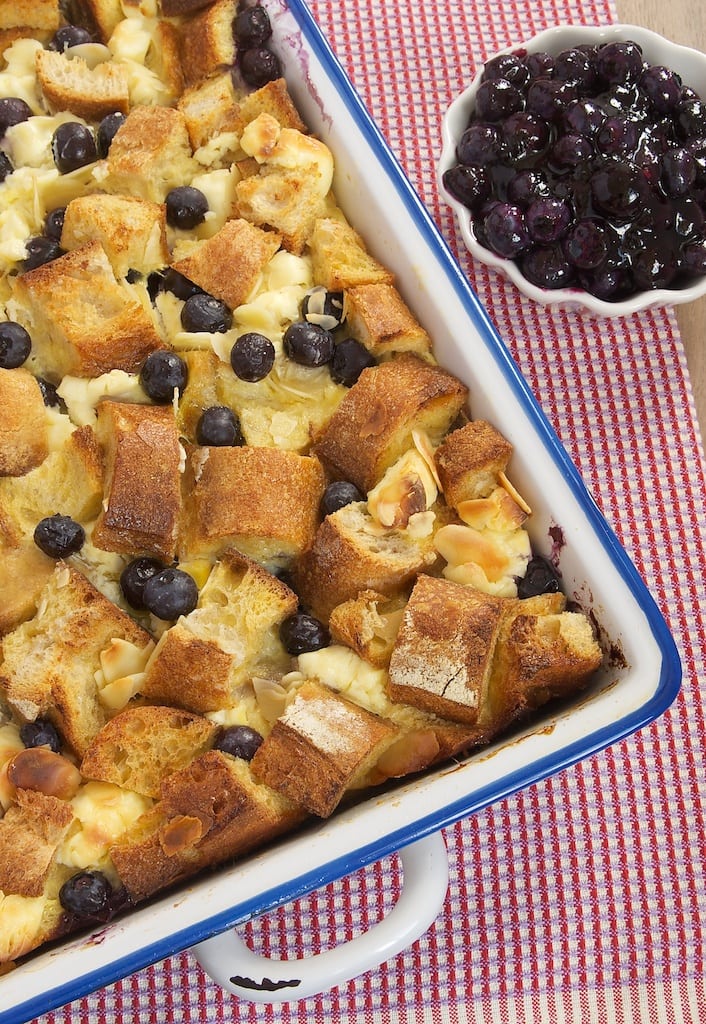 This bread pudding has so much going for it besides all those blueberries. Most notably is cream cheese. I adore blueberries and cream cheese together, and that combination doesn't disappoint here. The cream cheese adds just a bit of flavor to complement all those sweet berries.
I really like that this isn't overly sweet. Instead, it lets all those fresh berries be the predominant flavor. Everything else just serves to enhance that flavor.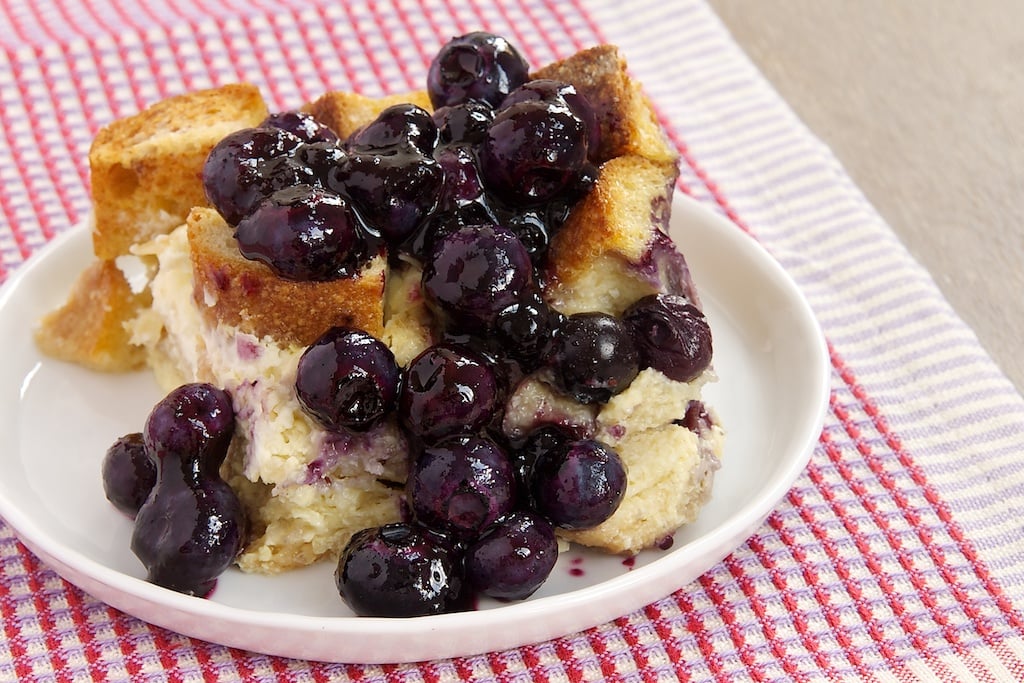 The original recipe included some maple syrup, but I opted to go with a bit of vanilla and lemon instead to make it dessert-worthy as well as brunch-worthy. If you're serving this for breakfast, you might want to skip the lemon and add the maple syrup or just drizzle a bit on top along with the blueberry sauce.
This is a great recipe for prepping ahead of time, making it an even better choice for a special breakfast or brunch. Once assembled, it will need to chill for at least 8 hours, so you can easily put it together the day before you want to serve it and then just pop it in the oven for a warm, freshly baked treat.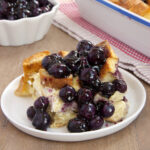 Ingredients
For the bread pudding:

16 ounce French bread loaf, cut into cubes
8 ounces cream cheese, cut into small pieces*
1 cup blueberries
6 large eggs
4 cups milk
1/2 cup granulated sugar
1/4 cup unsalted butter, melted
2 teaspoons vanilla extract
1 teaspoon fresh lemon juice
1/3 cup sliced almonds

For the sauce:

2 cups blueberries
10 ounces blueberry preserves
Instructions
To make the bread pudding:
Lightly grease a 9"x 13" baking pan.
Place about half of the bread cubes in pan. Place cream cheese and 1 cup blueberries evenly over the bread. Top with remaining bread.
Whisk together eggs, milk, sugar, butter, vanilla, and lemon juice. Pour over bread mixture. Press bread down into egg mixture as needed. Sprinkle with almonds.
Cover and chill 8 hours.
Preheat oven to 350°.
Bake covered for 40 minutes. Then, uncover and bake 30 minutes or until set and lightly browned.
Let bread pudding stand for 5 minutes before serving.
To make the sauce:
Place remaining blueberries and preserves in a saucepan and stir to combine. Cook over low heat until warm.
Serve bread pudding with warm blueberry sauce.
Notes
*The smaller you can cut the cream cheese, the better. You want to get a little cream cheese in every bite!
Recipe adapted from Southern Living.
http://www.bakeorbreak.com/2014/08/blueberry-bread-pudding/
Copyright 2016 Bake or Break