May 19, 2014
Oatmeal Brownie Bars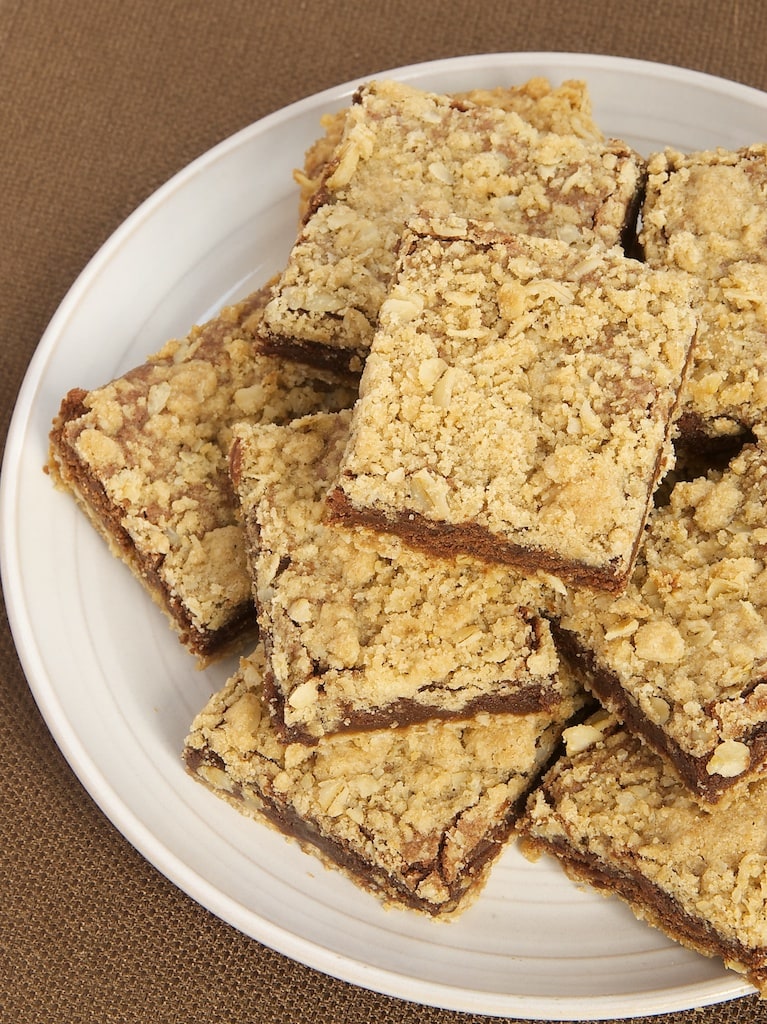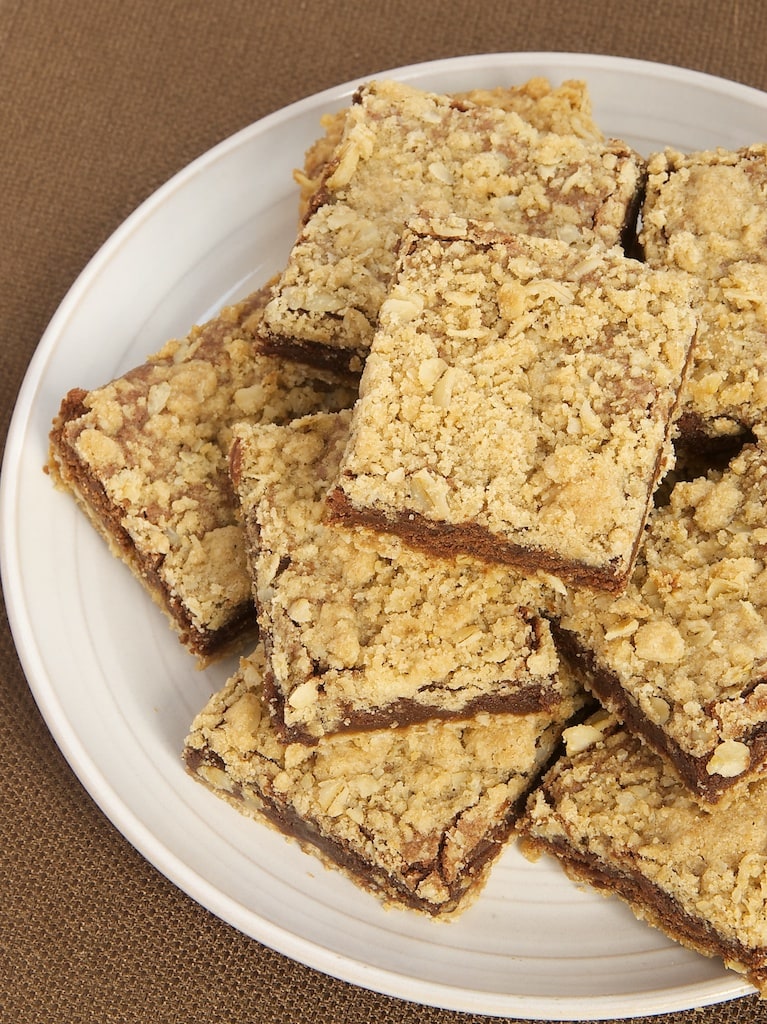 The pages of BoB are filled with lots and lots of recipes for brownies and bars. But, how about a combination of the two? Who's with me?
The premise is simple enough. Mix up a buttery oat bar, layer it with brownie batter, and then add a bit more of the oat bar on top. You get the best of both worlds, the chewy, crunchy oat bar along with the rich, chocolate-y brownie. This is a win-win, people!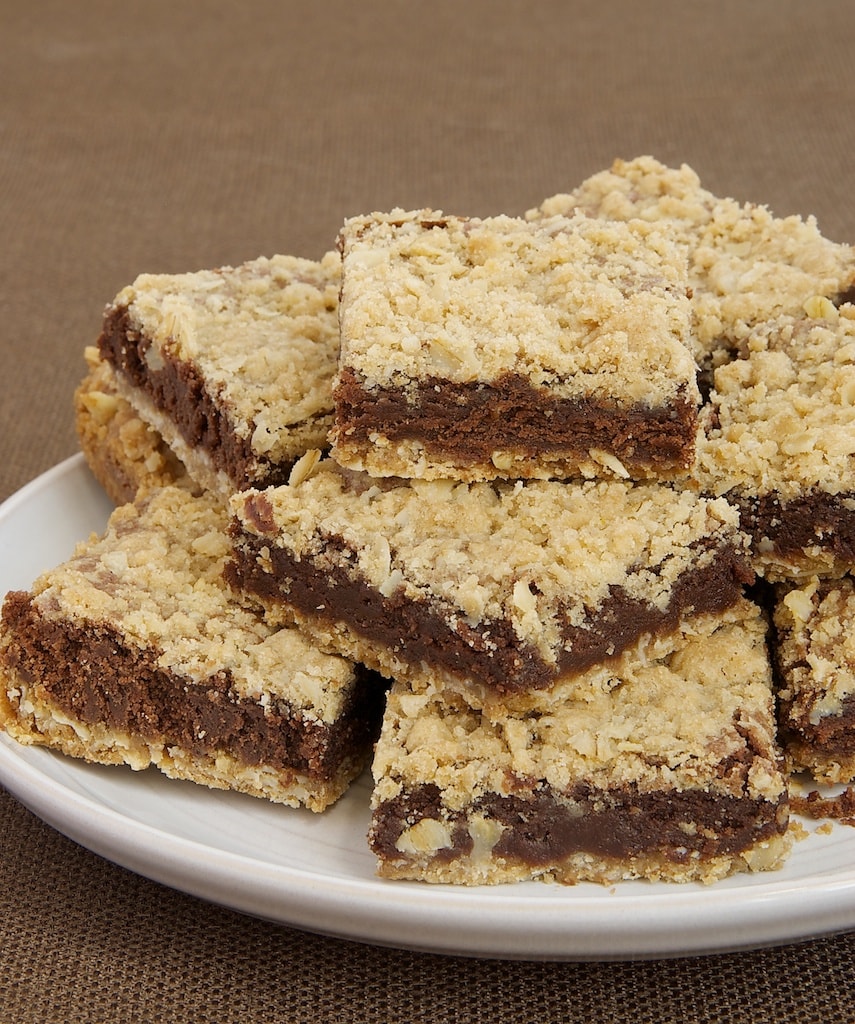 The recipe itself holds no surprises. If you can make brownies and oat bars, then it will all seem quite familiar to you. This is a great case of the sum being greater than its parts. While I love oat bars and brownies, somehow this combination is magical.
These are sure to be a great crowd-pleaser. Perfect for all those upcoming outdoor gatherings!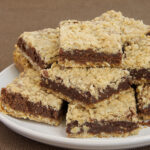 Ingredients
For the oat layer:

1 & 1/4 cups all-purpose flour
1 cup rolled oats
1 cup packed light brown sugar
1/2 teaspoon baking soda
1/4 teaspoon salt*
2/3 cup unsalted butter, cold, cut into 1/2-inch cubes

For the brownie layer:

1/3 cup unsalted butter
3 ounces unsweetened chocolate, coarsely chopped
1 cup all-purpose flour
1/2 teaspoon baking powder
1/4 teaspoon salt
1 & 1/4 cups granulated sugar
2 large eggs
2 tablespoons water
1 teaspoon vanilla extract
Instructions
To make the oat layer:
Preheat oven to 350°. Grease a 9"x 13" baking pan.
Combine flour, oats, brown sugar, baking soda, and salt. Add butter and cut into the mixture with a pastry blender or a fork until the mixture resembles coarse crumbs.
Reserve 1 & 1/4 cups oat mixture.
Press remaining mixture into the bottom of prepared pan.
Bake 10 minutes. Set pan on a wire rack while you prepare the brownie layer.
To make the brownie layer:
Place butter and chocolate in a microwave-safe bowl. Heat at half power in microwave in 30-second increments until butter melts and chocolate melts when stirred. Sitr until smooth. Set aside to cool slightly.
Whisk together flour, baking powder, and salt. Set aside.
Using an electric mixer on medium speed, combine sugar, eggs, water, and vanilla until thoroughly mixed. Add chocolate/butter mixture, and continue beating until combined.
Reduce mixer speed to low. Add flour mixture and mix until combined.
Spread brownie batter evenly over partially baked oat layer.
Sprinkle reserved oat mixture over the top of the brownie layer.
Bake 18 to 20 minutes or until edges are set. Cool completely before cutting into bars.
Notes
*If you're a sweet and salty fan, I highly recommend adding more salt to the oat layer. Try 1/2 teaspoon of salt to give these a lovely salty bite.
Recipe slightly adapted from Land O'Lakes.
http://www.bakeorbreak.com/2014/05/oatmeal-brownie-bars/
Copyright 2016 Bake or Break