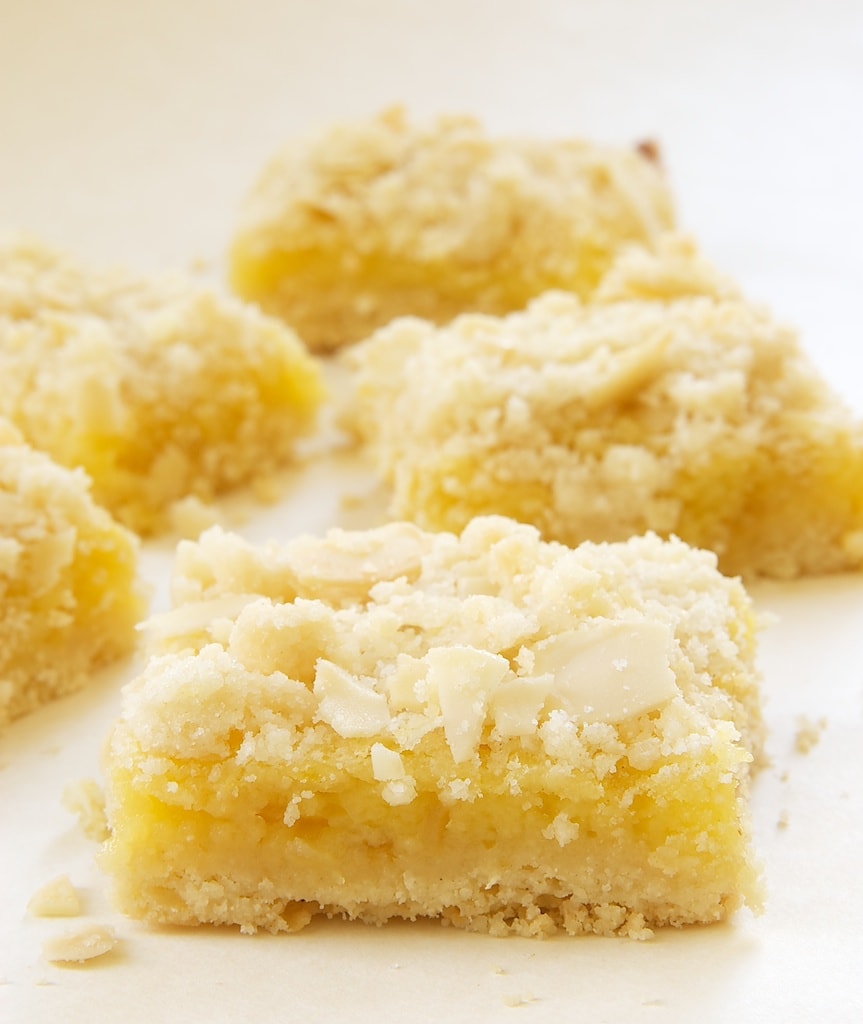 Lemon bars have never been a favorite for me. That may seem odd to read that underneath a photo of lemon bars, but it's nonetheless true. Most of the ones I've tried have been a bit too sweet and lemon-y for me.
I should say that my tastes have changed a bit over the years. I used to shun most citrus desserts, but I've come to like them far more. Still, lemons and limes and oranges and such aren't the first things I consider when it's time to bake.
However, I have now met these wonderfully delicious lemon bars, and I would gladly take one of these any time for dessert.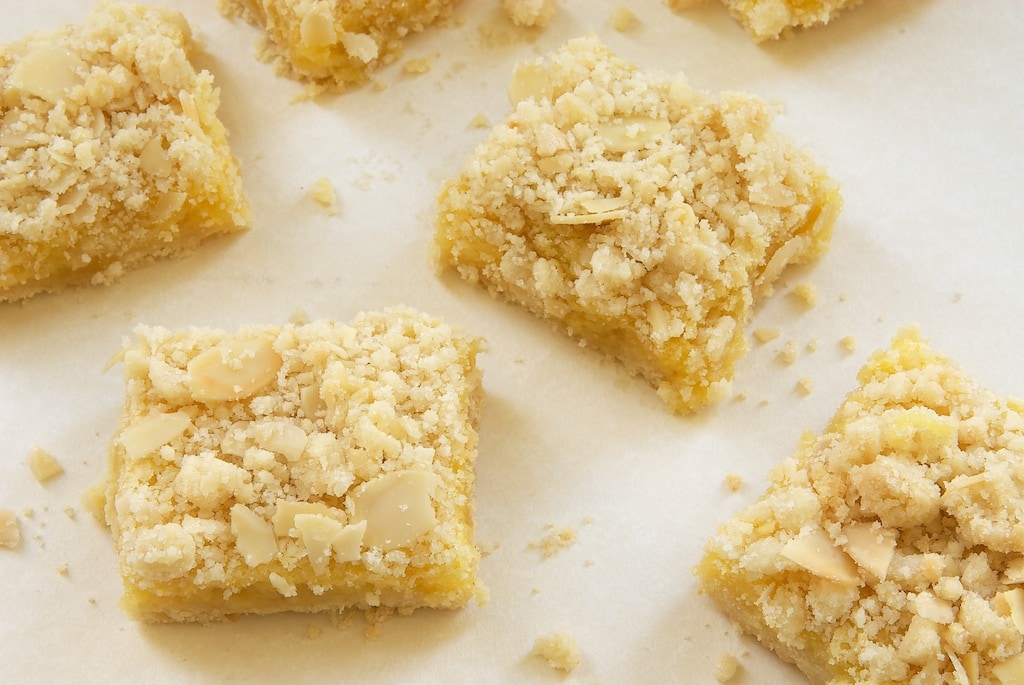 So, what makes these different? It's the whole package, really, but we'll start with the crust. It's a pretty standard buttery crust, but a bit of lemon zest adds a bright flavor to it.
The filling is more or less what you'd expect from lemon bars, but with the addition of crystallized ginger. I am a big believer in the power of lemon plus ginger. The ginger emphasizes the wonderful flavor of an already delicious filling and adds just a little extra zing.
Finally, instead of the standard dusting of confectioners' sugar, these lemon bars have an almond crumb topping to make them even more irresistible.
These bars are a lovely way to usher in spring. Their bright flavor is just perfect for the promise of warmer, brighter days.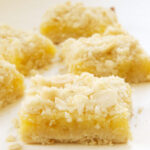 Ingredients
For the crust:

2 cups all-purpose flour
1/4 teaspoon salt
3/4 cup unsalted butter, softened
1/4 cup granulated sugar
1 teaspoon lemon zest

For the filling:

1/2 cup all-purpose flour
1/4 cup chopped crystallized ginger*
1 teaspoon baking powder
6 large eggs
2 cups granulated sugar
2/3 cup lemon juice
2 tablespoons lemon zest

For the topping:

3/4 cup all-purpose flour
1/2 cup granulated sugar
1/4 teaspoon salt
1/4 cup unsalted butter, melted
1/2 cup sliced almonds
Instructions
To make the crust:
Grease a 9"x 13" baking pan.
Whisk together flour and salt. Set aside.
Using an electric mixer on medium speed, beat butter, sugar, and lemon zest until light and creamy.
Reduce mixer speed to low. Gradually add flour mixture, mixing just until blended. Dough will be crumbly but should hold together when pinched.
Press dough evenly and firmly into prepared pan. Chill 10 to 15 minutes.
Preheat oven to 350°.
Bake 15 to 20 minutes, or until lightly browned. Set pan on a wire rack.
To make the filling:
Reduce oven temperature to 325°.
Place flour and ginger in the bowl of a food processor. Process until ginger is finely chopped (about 1 minute). Stir in baking powder.
Whisk together eggs and sugar. Add flour mixture, and whisk until combined. Whisk in lemon juice and zest.
Pour filling mixture over crust.
Bake 15 to 20 minutes, or until filling is almost set. Set pan on a wire rack.
To make the topping:
Combine flour, sugar, and salt. Stir in melted butter, mixing well. Stir in almonds.
Sprinkle topping mixture evenly over filling. Use a spoon or spatula to press the topping carefully and gently into the filling.
Bake 20 to 25 minutes, or until lightly browned and almonds are lightly toasted.
Cool bars completely in pan on a wire rack before cutting into bars.
Notes
http://www.bakeorbreak.com/2014/03/lemon-almond-crumb-bars/
Copyright 2016 Bake or Break