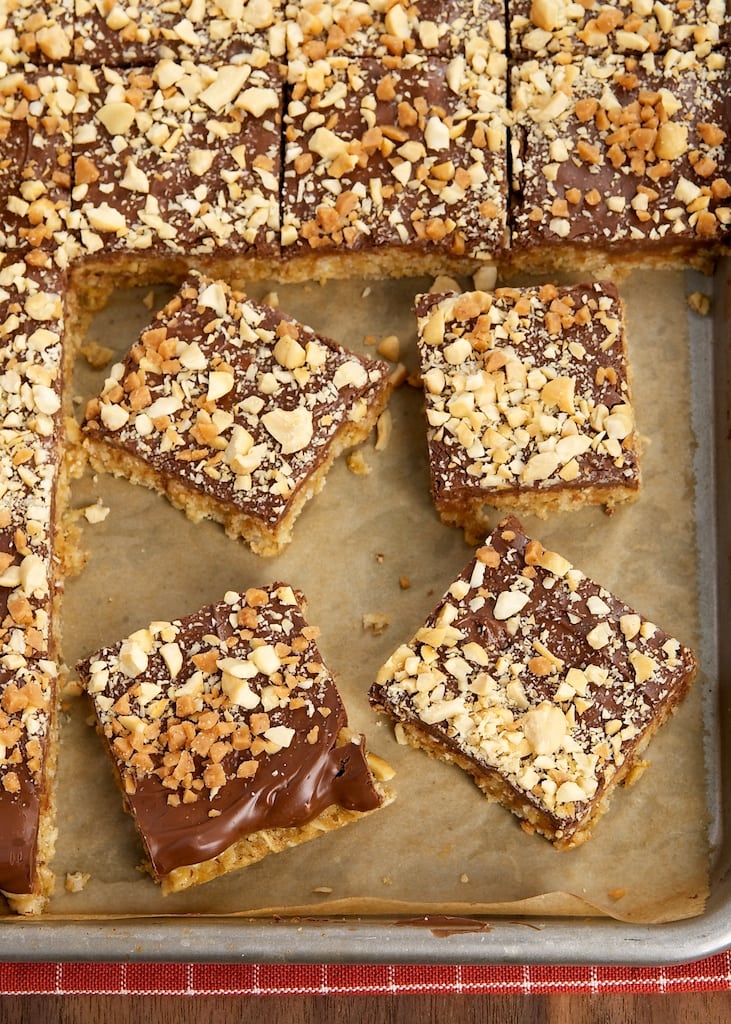 Now that we've moved past Thanksgiving and into December, I have switched baking gears a bit. I'll get back to pies and cakes soon enough, but I've been enjoying a little baking spree of cookies and bars and such. We're talking about all of those things that are perfect for cookie swaps and holiday parties and just for having around for a sweet treat.
Chocolate and peanut butter are one of my go-to flavor combinations. Here, those two team up with oats and Rice Krispies to make a big pan of sweet, crunchy, nutty bars.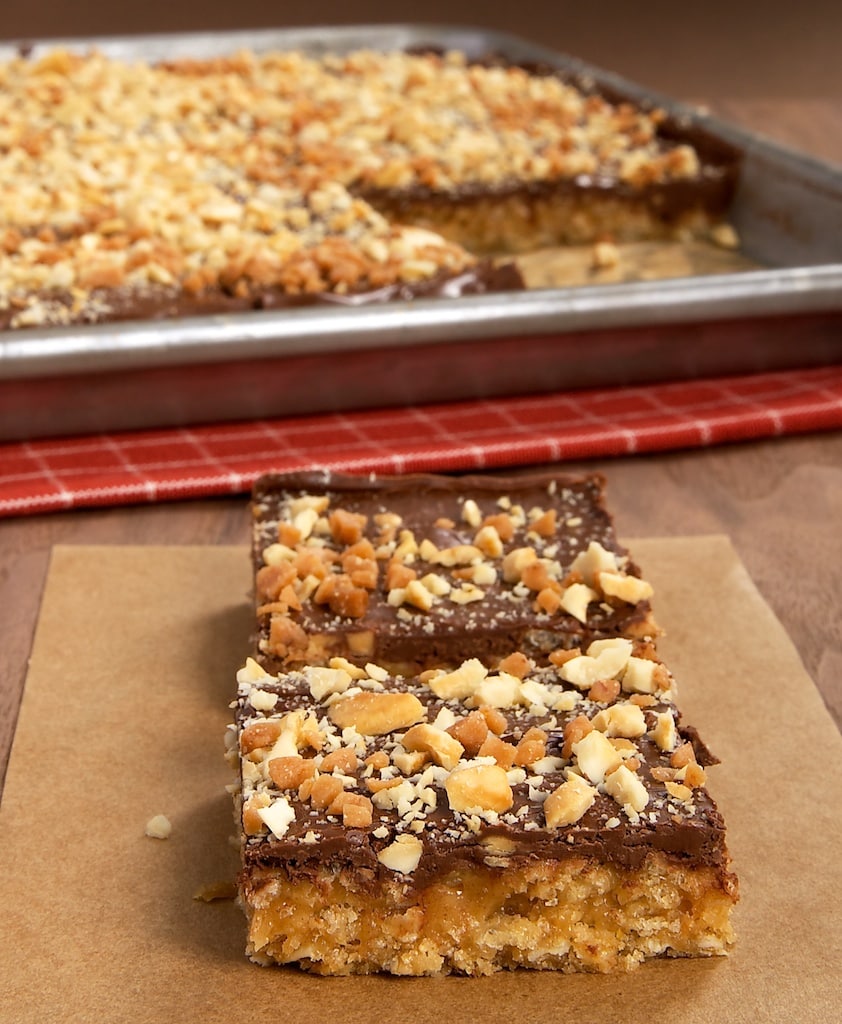 You can top these with whatever you'd like. I delved into my pantry and found some cashews and toffee bits that were just perfect for a little extra flavor and crunch.
I have one word bit of advice about making the crust. When you start spreading it onto the bottom of the pan, you'll think it will never cover the whole bottom. But, it will. It will be very thin, but it will cover the pan. Just be patient.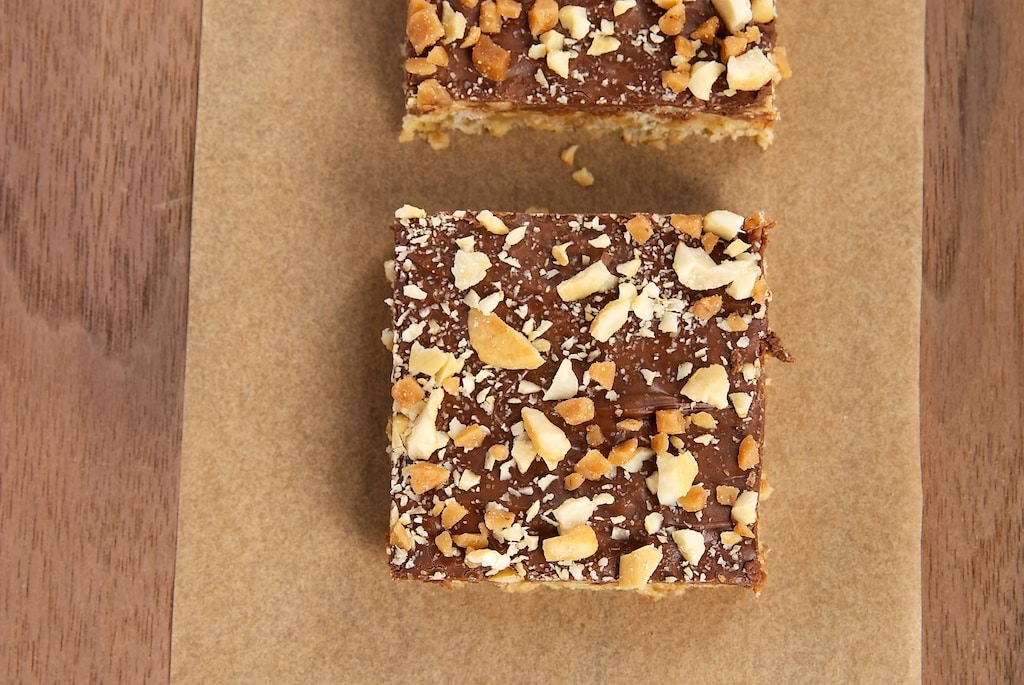 Other than that possible cause for hesitation, there's nothing remotely challenging about making these. If you can operate your microwave, you've got this. Then, you'll have a big pan of these delicious bars to share or swap.
Peanut Butter, Chocolate, and Oat Cereal Bars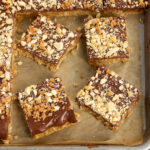 Ingredients
2 cups quick-cooking oats
3/4 cup firmly packed dark brown sugar
3/4 cup all-purpose flour
3/4 cup unsalted butter, melted
1 large egg
1 cup light corn syrup
1 cup granulated sugar
1 cup creamy peanut butter
4 cups crisp rice cereal (like Rice Krispies)
12 ounces semisweet chocolate chips
10 ounces peanut butter chips
1 cup chopped cashews or other nuts
1/2 cup toffee bits
Instructions
Preheat oven to 350°. Lightly grease a 15"x 10" jellyroll pan.*
Combine oats, brown sugar, flour, butter, and egg. Transfer to prepared pan. Press firmly and evenly onto the bottom of the pan.
Bake 12 minutes. Then, set pan on a wire rack to cool for 10 minutes.
Place corn syrup, sugar, and peanut butter in a large microwave-safe bowl. Heat in microwave in 30-second intervals until mixture is melted and smooth. Stir every 30 seconds.
Stir in cereal. Transfer mixture to crust. Working quickly, spread evenly and press firmly over crust.
Place chocolate chips and peanut butter chips in a microwave-safe bowl. Heat in microwave at half power in 30-second increments until the chips melt when stirred. Stir until smooth and blended.
Spread evenly over cereal layer.
Sprinkle with nuts and toffee.
Allow to cool 45 minutes before cutting into bars.
Notes
*I also lined the pan with parchment paper and lightly greased it as well. That's not necessary, but I added the paper to help protect my pan when it came time to cut the bars.
Recipe adapted from Southern Living and MyRecipes.
http://www.bakeorbreak.com/2013/12/peanut-butter-chocolate-and-oat-cereal-bars/
Copyright 2016 Bake or Break