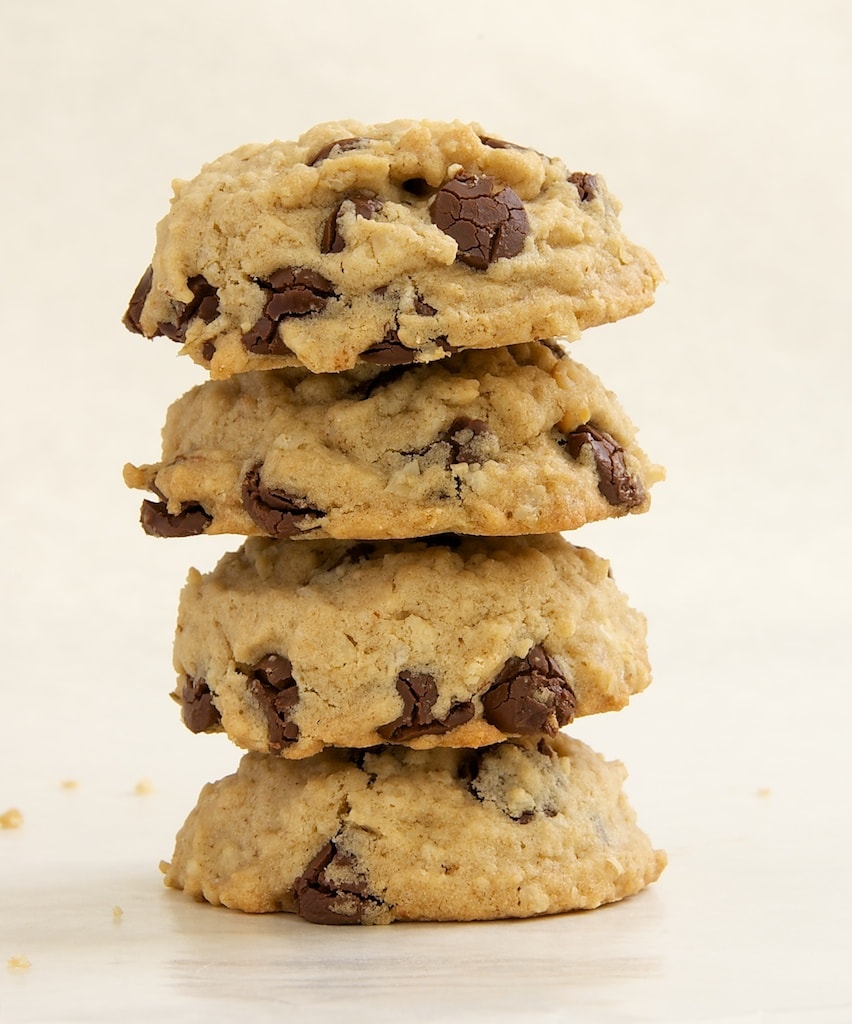 I have been thoroughly immersed in baking with fruit this summer. I've had so much available to me that it's been tough to do anything but use it. Not that I'm complaining. All that fresh fruit is one of the very few things I enjoy about summer. But, I haven't had much time for baking with anything else.
As I was trying to come up with an idea for using the latest round of CSA peaches, I suddenly had an overwhelming urge to bake up one of my great baking loves – cookies! Granted, I did just make those Peach Drop Cookies. But, I'm talking something a bit more in the traditional cookie sense.

I was having quite the internal debate over what kind of cookies to make. Chocolate chip? Oatmeal? Peanut butter? How about all three? Yes, let's definitely do that.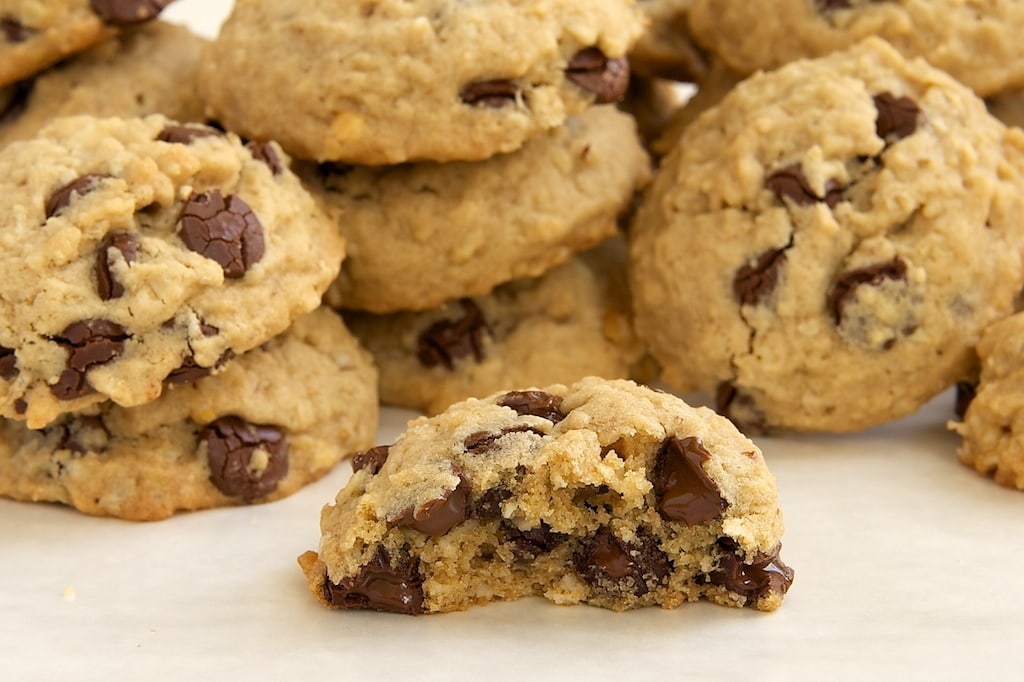 Despite being three kinds of cookie at once, these cookies don't suffer from an identity crisis. All three components work well together to make a ridiculously good cookie.
These cookies are soft yet still manage to be chewy. They are so very good anytime, but a warm one with melty, gooey chocolate chips is particularly amazing.
Oatmeal Peanut Butter Chocolate Chip Cookies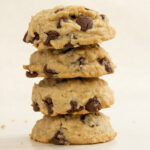 Ingredients
2 & 1/2 cups all-purpose flour
2 cup quick-cooking rolled oats
1 teaspoon baking soda
1 teaspoon salt
1 cup unsalted butter, softened
1 cup firmly packed light brown sugar
1/2 cup granulated sugar
1 cup peanut butter, smooth or crunchy**
2 large eggs
2 tablespoons vanilla extract
2 cups semisweet chocolate chips
Instructions
Preheat oven to 350°. Line baking sheets with silicone liners or parchment paper.
Whisk together flour, oats, baking soda, and salt. Set aside.
Using an electric mixer on medium speed, beat butter, brown sugar, and sugar until light and creamy. Add peanut butter, and mix until combined. Add eggs and vanilla, and mix until combined.
Reduce mixer speed to low. Gradually add flour mixture, mixing just until combined.
Stir in chocolate chips.
Drop dough by tablespoonfuls onto prepared pans. Bake 10 to 12 minutes, or until cookies are lightly browned but centers are still soft. (Place cookie dough in refrigerator between baking batches.)
Cool cookies on pan for 5 minutes. Then, transfer cookies to wire racks to cool completely.
Notes
*I used a tablespoon-size cookie scoop and got a full dozen more cookies than the original recipe's yield.
**Either kind of peanut butter will work, so just go with your preference. I used a combination of smooth and crunchy because, well, I didn't have a full cup of either in my pantry.
Recipe adapted from Sunset and MyRecipes.
http://www.bakeorbreak.com/2013/08/oatmeal-peanut-butter-chocolate-chip-cookies/
Copyright 2016 Bake or Break