June 17, 2013
Salted Chocolate Truffle Cookies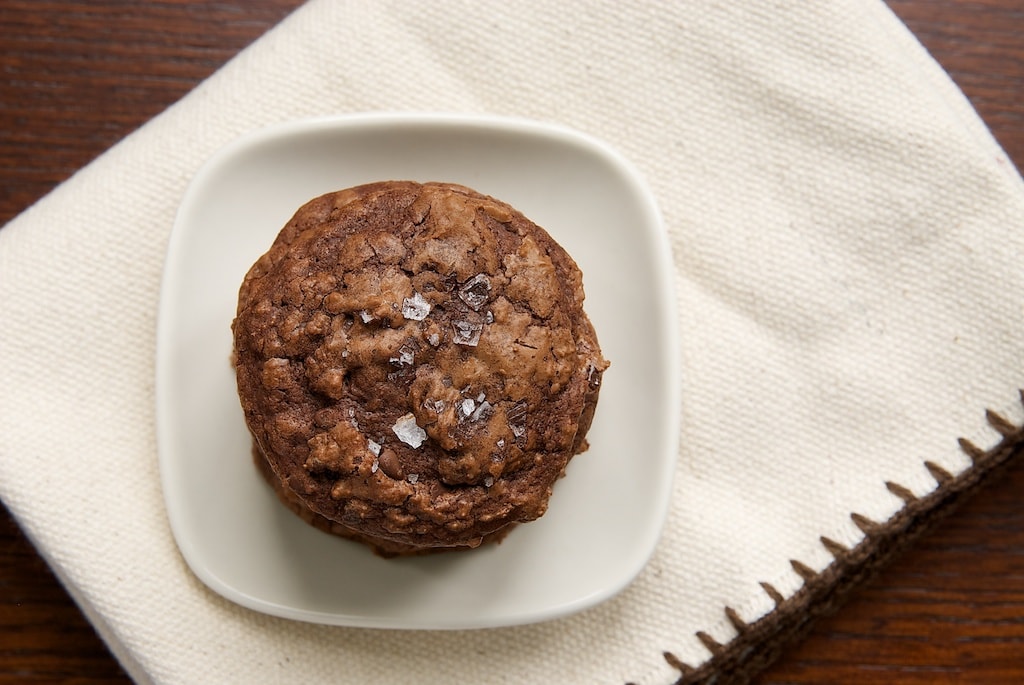 I hesitate to make big, definitive declarations about recipes. We all have different tastes and preferences, so "the best" to one person may not appeal to another. But, these cookies. Well, these cookies are something special. I'm just going to say it. This is my new favorite chocolate cookie.
These cookies exist somewhere between cookies and brownies. If you're a fan of both, then you'll be ecstatic. While they take on the form of a cookie, the texture is fudgy like a brownie or a truffle. And, they are oh so rich. Wow.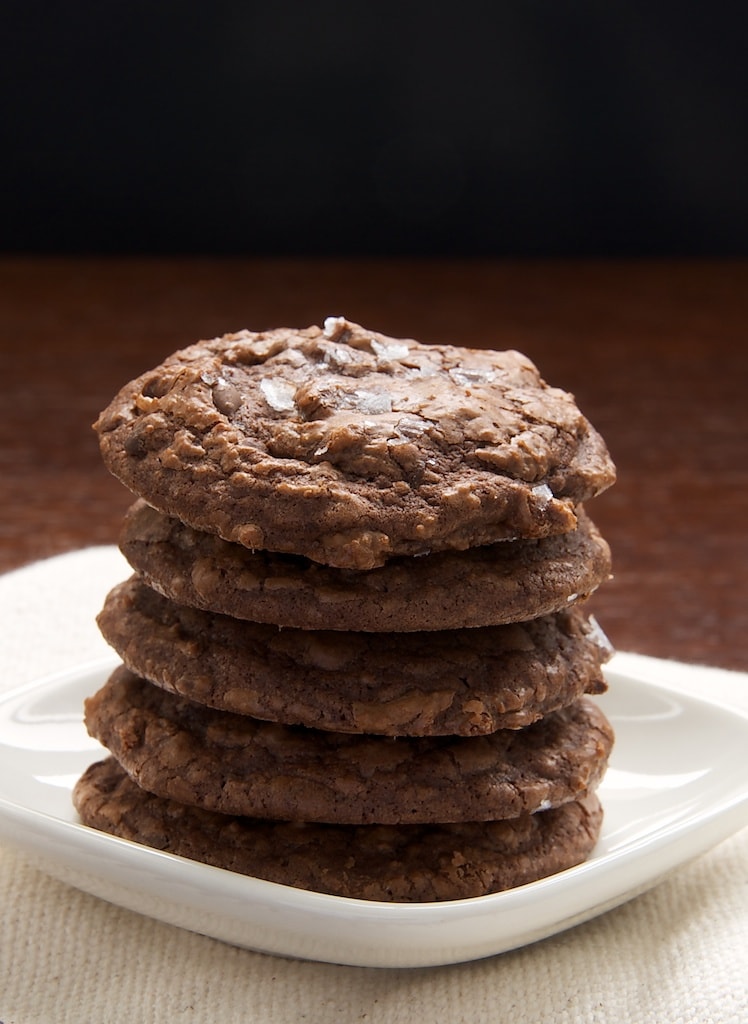 The dough is so gooey you'll think you've done something horribly wrong. But, hang with it. After a little refrigerator time, it will scoop into little dough balls that will even stay on the baking pan in cookie-like form while they bake.
Once you suffer through letting the cookies cool, that's when the magic happens. When you bite into one of these beauties, you'll know what I mean. There is a thin outside layer that is just a bit crackly. In the middle, there is this soft, gooey, rich, amazing chocolateness that should satiate any chocolate fan. It's every bit as soft and rich as a chocolate truffle.
You all know what a fan of sweet and salty I am. That little sprinkle of salt on top makes me giddy. You can easily adjust the amount of salt on each one to your degree of sweet and salty love. Or, if you just want sweet, leave it off. They'll still be utterly delicious.
Salted Chocolate Truffle Cookies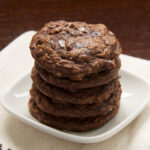 Ingredients
1 & 1/2 cup bittersweet chocolate*
2 tablespoons unsalted butter
1/4 cup all-purpose flour
1/4 teaspoon baking powder
1/4 teaspoon salt
1/2 cup granulated sugar
2 large eggs
1 teaspoon vanilla extract
1/3 cup semisweet mini chocolate chips**
2 to 3 tablespoons coarse salt, such as fleur de del
Instructions
Place bittersweet chocolate and butter in a microwave-safe bowl. Heat at half power in microwave in 30-second increments until butter is melted and chocolate melts when stirred. Stir until smooth. Set aside to cool slightly.
Whisk together flour, baking powder, and salt. Set aside.
In a large bowl, whisk together sugar and eggs. Slowly add the chocolate mixture, and stir to combine. Stir in vanilla extract.
Add flour mixture in three portions, mixing just until combined. Stir in chocolate chips. (If dough is still warm, allow to cool before stirring in chocolate chips so that they won't melt.)
Chill dough for 15 minutes.
Preheat oven to 350°. Line baking sheets with silicone liners or parchment paper.
Use a cookie scoop to drop tablespoonfuls of dough on prepared pans. Sprinkle each cookie with desired amount of salt. (I used less than a pinch.)
Bake cookies, one pan at a time, 8-10 minutes, or until outside edges of cookies are slightly cracked but centers are still soft. Do not overbake.
Refrigerate remaining dough until ready to bake. If the dough has become too hard, allow it to sit at room temperature for a few minutes before scooping and baking.
Cool cookies on pan on wire rack for 10 minutes. Then, remove cookies to wire racks to cool completely.
Notes
*I used Guittard 61% semisweet chocolate wafers.
**I found that mini chocolate chips worked best for these cookies. If you use regular-sized chocolate chips, I would suggest chopping them into smaller pieces.
Recipe adapted from Ghirardelli.
http://www.bakeorbreak.com/2013/06/salted-chocolate-truffle-cookies/
Copyright 2016 Bake or Break