June 19, 2013
Lemon-Strawberry Shortcake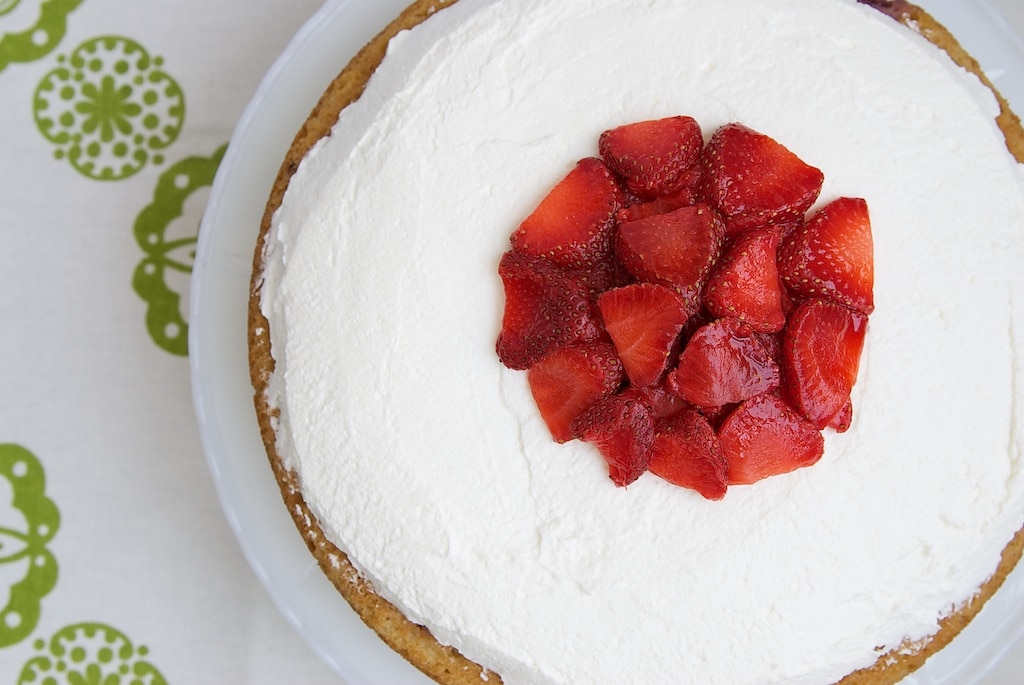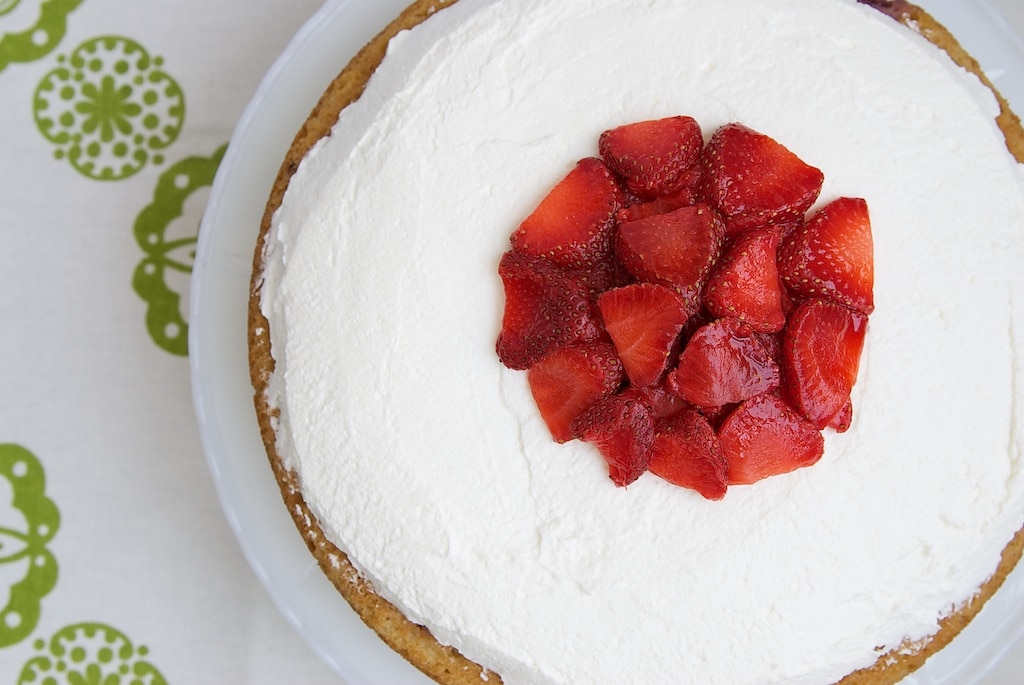 Before we moved to New York, we had visited countless times. It had been our favorite city for many years. So, of course, we were amazingly excited when we were able to move here in 2010. I did wonder a bit if the day-to-day of living here would be a bit tough. Fortunately, it's everything we wanted it to be and more.
A fine example of "more" is our neighborhood's CSA. I had never really thought about the possibility, but I found out about it just before the sign-up deadline. Quinn and I excitedly jumped on board and started pondering all the beautiful, fresh possibilities for summer and fall.

Last week was our first pick-up of the season, and I was excited to see strawberries on the list. Sure, there were amazing things like red romaine and fascinating things like baby bok choy. But, strawberries! I can bake with those!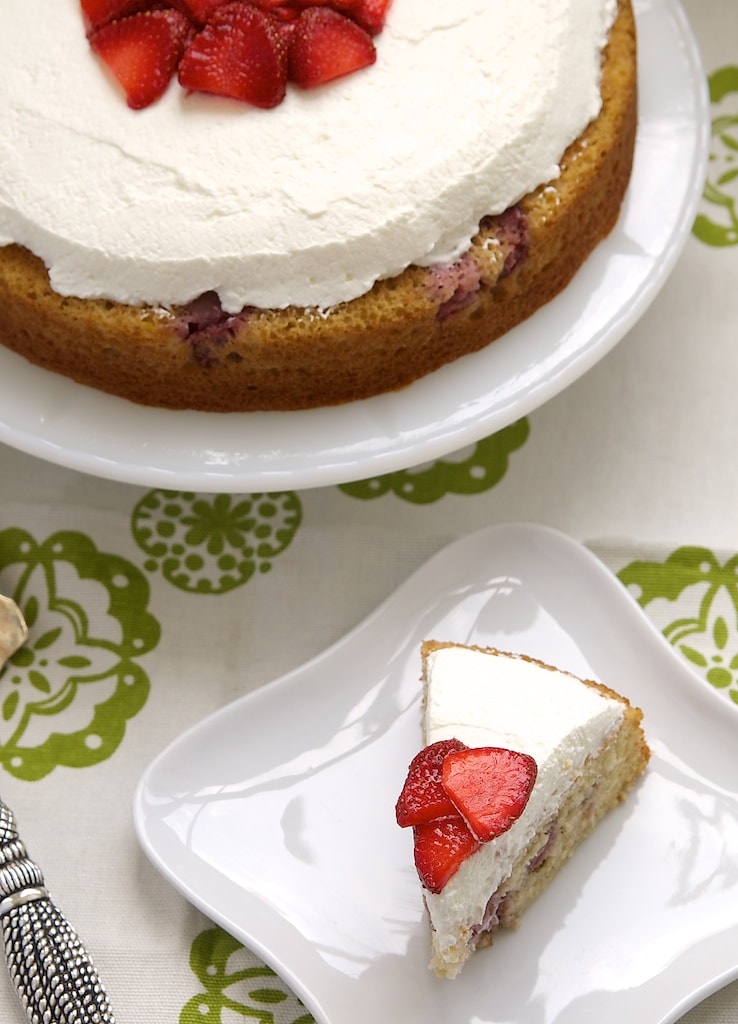 I made far too big a deal out of trying to choose just the right recipe for my beautiful strawberries. It's not like I won't get more. But, they seemed so special that I wanted to make something fabulous.
The recipe for this cake appealed to me in a few ways. First of all, there are lots of strawberries, and that was kinda the point here. Secondly, I do love a simple one-layer cake. And, I am a sucker for homemade whipped cream. No brainer, right? Had to be made.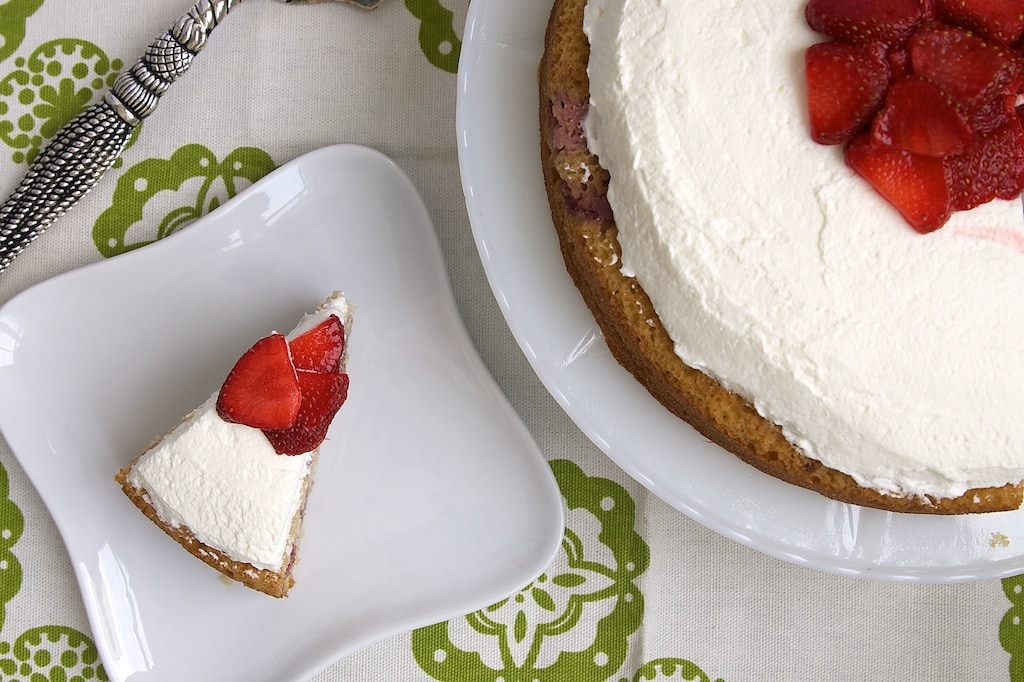 This cake is everything I want a summer cake to be. It's light and fresh and just sweet enough. You get plenty of strawberries, both baked into the cake and on top. Plus, there's just the hint of lemon to push it over the summer edge. The lemon won't knock over your taste buds, but you know it's there. This cake would definitely miss it if it weren't there.
While this isn't a shortcake in the traditional sense, it is reminiscent of strawberry shortcake with its flavors. It's an utterly gorgeous dessert that's equally as delicious. This is the kind of cake you'll happily come back to every strawberry season.
For more summer dessert ideas, see my Summer Baking Collection!
Lemon-Strawberry Shortcake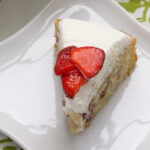 Ingredients
For the cake:

1 & 1/3 cups all-purpose flour
1/2 cup granulated sugar
1 teaspoon baking soda
1/2 teaspoon baking powder
1/4 teaspoon salt
1 large egg
2/3 cup buttermilk
1/4 cup unsalted butter, melted
1 tablespoon lemon juice
1 teaspoon grated lemon zest
1 teaspoon vanilla extract
1 cup sliced fresh strawberries

For the topping:

1 cup sliced fresh strawberries
1 tablespoon lemon juice
1 teaspoon granulated sugar
1 cup heavy whipping cream
2 tablespoons confectioners' sugar
Instructions
To make the cake:
Preheat oven to 350°. Grease and flour a 9-inch round baking pan.
In a large bowl, combine flour, sugar, baking soda, baking powder, and salt. Set aside.
Mix together egg, buttermilk, butter, lemon juice, lemon zest, and vanilla. Slowly add to flour mixture, mixing just until moistened. Gently fold in strawberries.
Pour batter into prepared pan and spread evenly. Bake 20-25 minutes, or until a pick inserted into the center of the cake comes out clean.
Cool in pan on wire rack for 10 minutes. Then, remove cake from pan to wire rack to cool completely.
To make the topping:
Combine strawberries, lemon juice, and sugar. Cover and refrigerate.
Place cream and confectioners' sugar in a large bowl. Whisk by hand or with an electric mixer with the whisk attachment until soft peaks form.
Spread whipped cream on top of cake.
Drain strawberries and garnish top of cake.
Keep cake refrigerated.
Notes
http://www.bakeorbreak.com/2013/06/lemon-strawberry-shortcake/
Copyright 2016 Bake or Break