May 1, 2013
Cinnamon Roll Cake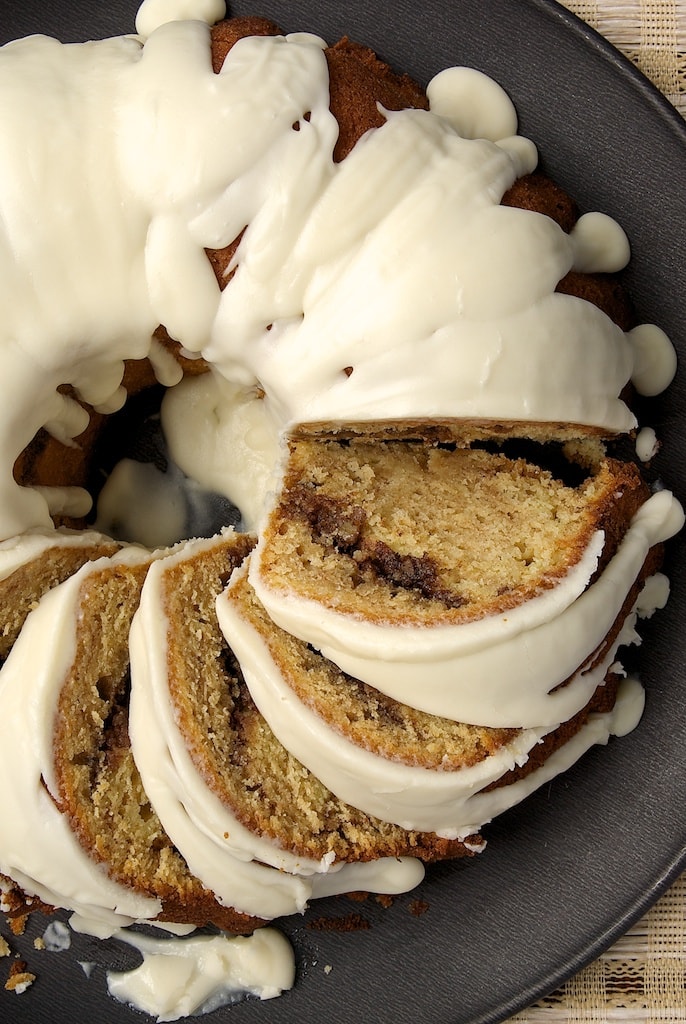 I love recipes that take a well-known, well-loved baked good and present it in an entirely different way. I also love baked goods that are just as good for breakfast as they are for dessert. So, you can imagine that this Cinnamon Roll Cake makes me very happy.
The cake itself is a lovely yellow cake made with one of my favorite cake ingredients – sour cream. A little cinnamon sugar gets partially mixed into that delicious cake. Then, the cake is layered with a combination of brown sugar, cinnamon, and pecans. To top it all off, a sweet vanilla glaze goes on top of the baked cake.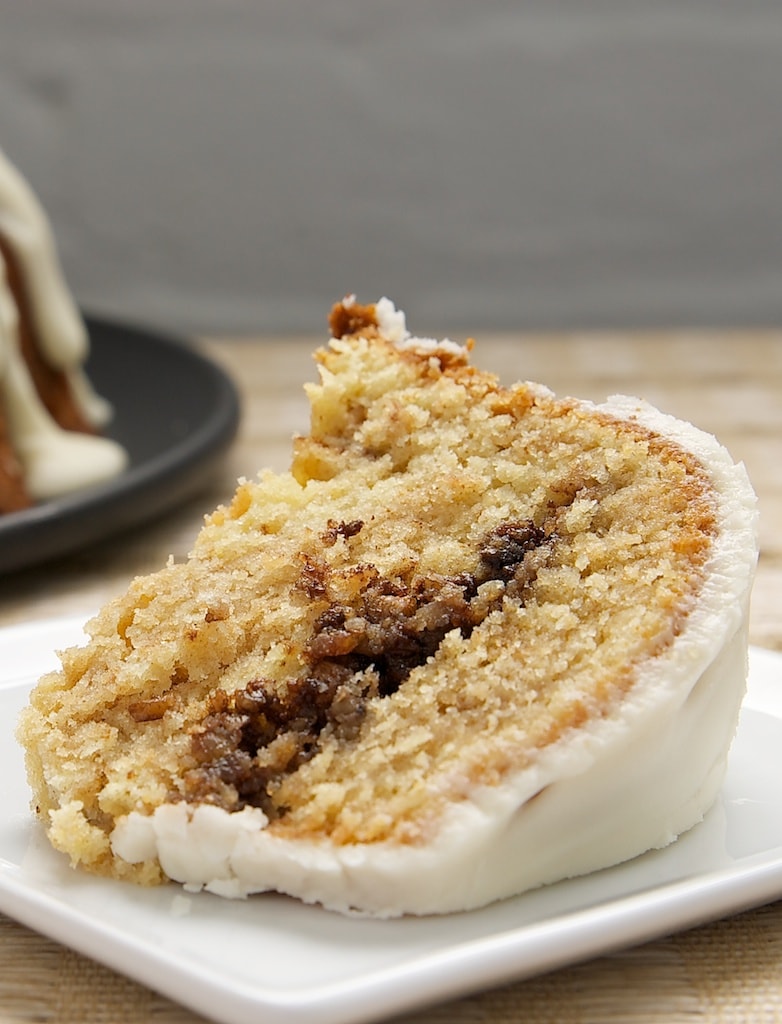 You get all the flavors of a good cinnamon roll with far less effort. You see, I also love simple recipes that produce a fabulous result. This is the rare recipe that gets the great trifecta for me – a twist on traditional, an anytime treat, and a quick and easy recipe!
Visit the Recipe Index for more Bundt cake recipes!
Cinnamon Roll Cake
Yield: 12 to 16 servings
Prep Time: 30 minutes
Cook Time: 50 minutes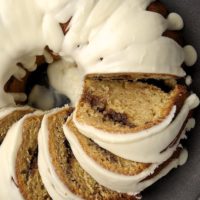 Ingredients:
For the cake:
2 cups all-purpose flour
1 & 1/4 cups granulated sugar, divided
2 teaspoons baking powder
1/2 teaspoon salt
1 3-ounce box instant vanilla pudding mix
1/2 cup unsalted butter, softened
1/4 cup vegetable or canola oil
4 large eggs
2 teaspoons vanilla extract
1 cup sour cream
1 tablespoon cinnamon
For the filling:
1/2 cup packed brown sugar
1 tablespoon cinnamon
1/2 cup pecans, chopped
For the glaze:
2 cups confectioners' sugar
3-4 tablespoons heavy cream
1 teaspoon vanilla extract
Directions:
To make the cake:
Preheat oven to 350°F. Grease a 9- or 10-cup Bundt pan.
In a large mixing bowl, whisk together the flour, 1 cup sugar, baking powder, salt, and pudding mix. Add the butter, oil, eggs, vanilla, and sour cream. Mix well. The dough will be thick.
In a separate bowl, mix 1/4 cup sugar and cinnamon. Gently fold into the cake batter. Do not mix thoroughly, but leave swirls of cinnamon sugar in the batter.
Transfer half of the cake batter to the prepared pan.
To make the filling:
Mix the brown sugar, cinnamon, and pecans. Sprinkle over the batter in the pan. Scoop the remaining cake batter over the filling and smooth the top.
Bake 45-50 minutes, or until a pick inserted into the center comes out clean. Cool in the pan on a wire rack for 20 minutes. Then, flip the cake onto a wire rack to cool completely.
To make the glaze:
Mix the confectioners' sugar, 3 tablespoons of cream, and vanilla until smooth. Add more cream as needed to make glaze pourable.
Drizzle the glaze over cake.
The recipe comes to us from King Arthur Flour's The Baking Sheet. A few years ago, I decided to be brave and let most of my magazine subscriptions, including The Baking Sheet, expire. Honestly, I was just too busy with work and blogging to read them. My recent trip to KAF's Blog & Bake™ coincided with the new availability of The Baking Sheet in digital format. Now, I have my subscription back plus all the recipes I missed!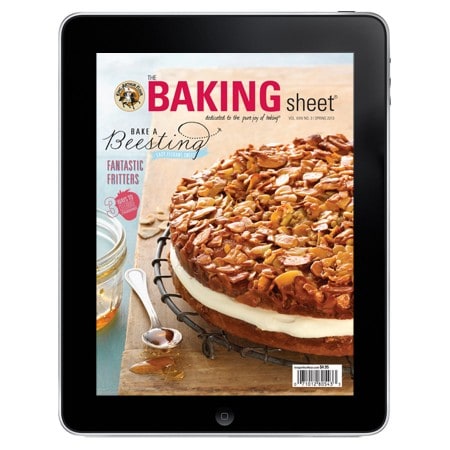 I am enjoying my digital subscription so much, that I'm offering THREE of you your own digital subscription! I think you'll love it. With over 3500 baking recipes available on your smart phone, tablet, or desktop, it's hard not to love.
Please read all the details below. This contest is only open to U.S. residents. The app can be downloaded through iTunes, Google Play, and Amazon. Be sure to read the details about the digital version at King Arthur Flour to make sure you can use the app on your device. You will also be able to access it on your desktop. You'll have access to King Arthur Flour's fantastic baking recipes everywhere – from your phone to your tablet to your computer!
Disclosure: King Arthur Flour provided me with a digital subscription to The Baking Sheet as part of my participation in Blog & Bake™. UPDATE: Thanks to King Arthur Flour for providing the subscriptions for this giveaway.