April 18, 2013
Strawberry Icebox Pie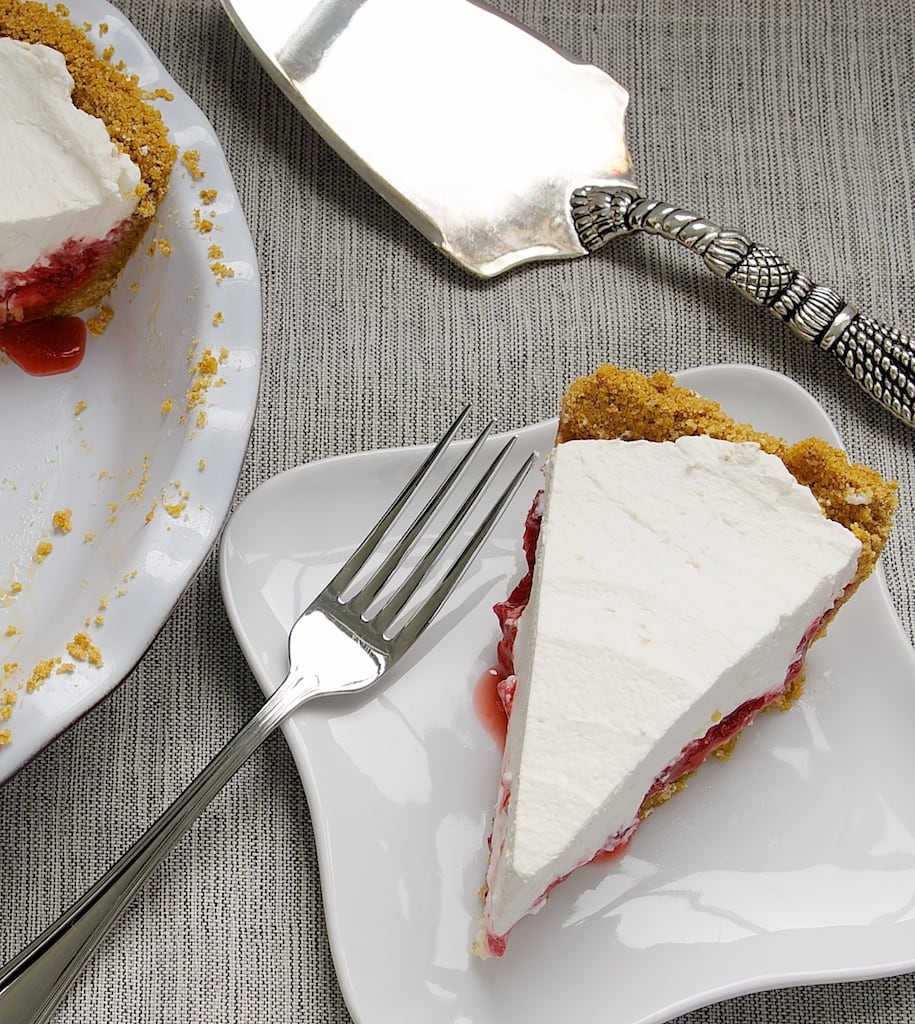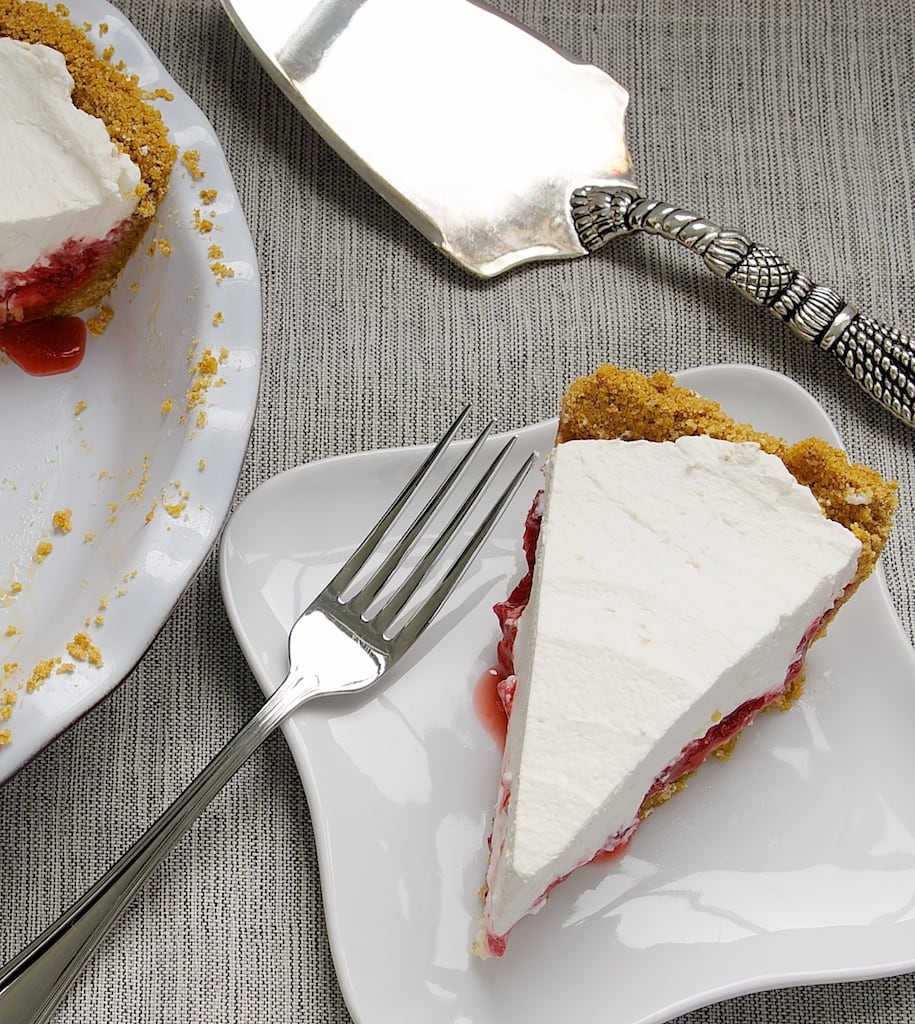 I've told you before about my grandmother's green metal recipe box. It's filled with handwritten and clipped recipes for amazing desserts. Some are very familiar, and some not at all. I found not one but three recipes for strawberry pie in there recently, yet I have no memory of her making even one.
Still, I felt compelled to try a version of my own. I took some things I liked about each recipe, threw in some of my own ideas, and came up with this amazingly delicious pie.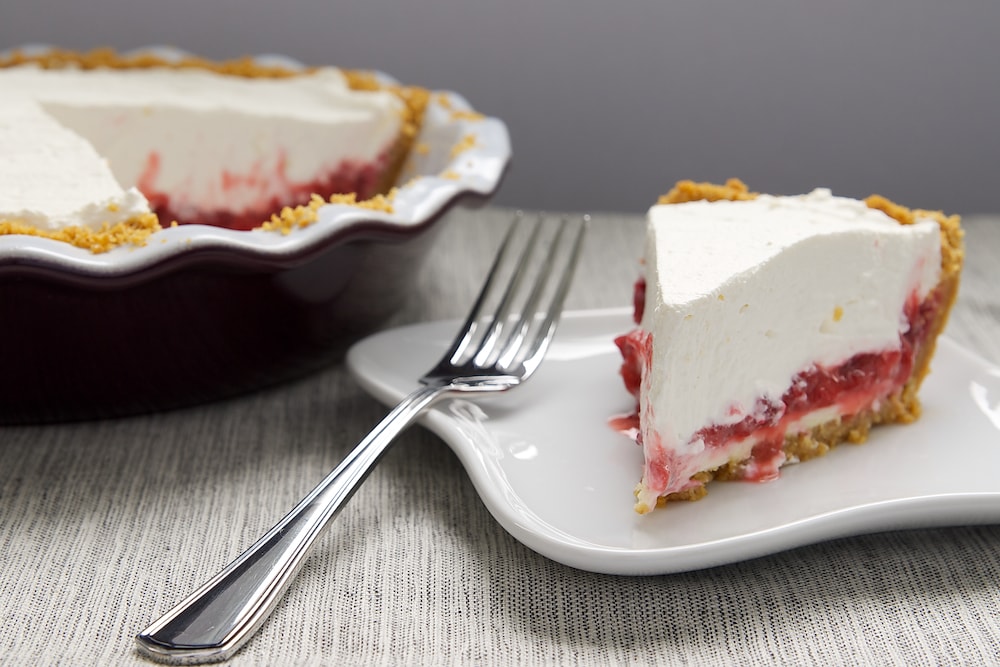 The key here is in the layers. Graham cracker crust, of course, is always a favorite. That's topped with a thin cream cheese layer. It's sweetened just enough so that the tartness of the cream cheese still comes through and perfectly accents the next layer of sweetened strawberries. As if that weren't enough, a generous helping of sweetened whipped cream tops off all of that. It all just works so harmoniously together.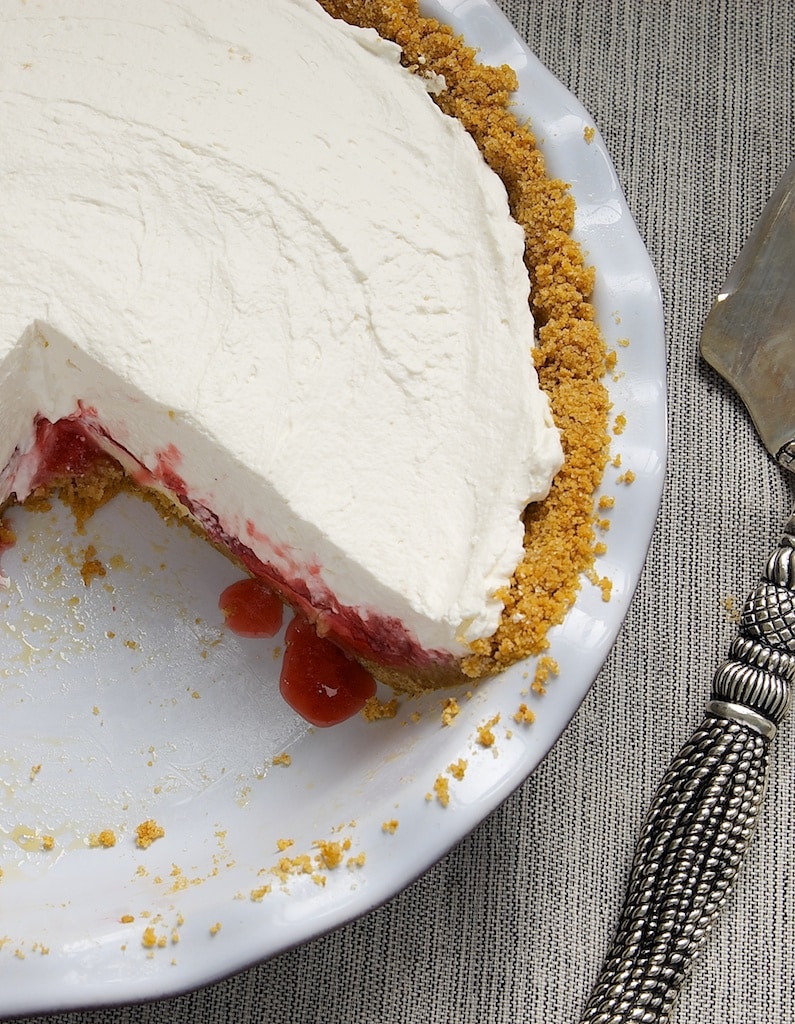 Despite all the steps and layers, this is a very simple dessert to make. I find that it's better to make this pie over a couple of days. That's not from a labor standpoint, but more because that allows each part plenty of time in the refrigerator to set.
After you've assembled, refrigerated, and exercised a little patience, you'll be rewarded with a cool and creamy dessert. Nothing could be more perfect for berry season and warmer days.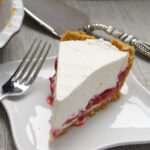 Ingredients
For the crust:

1 & 1/2 cups graham cracker crumbs
1/2 cup unsalted butter, melted
1/3 cup granulated sugar
pinch salt

For the filling:

4 ounces cream cheese, softened
1/2 cup + 1 & 1/2 tablespoons granulated sugar, divided
2 tablespoons heavy whipping cream
1 pound strawberries, hulled
1 & 1/2 tablespoons cornstarch

For the whipped cream:

2 cups heavy whipping cream
3 tablespoons confectioners' sugar
1 teaspoon vanilla extract
Instructions
To make the crust:
Preheat oven to 350°.
Mix all crust ingredients until well-combined. Press firmly onto the bottom and up the sides of a 9-inch pie pan.
Bake 10 minutes. Set pan on wire rack to cool.
To make the filling:
Using an electric mixer on medium speed, beat cream cheese, 1 & 1/2 tablespoons sugar, and 2 tablespoons cream until thoroughly mixed. Mixture should be thick but spreadable. If necessary, add more cream, a teaspoonful at a time, until spreadable.
Spread cream cheese mixture onto bottom of cooled crust. Cover and refrigerate.
Chop about half of the strawberries into 1/2-inch pieces. Set aside.
Place remaining strawberries in a medium saucepan. Use a fork or potato masher to crush berries. Add 1/2 cup sugar and cornstarch. Cook over medium-low heat until mixture comes to a boil.
Remove from heat and stir in remaining chopped strawberries. Cool completely.
Spread cooled strawberry mixture over cream cheese layer in pie pan. Refrigerate.
To make the whipped cream:
To make the whipped cream, place cream, confectioners' sugar, and vanilla in a chilled mixing bowl. Whip until firm peaks form. Spread over strawberry layer in pie pan. Serve immediately or chill overnight.
http://www.bakeorbreak.com/2013/04/strawberry-icebox-pie/
Copyright 2016 Bake or Break