April 22, 2013
Peanut Butter Texas Sheet Cake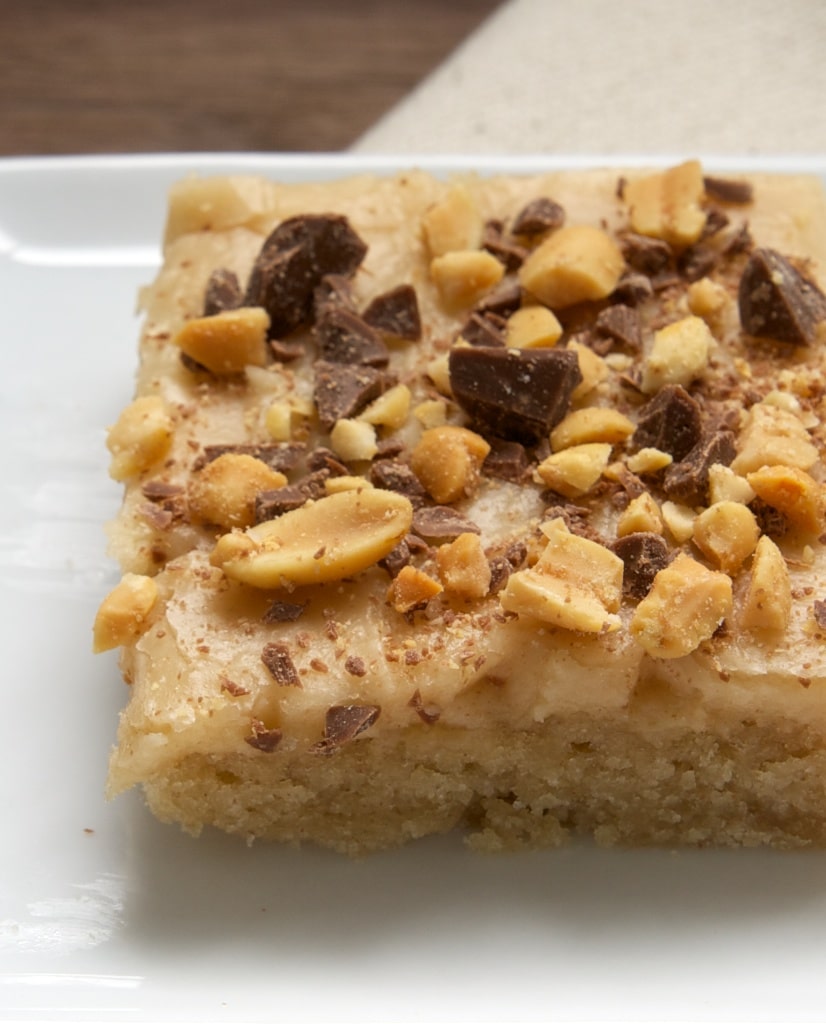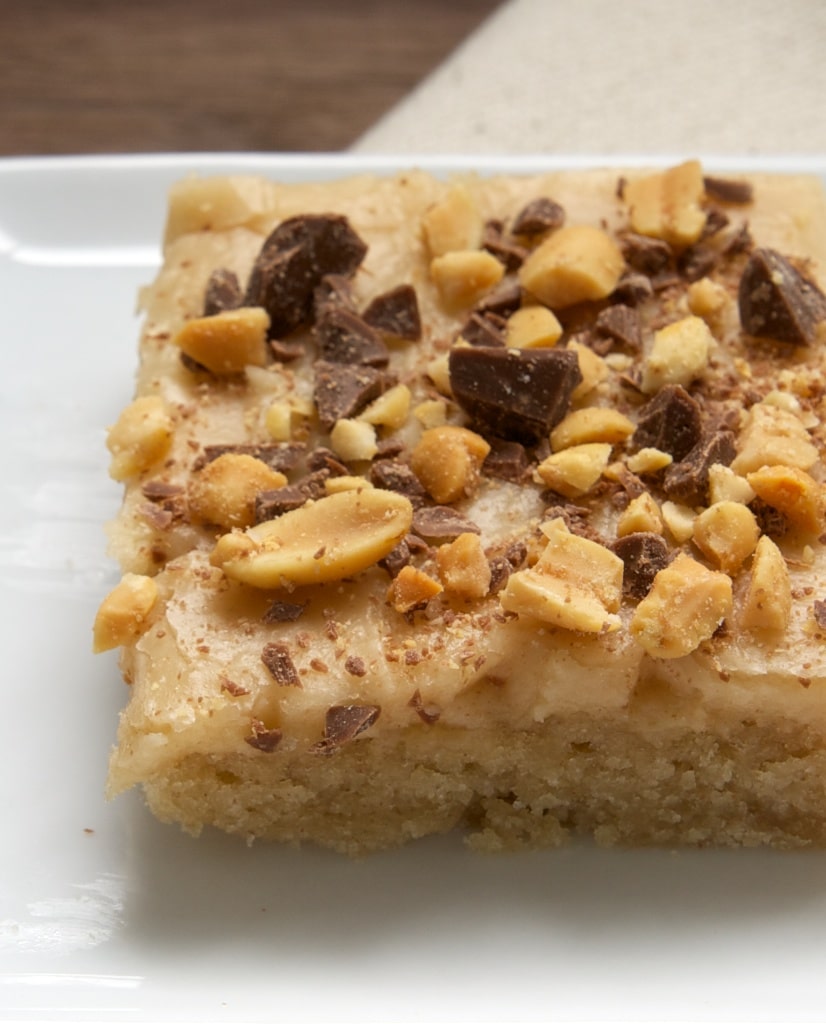 As I've told you before, I am a big fan of one-layer cakes. Elaborately frosted, tiered cakes are not my favorite things to make. Luckily, you don't need to make that kind of effort to make a beautiful cake.
I've had Texas Sheet Cakes before, but they've always been chocolate. This one, however, is all about peanut butter. If you love peanut butter like I do, you'll be happy to know that there is peanut butter in both the cake and the icing.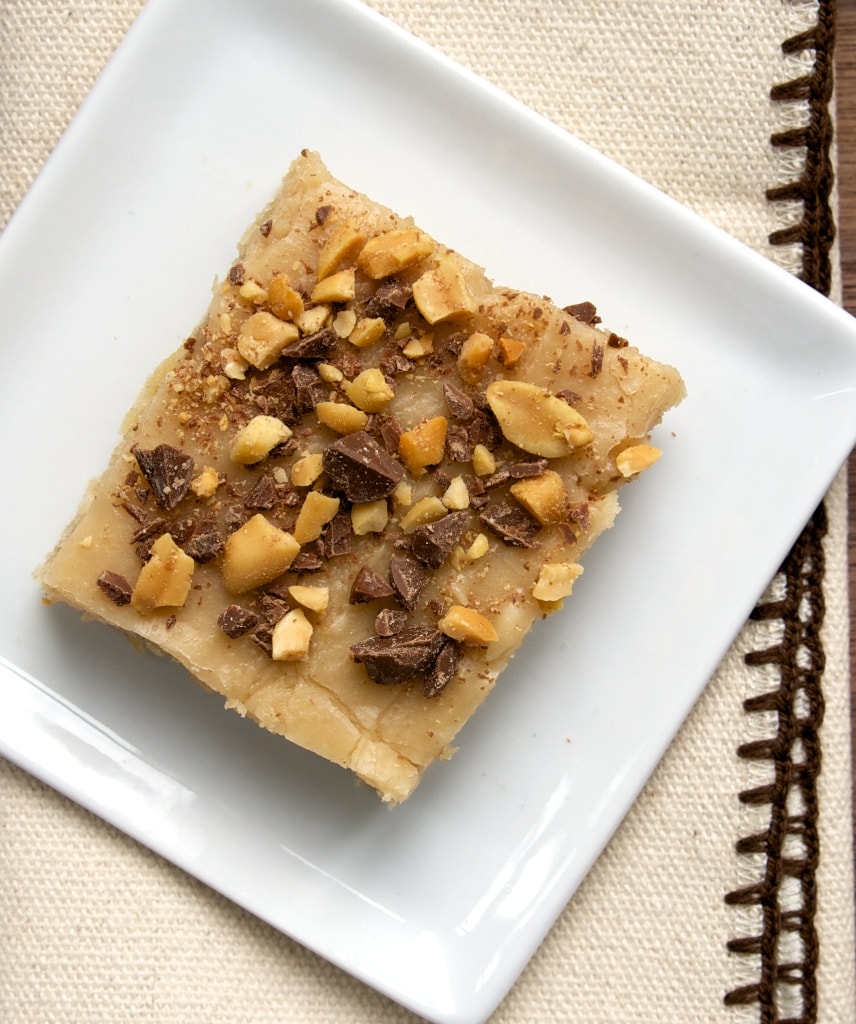 Of course, it's hard to resist adding a little chocolate to anything peanut butter. So, a little chopped chocolate on top sweetens things up a bit. For peanut butter purists, just leave off the garnish or double up on the chopped peanuts. Chopped peanut butter cups would be fabulous, too.
This sheet cake is a great cake for feeding a crowd. It's a thin cake, but it's big on flavor. You'll have plenty to go around.
Peanut Butter Texas Sheet Cake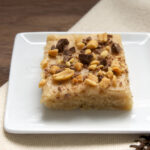 Ingredients
For the cake:

2 cups all-purpose flour
2 cups granulated sugar
1/2 teaspoon baking soda
1/2 teaspoon salt
1 cup unsalted butter
1 cup water
1/4 cup creamy peanut butter
1/2 cup buttermilk
2 large eggs, lightly beaten
1 teaspoon vanilla extract

For the icing:

1/2 cup unsalted butter
1/4 cup creamy peanut butter
1/3 cup + 1 tablespoon milk
16 ounces confectioners sugar
1 teaspoon vanilla extract
1/3 cup coarsely chopped peanuts
1/3 cup coarsely chopped milk chocolate
Instructions
To make the cake:
Preheat oven to 350°. Grease a 15"x 10" jellyroll pan.
Whisk together flour, sugar, baking soda, and salt in a large mixing bowl. Set aside.
Place butter, water, and peanut butter in a medium saucepan. Cook over medium heat, stirring occasionally, until mixture boils. Add to flour mixture, and mix until combined.
Combine buttermilk, eggs, and vanilla. Stir into cake mixture, mixing well.
Spread batter evenly in prepared pan. Bake 25-28 minutes, or until edges are browned and a pick inserted into the center comes out clean.
To make the icing:
Place butter, peanut butter, and milk in a medium saucepan. Cook over medium heat, stirring occasionally, until mixture boils.
Remove from heat. Stir in confectioners sugar and vanilla until smooth and spreadable.
Pour icing over top of warm cake and spread evenly. Garnish, if desired, with peanuts and chocolate.*
Notes
*I suggest that you add the garnish while the icing is still a bit warm so that the garnish will stick to the icing better as it sets.
Recipe adapted from MyRecipes.
http://www.bakeorbreak.com/2013/04/peanut-butter-texas-sheet-cake/
Copyright 2016 Bake or Break