March 18, 2013
Sour Cream Coffee Cake with Chocolate Cinnamon Swirl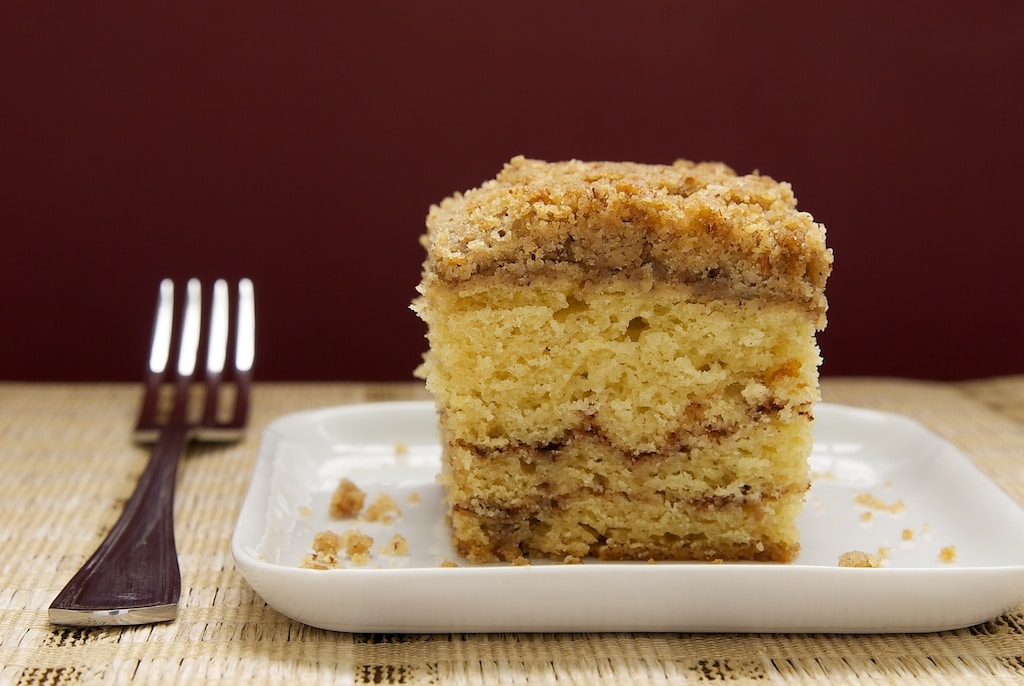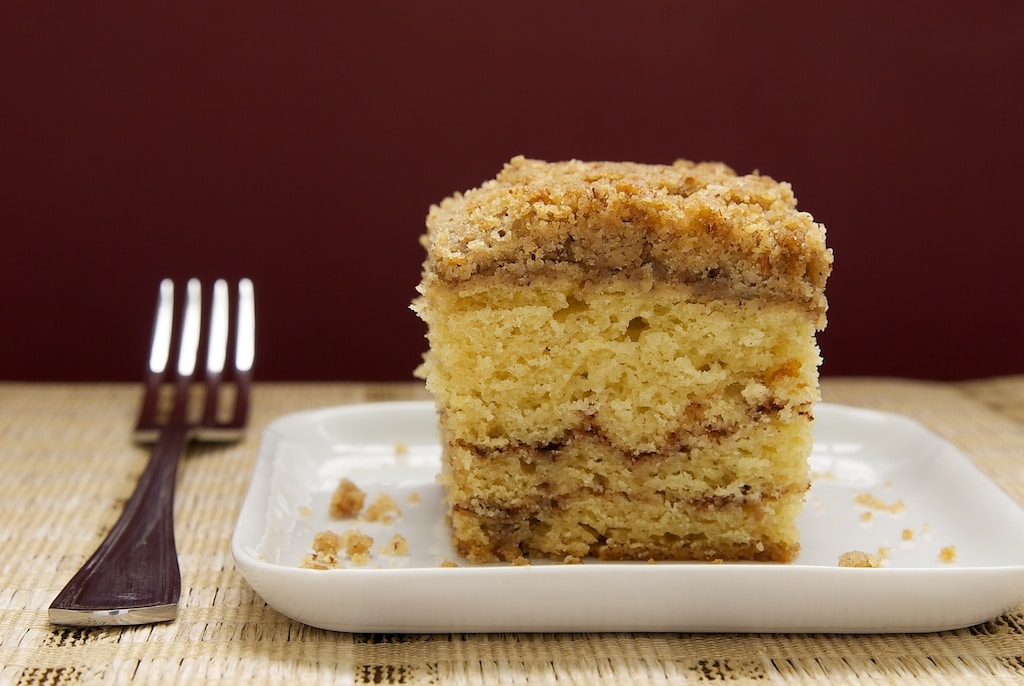 I toyed with the idea of having this be the shortest description of a recipe I've ever written by simply writing: This is the best coffee cake ever. But, I thought maybe you'd want to know why this is the best coffee cake ever.
One of the reasons for that declaration is the texture of the cake. It is so amazingly soft and light. It's one of the most easy-to-eat cakes I've ever had.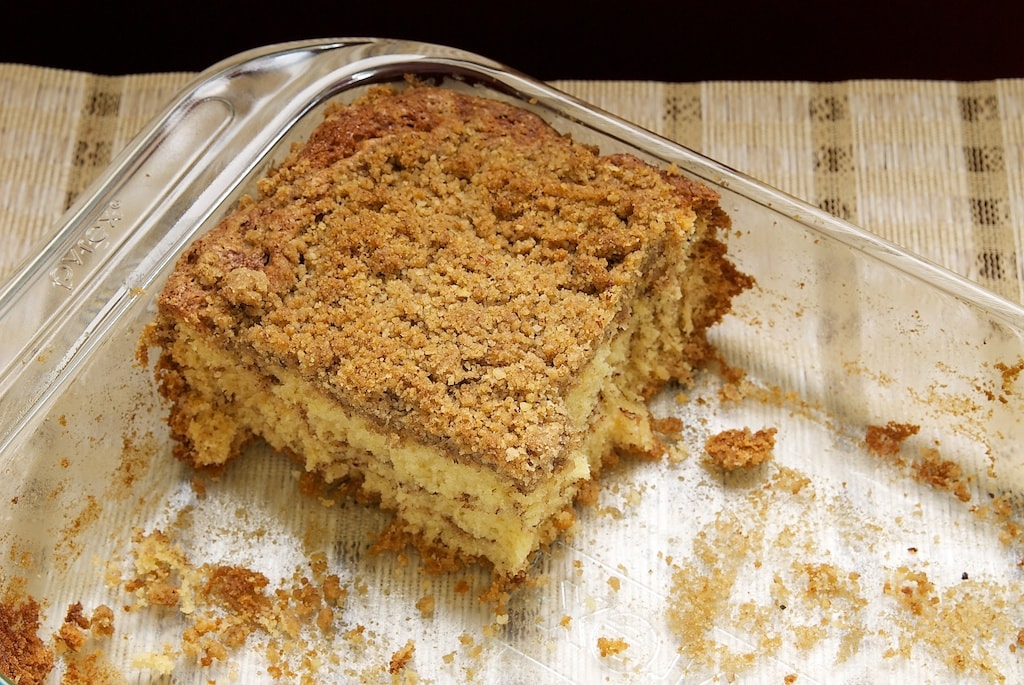 Of course, there's the flavor. That gets a little more complicated, as it gets flavor from three different components. The cake itself is sweet, but not too sweet. The sour cream gives it that little bit of kick that really makes it interesting.
Then, there are the layers of chocolate and cinnamon. The chocolate is not overstated at all, and it mixes perfectly well with the cinnamon. Topping all of that off is a very fine crumb that's buttery, sweet, nutty, and salty all at the same time.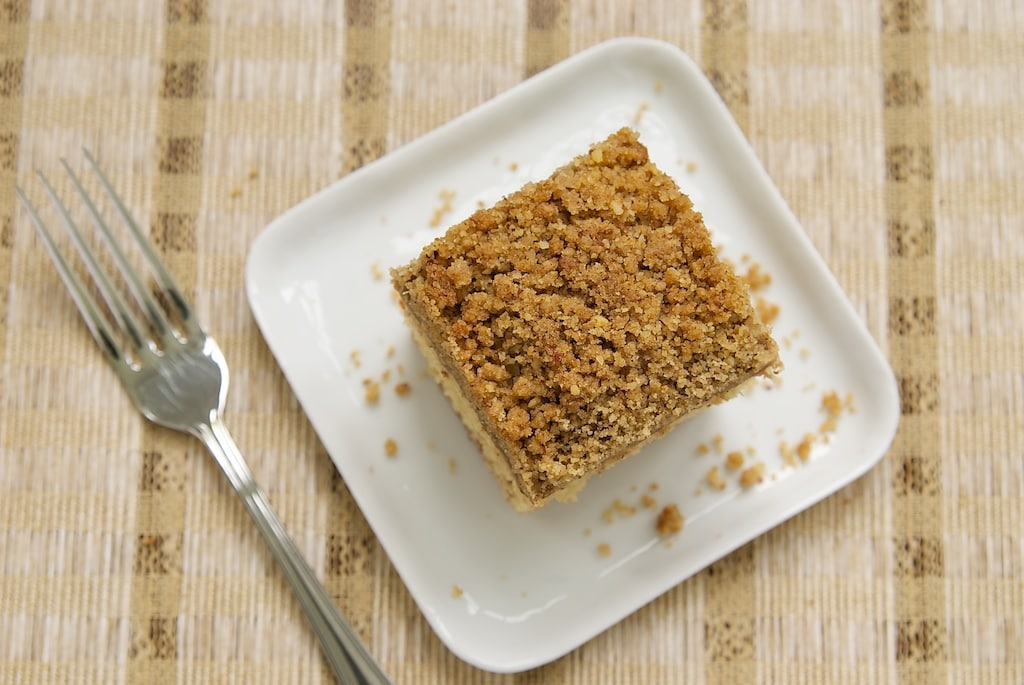 I first made this coffee cake for a brunch with friends. The eight of us nearly devoured the entire thing. I made it again just to prove to myself that it was really as good as I thought it was the first time. As I sit here thoroughly enjoying a slice of it, I can tell you that it most definitely is.
Sour Cream Coffee Cake with Chocolate Cinnamon Swirl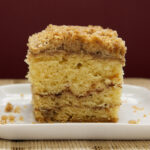 Ingredients
For the crumb topping:

3/4 cup all-purpose flour
3/4 cup firmly packed brown sugar (dark or light)
1/2 teaspoon salt
3/4 cup pecans, toasted
6 tablespoons unsalted butter, cold & cut into 1-inch cubes

For the swirl:

1/2 cup granulated sugar
1 teaspoon dark unsweetened cocoa powder
1 teaspoon cinnamon

For the cake:

3 & 1/2 cups all-purpose flour
1 & 1/2 teaspoons baking soda
1 teaspoon baking powder
1/2 teaspoon salt
1 cup unsalted butter, softened but cool, cut into 1-inch pieces
2 & 1/4 cups granulated sugar
4 large eggs
16 ounces sour cream
1 & 1/2 teaspoons vanilla extract
Instructions
To make the crumb topping:
Place flour, brown sugar, and salt in the bowl of a food processor. Pulse for a few seconds to mix. Add pecans, and pulse until pecans are finely chopped and thoroughly mixed.
Add butter and pulse until combined. The mixture should look like coarse sand. Cover and refrigerate.
To make the swirl:
Whisk together sugar, cocoa powder, and cinnamon. Set aside.
To make the cake:
Preheat oven to 350°. Butter a 9"x 13"x 2" baking pan.*
Whisk together flour, baking soda, baking powder, and salt. Set aside.
Using an electric mixer or a stand mixer, beat butter until smooth. Scrape down the sides of the bowl. Add sugar, and beat until mixture is smooth and fluffy. Add eggs, one at a time, beating well after each addition. Scrape sides again and mix for another 30 seconds.
Add sour cream and vanilla, and mix just until combined. Add flour mixture in 3 portions, scraping sides of bowl as needed. Mix each addition just until combined. Do not overmix.
To assemble the cake:
Pour one-third of the cake batter into prepared pan. Spread evenly.
Sprinkle half of the swirl mixture evenly over the batter.
Spread half of the remaining batter evenly over the swirl mixture.
Sprinkle remaining swirl mixture evenly over batter.
Spread remaining batter evenly over the swirl mixture.
Sprinkle crumb mixture evenly over the batter.
Bake for 60-70 minutes, rotating the pan 3 times during baking. A pick inserted into the center of the cake should come out clean.
Cool cake in pan on wire rack for at least 30 minutes before serving.
Store any leftovers at room temperature in a tightly sealed container for up to 3 days.
Notes
http://www.bakeorbreak.com/2013/03/sour-cream-coffee-cake-with-chocolate-cinnamon-swirl/
Copyright 2016 Bake or Break