December 3, 2012
Turtle Cheesecake Thumbprint Cookies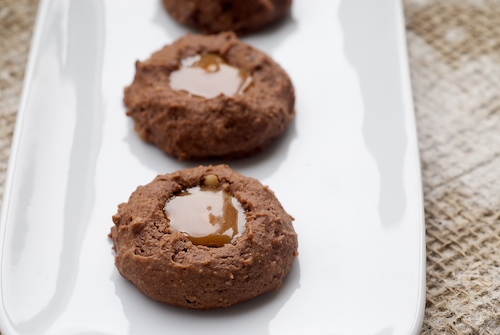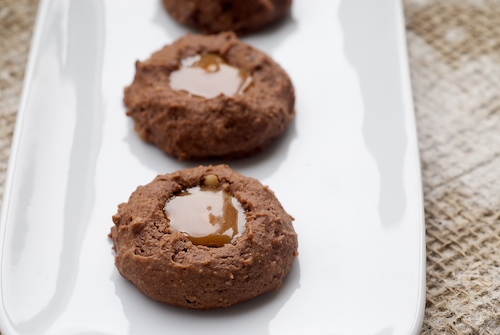 As someone who is a fan of cheesecake, chocolate, nuts, and caramel, it's no surprise that I would enjoy turtle cheesecake. Not the ubiquitous mass-produced kind, but the actual homemade variety.
Cheesecake is not that difficult to make, but it is time-consuming. So, for the holidays, I thought it might be a grand idea to take all of those delicious turtle cheesecake elements and condense them into cookies. Boy, was I right!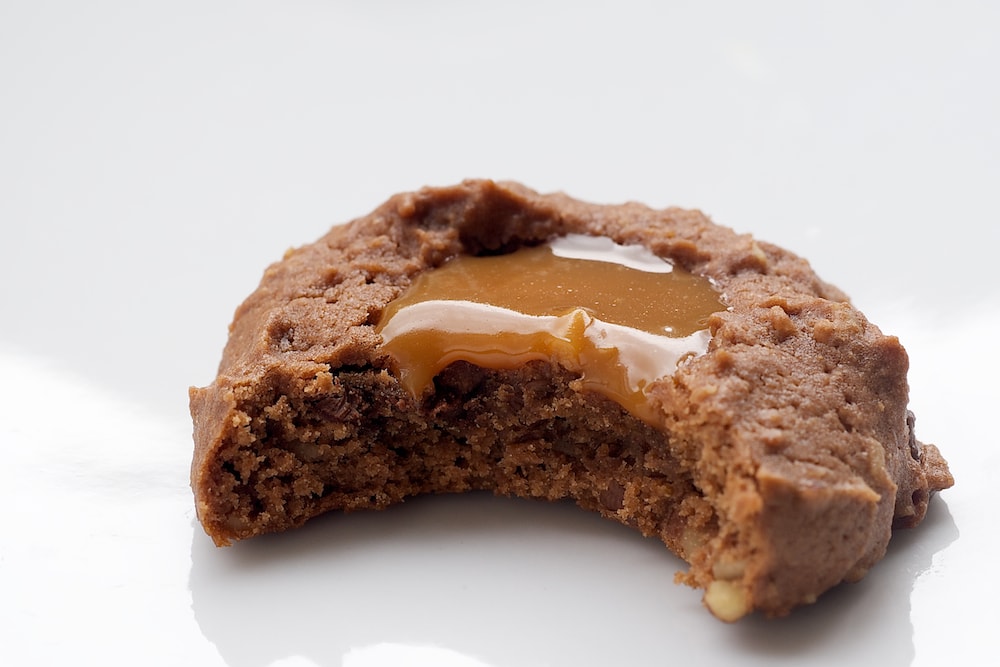 Honestly, the cookies are fabulous all on their own. But, in keeping with the turtle theme, we must have caramel! So, a little indentation is made in the top and filled with creamy caramel.
I love these cookies just as they are. But, if you want to add just a bit more fancy to them, drizzle with melted chocolate and sprinkle with chopped pecans. They'll look absolutely gorgeous on your holiday cookie tray.
Turtle Cheesecake Cookies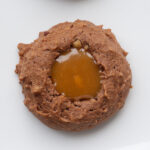 Ingredients
For the cookies:

2 cups all-purpose flour
1/2 cup graham cracker crumbs
1/2 cup unsweetened cocoa powder
1 teaspoon baking powder
1/2 teaspoon salt
1/2 cup unsalted butter, softened
8 ounces cream cheese, softened
1 cup granulated sugar
1/2 cup packed light brown sugar
2 large eggs
2 teaspoons vanilla extract
1/2 cup mini chocolate chips
3/4 cup chopped pecans

For the caramel topping:

15 soft caramels, unwrapped (about 4 ounces)
3 tablespoons heavy cream
Instructions
To make the cookies:
Preheat oven to 350°. Line baking pans with parchment paper or silicone liners.
Whisk together flour, graham cracker crumbs, cocoa powder, baking powder, and salt. Set aside.
Using an electric mixer on medium speed, beat butter and cream cheese until combined. Add sugar and brown sugar, and beat until fluffy. Add eggs, one at a time, mixing well after each addition. Mix in vanilla.
Reduce mixer speed to low and gradually add flour mixture. Mix just until combined. Stir in chocolate chips and pecans.
Using a tablespoonful of dough, shape cookies into balls. Place about 2 inches apart on prepared pans. Flatten each ball slightly. Using your thumb or the back of a spoon, press a 1/4-inch indentation into the top of each cookie.
Bake cookies, one pan at a time, 12-15 minutes or until cookies are set. Cool on pans for 5 minutes. Then, transfer to wire racks to cool completely.
To make the caramel topping:
Place caramels and cream in a heavy saucepan. Heat on the stovetop over low heat, stirring frequently, until caramels have melted and mixture is smooth.
Using about 1/2 teaspoon at a time, fill cookie indentations with caramel. Allow caramel to cool and set. If necessary, you may refrigerate the cookies to set the caramel.
Notes
This is a big-batch recipe, but it can easily be halved to make a smaller batch.
http://www.bakeorbreak.com/2012/12/turtle-cheesecake-thumbprint-cookies/
Copyright 2016 Bake or Break