June 14, 2012
Cookie Dough Billionaire Bars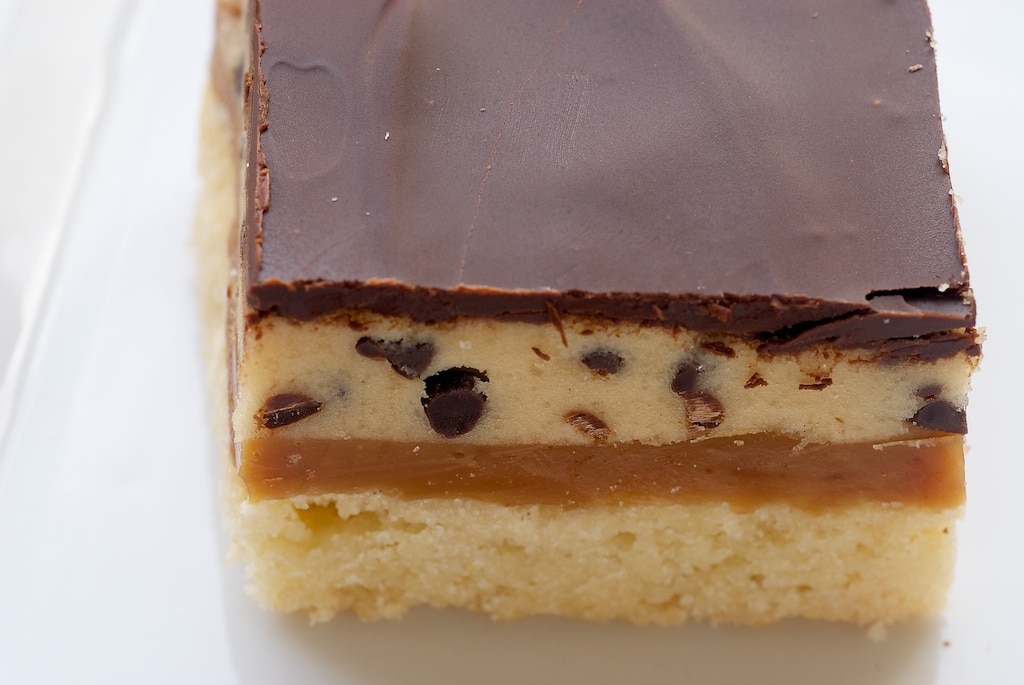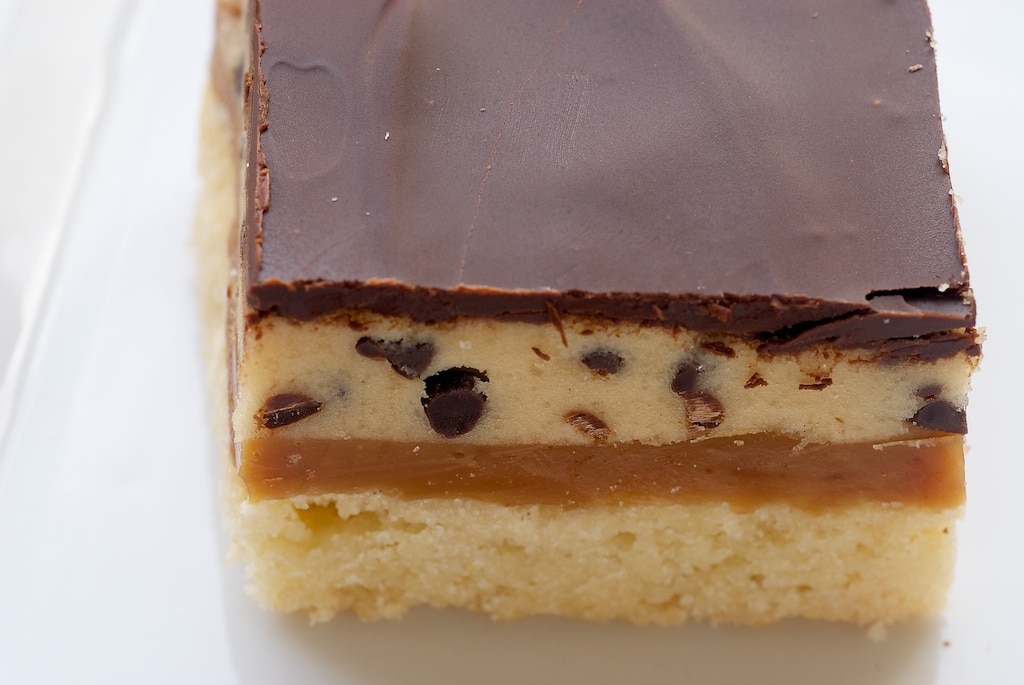 Remember the Cookie Dough-lympics I told you about last week? I made this no-bake cheesecake using Lindsay's eggless cookie dough from her new book, The Cookie Dough Lover's Cookbook.
I also couldn't resist making one of the recipes from the book. These bars, with their shortbread crust and caramel and cookie dough and chocolate just called to me. It wasn't subtle. They were practically begging to be made.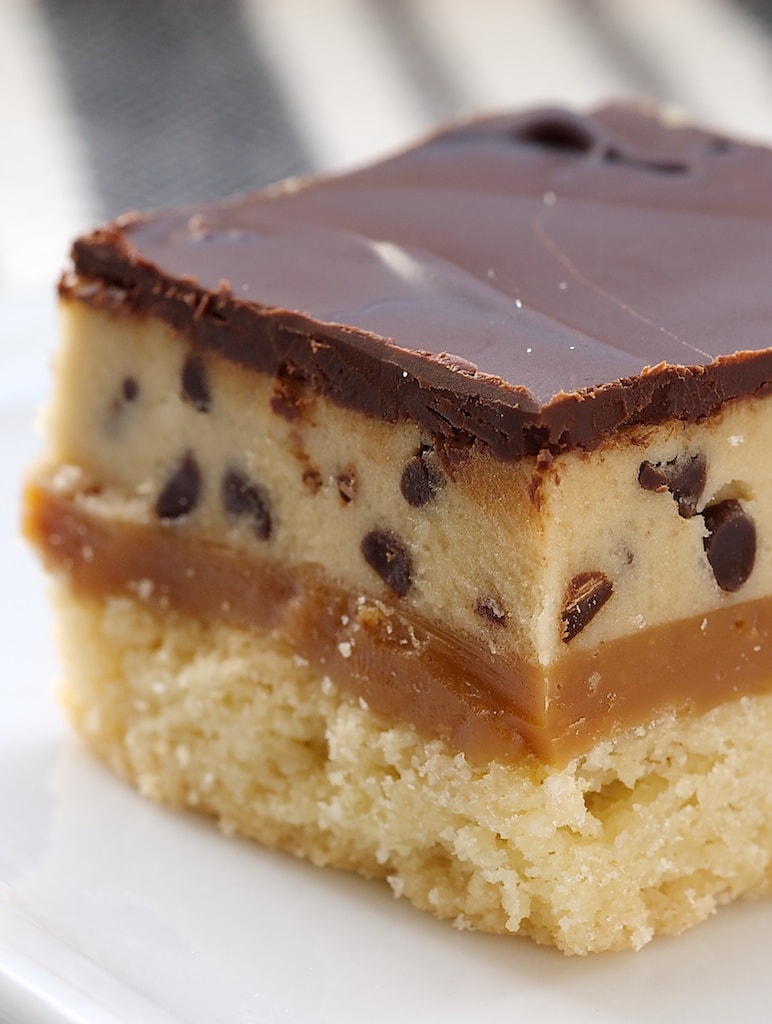 Now, be warned that there are several steps involved here. None of them are difficult, but you'll want to make sure all of your mixing bowls and measuring cups are clean before you get started.
As you might imagine, these bars are quite rich. I recommend cutting them into small squares. You may also want to leave them at room temperature for a few minutes before serving them to allow the caramel layer to soften a bit.
Cookie Dough Billionaire Bars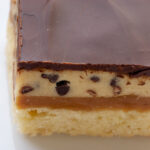 Ingredients
For shortbread:

1/3 cup unsalted butter, softened
1/3 cup granulated sugar
1/2 teaspoon vanilla extract
1/4 teaspoon salt
1 cup all-purpose flour

For caramel:

7 ounces soft caramel candies
2 tablespoons heavy cream

For cookie dough:

1/2 cup unsalted butter, softened
1/4 cup granulated sugar
1/2 cup light brown sugar, packed
2 tablespoons heavy cream
1/2 teaspoon vanilla extract
3/4 cup all-purpose flour
1/8 teaspoon salt
1/2 cup mini semisweet chocolate chips

For chocolate glaze:

4 ounces semisweet chocolate
1 tablespoon unsalted butter
Instructions
To make shortbread:
Preheat oven to 350°. Line an 8-inch square baking pan with parchment paper, leaving about a 1-inch overhang on 2 sides.
Using an electric mixer on medium speed, beat butter and sugar until light and fluffy. Add vanilla and salt, beating until combined. Add flour and mix until combined. (Dough may be crumbly.)
Press dough into bottom of prepared pan. Using a fork, poke shallow holes into the dough. Bake 18-22 minutes, or until edges are golden. Cool on wire rack.
To make caramel:
Place caramel and cream in a small saucepan over medium heat. Cook, stirring constantly, until melted. Pour over shortbread and spread evenly. Refrigerate about an hour, or until set.
To make cookie dough:
Using an electric mixer on medium speed, beat butter, sugar, and brown sugar until light and fluffy. Add cream and vanilla, and mix well. Reduce mixer speed to low and add flour and salt, mixing until combined. Stir in chocolate chips.
Using a spatula, spread cookie dough evenly on top of caramel layer. Place in refrigerator while making the glaze.
To make chocolate glaze:
Place chocolate and butter in a microwave-safe bowl. Heat at half power in 30-second increments until chocolate melts when stirred. Spread evenly over cookie dough layer. Chill about 30 minutes, or until set.
Using the edges of the parchment paper, lift the bars out of the pan and onto a cutting board. Use a sharp knife to cut into squares.
Keep bars refrigerated in an airtight container.
Notes
http://www.bakeorbreak.com/2012/06/cookie-dough-billionaire-bars/
Copyright 2016 Bake or Break