April 6, 2012
Pecan Layer Cake with Banana Icing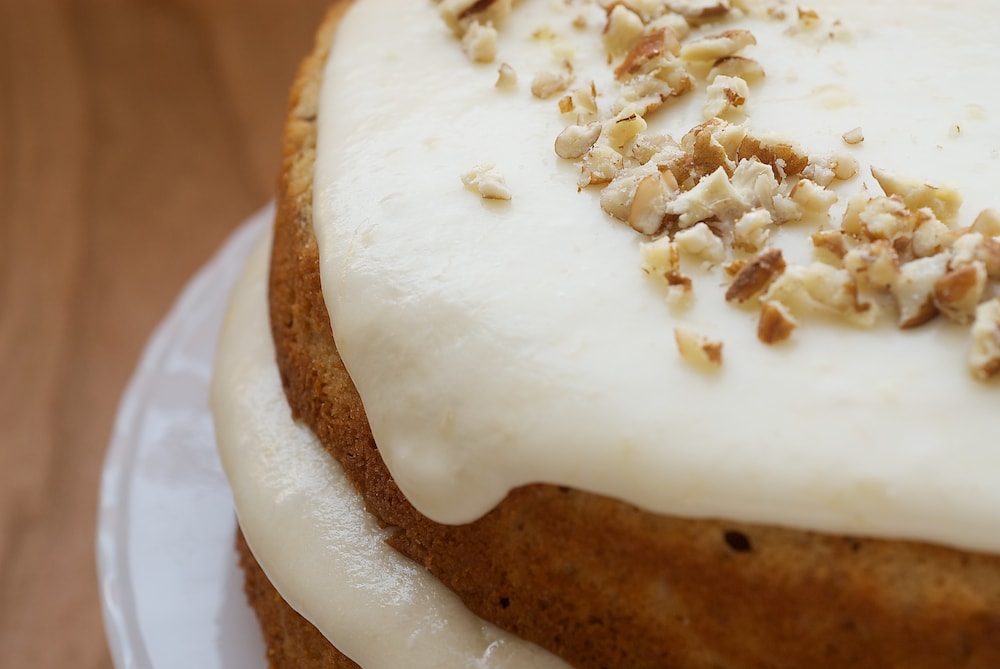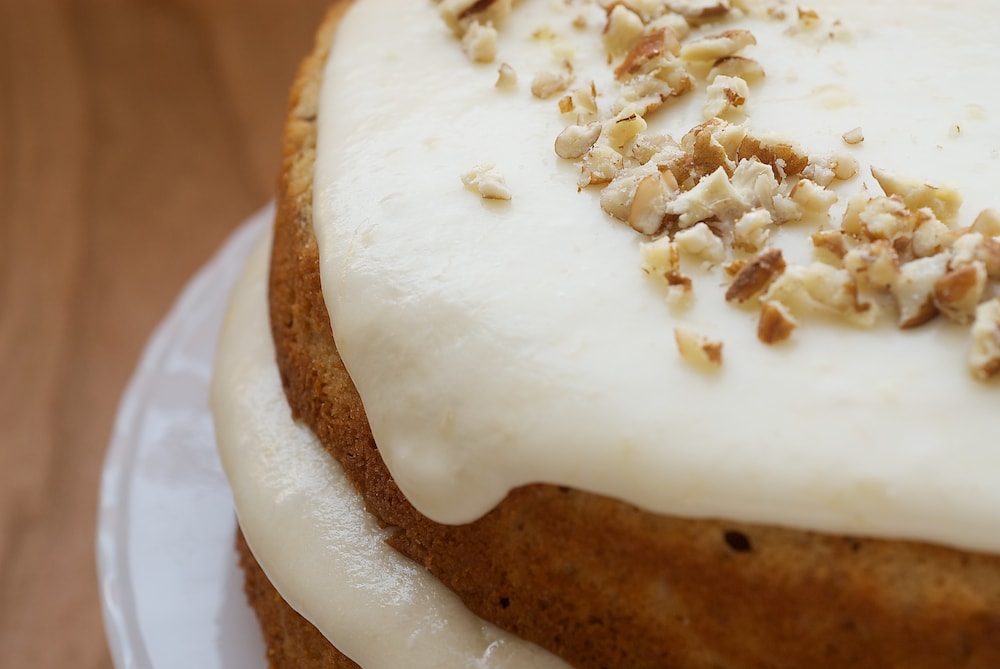 I have a green metal box full of my grandmother's hand-written recipes. When I need some baking inspiration, I love to look through it and see what jumps out at me.
Recently, I came across one of her recipes for a banana icing. No cake, just the icing. As I started thinking of what kind of cake would go well with the icing, my mind kept returning to the idea of a pecan cake.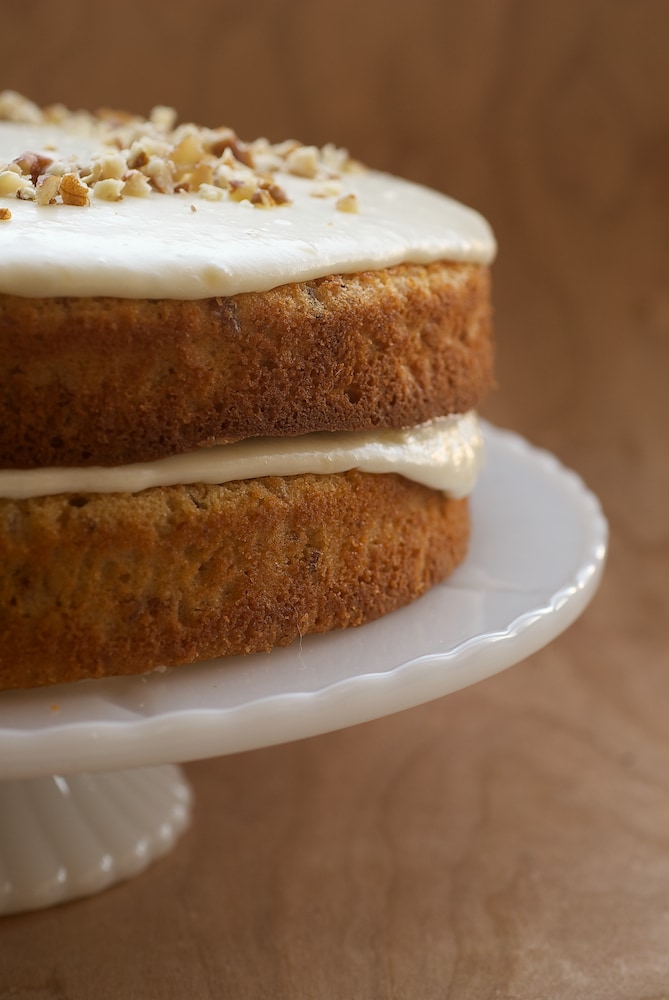 Never one to shy away from pecans, I dove in and made a new favorite cake packed with pecans and a hint of cinnamon. It proved to be a perfect complement to a simple, sweet banana icing. And, of course, I couldn't resist serving it on one of my grandmother's cake stands. Beautiful, isn't it?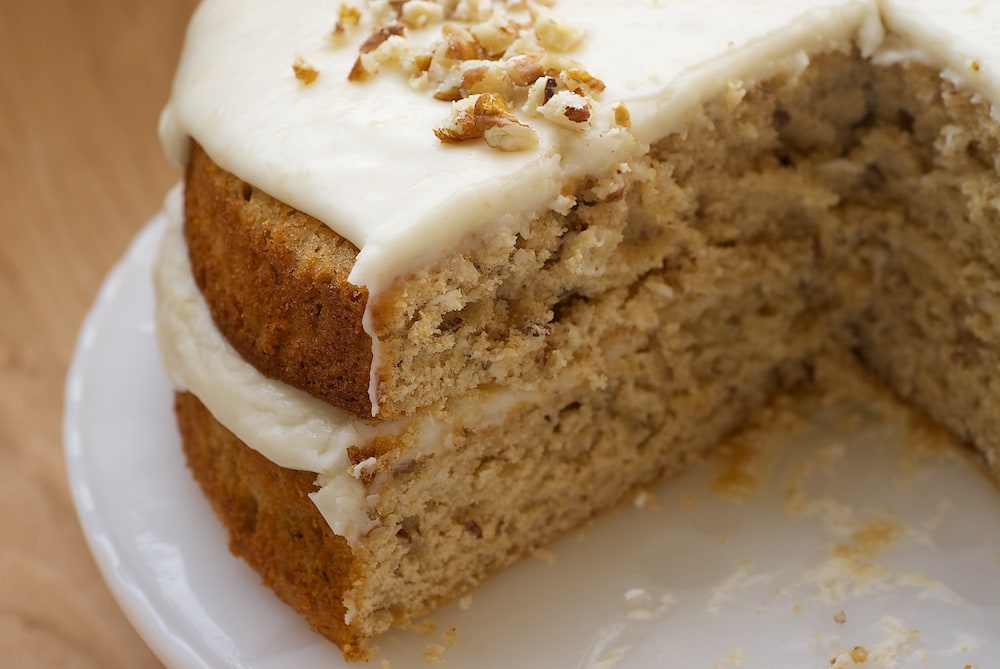 Pecan Layer Cake with Banana Icing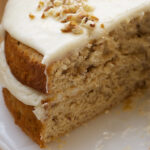 Ingredients
For the cake:

2 cups all-purpose flour
2 teaspoons baking powder
1/2 teaspoon salt
1 teaspoon ground cinnamon
1/2 cup unsalted butter, softened
3/4 cup granulated sugar
3/4 cup packed light brown sugar
3 large eggs
1 tablespoon vanilla extract
1 cup sour cream
1/2 cup chopped pecans

For the icing:

1 large banana
2 tablespoons unsalted butter, melted
1 tablespoon lemon juice
16 ounces confectioners' sugar
2-4 tablespoons coarsely chopped pecans, toasted (optional)
Instructions
To make the cake:
Preheat oven to 350°. Grease two 9-inch round cake pans.
Whisk together flour, baking powder, salt, and cinnamon. Set aside.
Beat butter, granulated sugar, and brown sugar until fluffy. Add eggs, one at a time, beating well after each addition. Mix in vanilla.
Gradually add flour mixture and mix until combined. Stir in sour cream. Stir in pecans.
Bake 22-25 minutes, or until a toothpick inserted into the center comes out clean. Cool in pans on wire rack.
To make the icing:
In a large bowl, mash banana. Stir in butter and lemon juice. Add sugar in 3-4 additions and mix until smooth and spreadable.
Place one cake layer on cake plate. Cover the top with half of the icing. Top with remaining cake layer. Cover the top with remaining icing. Garnish, if desired, with pecans.
Refrigerate cake until frosting has set (1-2 hours) before serving.
http://www.bakeorbreak.com/2012/04/pecan-layer-cake-with-banana-icing/
Copyright 2016 Bake or Break