January 9, 2012
Peanut Butter Cookies with Milk Chocolate Chunks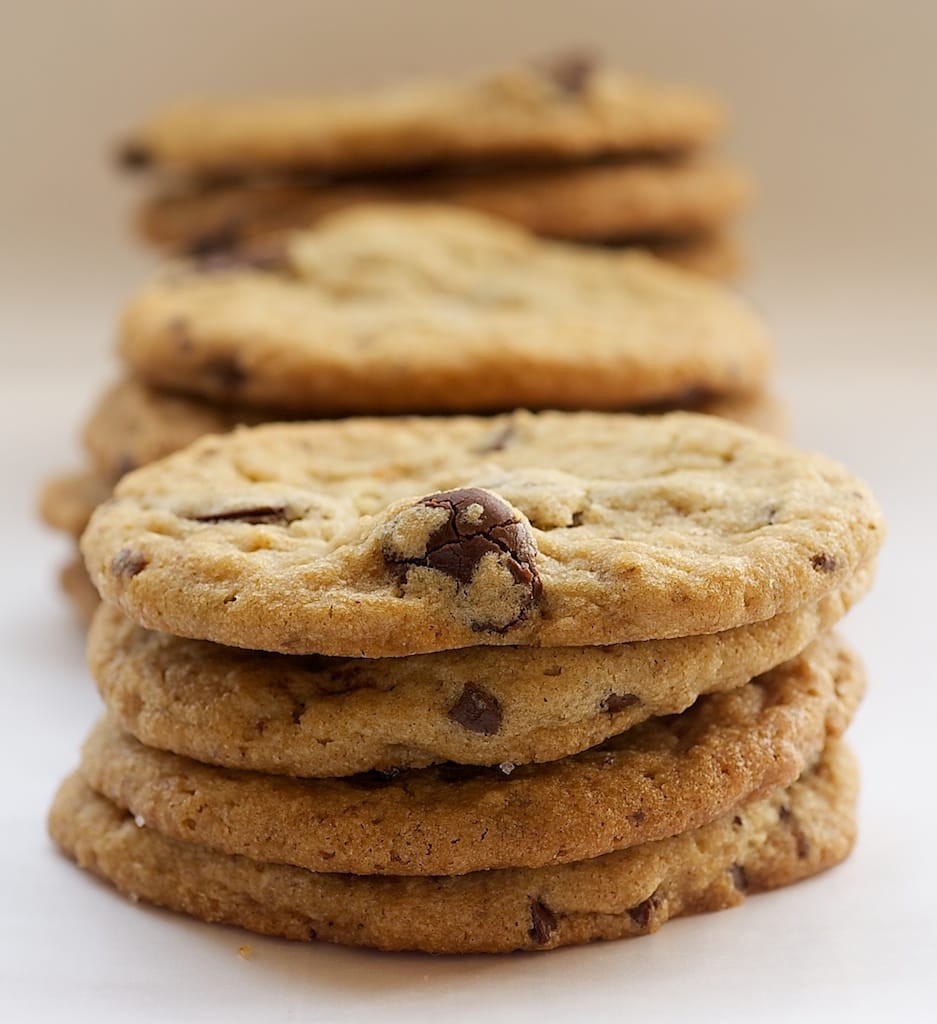 The recipe for these amazing cookies comes to us from the equally amazing guys at Baked and their cookbook, Baked: New Frontiers in Baking. I've only made it over to Red Hook once to sample their creations, but their two cookbooks are certainly well-used in my kitchen.
I've had these cookies bookmarked for a while. Recently, I had a couple of baking… Well, I hate to say disasters. Let's just say I've had some challenges of late. Because of that, I found myself wanting to bake something straightforward. Not surprisingly, I turned to an old and trusted favorite pair of mine – peanut butter and chocolate.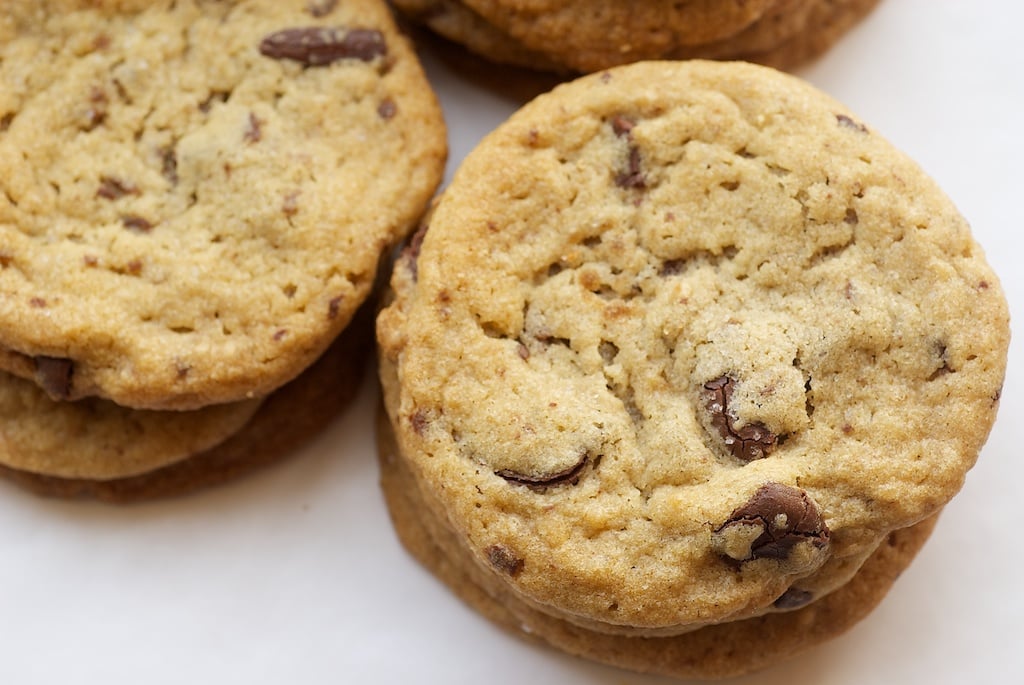 As I had hoped, these cookies were just what I needed. They're simple and delicious. They are that crispy on the outside, chewy on the inside cookie that we all strive to attain. The chocolate really makes these special. My chocolate of choice for these was Guittard's milk chocolate. The Baked guys are pretty adamant about using milk chocolate instead of semisweet. I've yet to be disappointed by them, so I complied. Honestly, if they suggested folding in broken glass, I probably wouldn't have given it a second thought.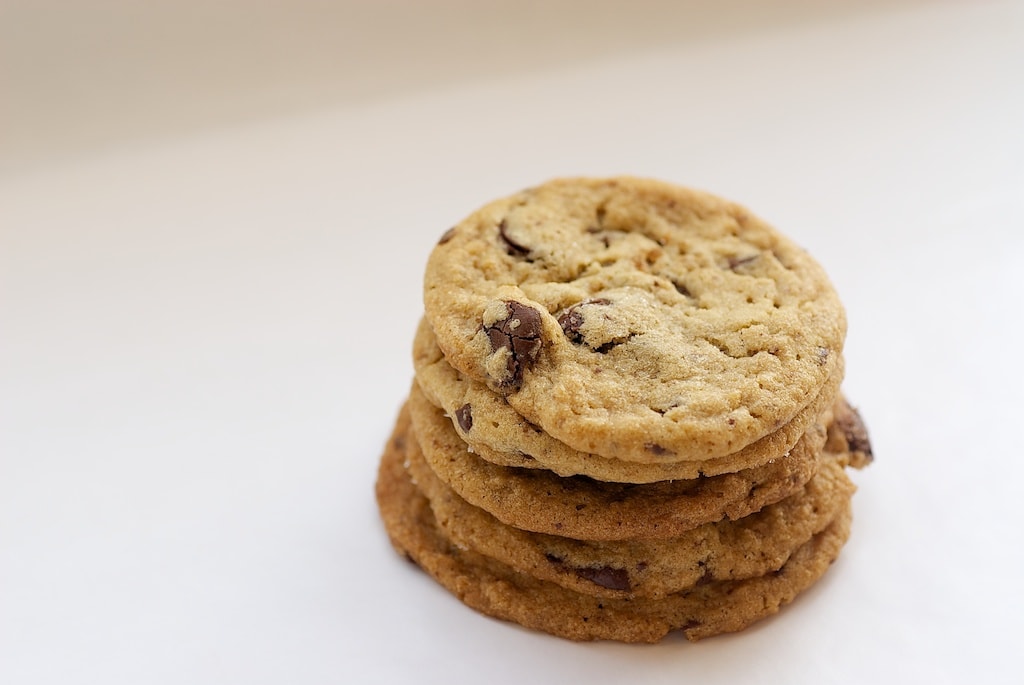 The Baked cookbook describes these cookies as "the only peanut butter cookie." I haven't baked nearly enough peanut butter cookies to make that kind of declaration. But, I will say that they are the very best peanut butter cookies I've had in a very long time.
Peanut Butter Cookies with Milk Chocolate Chunks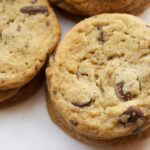 Ingredients
1 & 3/4 cups all-purpose flour
2 teaspoons baking soda
1 teaspoon salt
1 cup unsalted butter, softened, cut into 1-inch pieces
1 cup granulated sugar
1 cup firmly packed dark brown sugar
2 large eggs
1 teaspoon vanilla extract
1 cup creamy peanut butter
6 ounces good milk chocolate, coarsely chopped
granulated sugar or sanding sugar, for sprinkling
Instructions
Sift together flour, baking soda, and salt. Set aside.
Using an electric mixer, beat butter, granulated sugar, and brown sugar until fluffy. Add eggs, one at a time, beating well after each addition. Add vanilla and peanut butter. Beat until combined.
Add half of flour mixture. Mix for 15 seconds. Add remaining flour mixture and mix just until combined. Fold in chocolate. Cover bowl and refrigerate for at least 3 hours.
Preheat oven to 375°. Line baking sheets with parchment paper or silicone liners.
Drop dough by rounded tablespoonfuls onto baking sheets, leaving about 2 inches between cookies. Using the palm of your hand, gently press each cookie down so that it forms a tall disk shape. Be sure not to press too hard or press cookies too flat.
Sprinkle tops of cookies with granulated sugar or sanding sugar. Bake 10-12 minutes, until tops of cookies just begin to brown.
Cool cookies on pan on wire rack for 5 minutes. Transfer cookies to rack to cool completely. Store in an airtight container for up to 3 days.
Notes
http://www.bakeorbreak.com/2012/01/peanut-butter-cookies-with-milk-chocolate-chunks/
Copyright 2016 Bake or Break