December 3, 2007
Pistachio Oat Sandies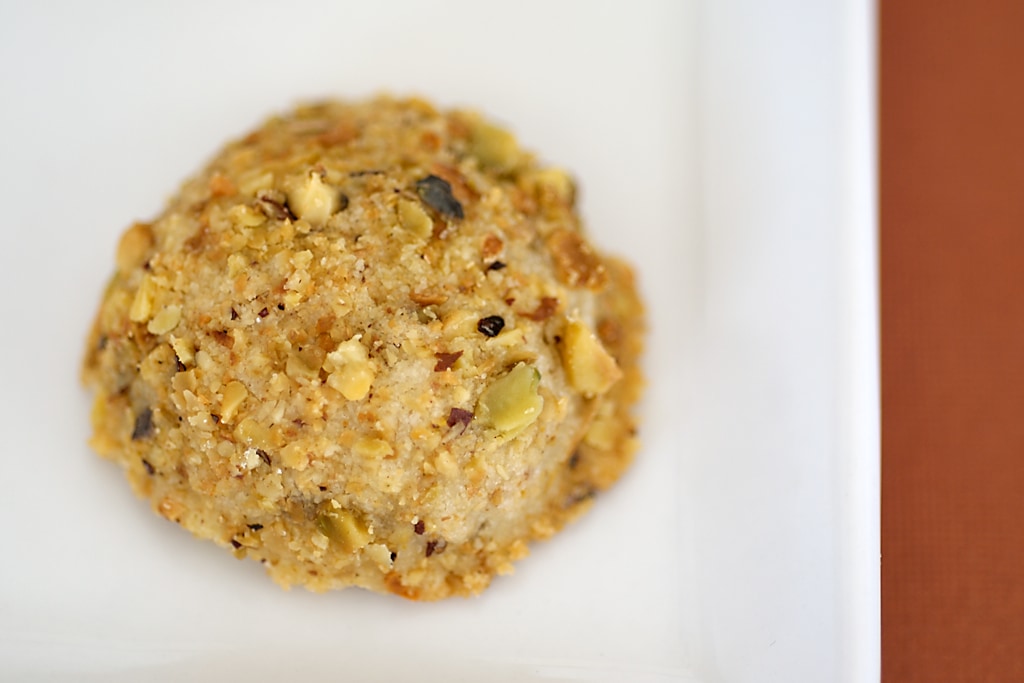 Day three of holiday baking…
Every year, I am overcome with the need to buy far too many of those holiday magazines. I have come to accept that I will buy them, although I don't think I've bought as many as I did last year. I'm trying to be a bit pickier and only buy the ones that have several recipes that I feel I must make.

One of this year's picks comes from Taste of the South. Their magazine is already one of my favorites, so I figured their Holiday Cooking edition would be full of great recipes. After a quick glance through its pages, I brought it home and proceeded to mark several recipes that I wanted to make. Knowing that I was about to embark on my great holiday baking adventure, I singled out this recipe as one that would be delicious as well as great for gifting and serving.
My only hesitation in making this recipe was the presence of shortening. I have become quite wary of using shortening with all the trans-fat nightmares. I decided to look at my local grocery store for the "0-trans-fat" variety. I did find it, although I'm still a bit hesitant to use it, considering that the FDA allows products with less than 0.5 grams of trans-fat per serving be labeled as "0-trans-fat." Interestingly enough, the new shortening has 0-trans-fat per serving, but the original shortening listed nutritional values based on a 50% larger serving size. So, what does that tell you about how much trans-fat is in the larger serving of the new shortening? Anyway, I'll dismount my soap box and get on with the cookies.
The relevant purpose of that previous paragraph is to say that I decided to decrease the amount of shortening in the recipe. I didn't want to remove it completely, because shortening does serve a purpose in baked goods. It helps baked goods keep their shape better than butter. So, I reduced the shortening by half and added an equivalent amount of butter.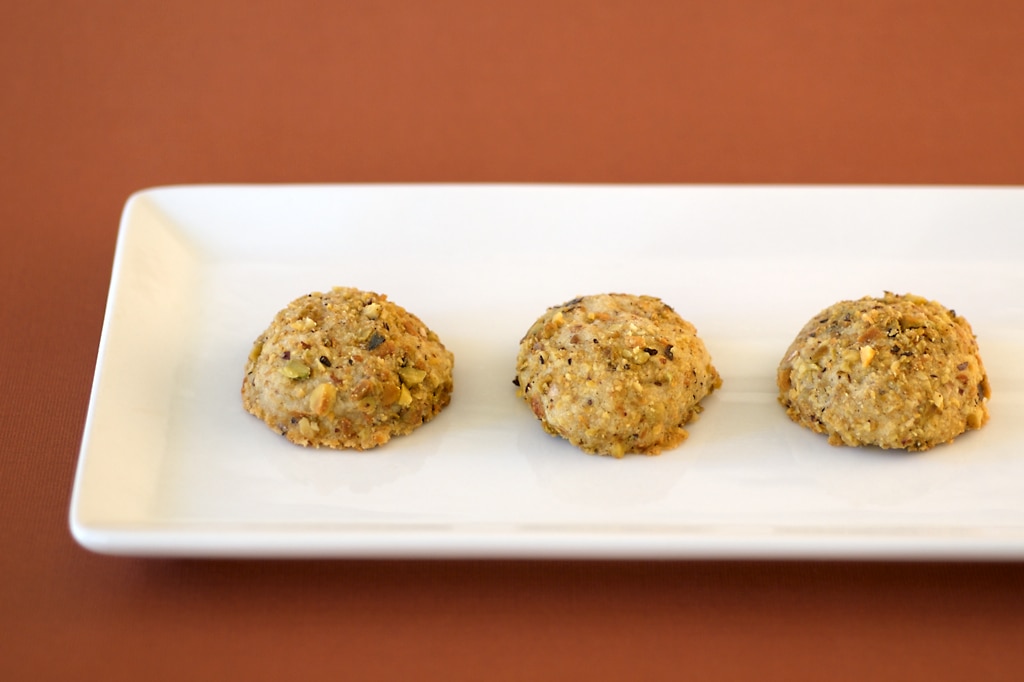 The result? Delicious cookies. I love the addition of pistachios to a traditional oat cookie. These cookies retained their shape, with very little spreading. For those of you completely opposed to shortening (and I can't say I blame you), you could easily substitute butter for the entire amount of shortening. They might not have quite the same shape as shortening cookies, but they should taste the same (or even better with all that butter!) and not be quite as unhealthy.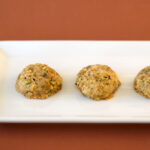 Ingredients
3/4 cup unsalted butter, softened
1/4 cup shortening
1/2 cup confectioners' sugar
1 teaspoon vanilla extract
1 & 1/2 cups all-purpose flour
1 cup quick-cooking oats
1/2 teaspoon salt
1 cup finely chopped pistachios, divided into 1/2 cup portions
Instructions
Beat butter, shortening, and sugar at medium speed until creamy. Add vanilla and stir well.
In a separate bowl, combine flour, oats, salt, and 1/2 cup of chopped pistachios. Gradually add flour mixture to butter mixture. Mix well. Cover and refrigerate for an hour.
Preheat oven to 325°.
Roll cookie dough in 1-inch balls. Roll each ball in remaining chopped pistachios, coating well. Place balls about 2 inches apart on ungreased baking sheets. Bake about 15 minutes, or until edges are slightly browned. Cool on wire racks.
Notes
http://www.bakeorbreak.com/2007/12/pistachio-oat-sandies/
Copyright 2016 Bake or Break