November 6, 2006
Butter Pecan Turtle Bars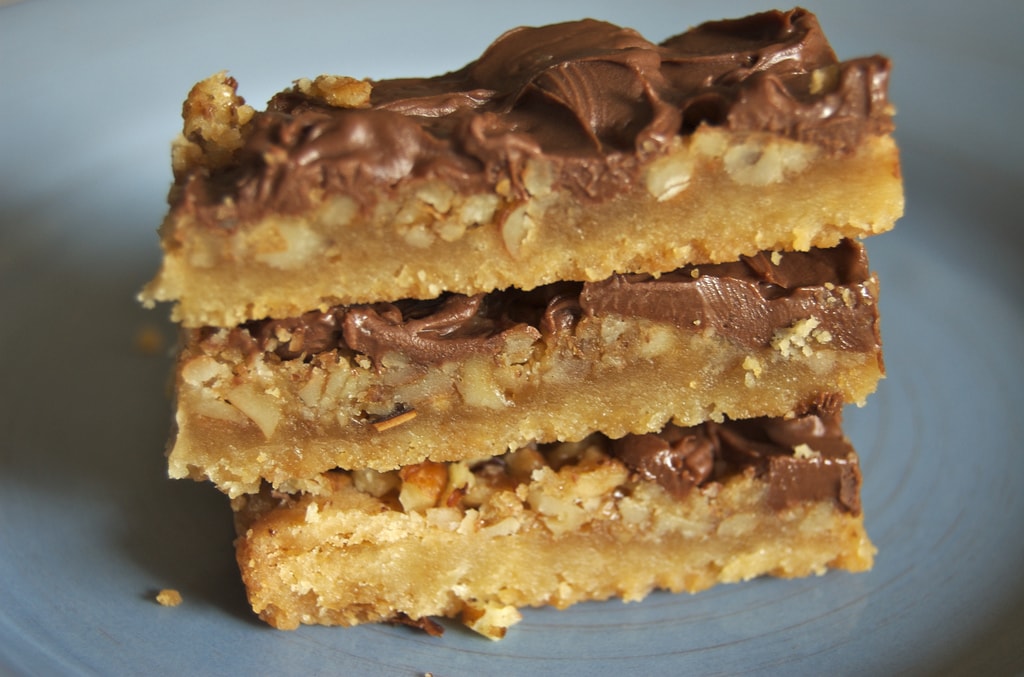 For me, Christmas season starts as soon as the last trick-or-treater takes their candy and walks away from my front door. This year, actually, while I waited for the little ones to come I planned out Christmas decorations. Quinn, being the ever-loyal husband, followed me around the house making notes and drawing sketches for me. So, it comes as no surprise that this recipe comes from Southern Living's Big Book of Christmas Baking.
Not wanting to spend hours in the kitchen, I was looking for something easy and quick. This recipe fit the bill on both counts. These little bars mix up in no time, with only a mixing bowl and a saucepan to clean up. The flavor is good, too. For only having a handful of ingredients, they are very rich. The middle layer of pecans and the caramel-ish stuff is almost like toffee in taste and texture.
My only problem with these is the chocolate on top. The chocolate chips were added after baking, and then after a few minutes they were to be swirled into the bars with a knife to create a marbled effect. That didn't work out so well, so I ended up just kind of spreading it around like frosting. Knowing that now, I would probably use more than a cup of chocolate chips to have plenty to cover all of the bars.
These would be great for Christmas or for any time. Somehow, just baking out of a Christmas cookbook makes it seem more like Christmas. Be prepared, everyone, as Christmas approaches I may not be able to control all my baking urges.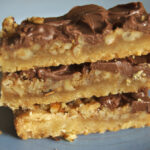 Ingredients
For the crust:

1/2 cup unsalted butter, softened
1 cup firmly packed brown sugar
2 cups all-purpose flour
1 cup chopped pecans

For the filling:

2/3 cup unsalted butter
1/2 cup firmly packed brown sugar
1 cup milk chocolate chips
Instructions
To make the crust:
Beat butter until creamy. Add brown sugar and mix well. Add flour gradually and mix well.
Press into the bottom of an ungreased 9″x13″ pan. Sprinkle with pecans.
To make the filling:
Preheat oven to 350 degrees.
In a saucepan over medium heat, melt butter. Stir in brown sugar. Bring to a boil, and continue stirring for about 30 seconds.
Pour over crust and pecans. Bake for 15 to 18 minutes.
Remove from oven and sprinkle with chocolate chips. Let stand for a few minutes, and then use a knife to cut through chocolate. Cool and cut into bars.
Notes
http://www.bakeorbreak.com/2006/11/butter-pecan-turtle-bars/
Copyright 2016 Bake or Break