October 19, 2006
Chocolate Chip Date Nut Cookies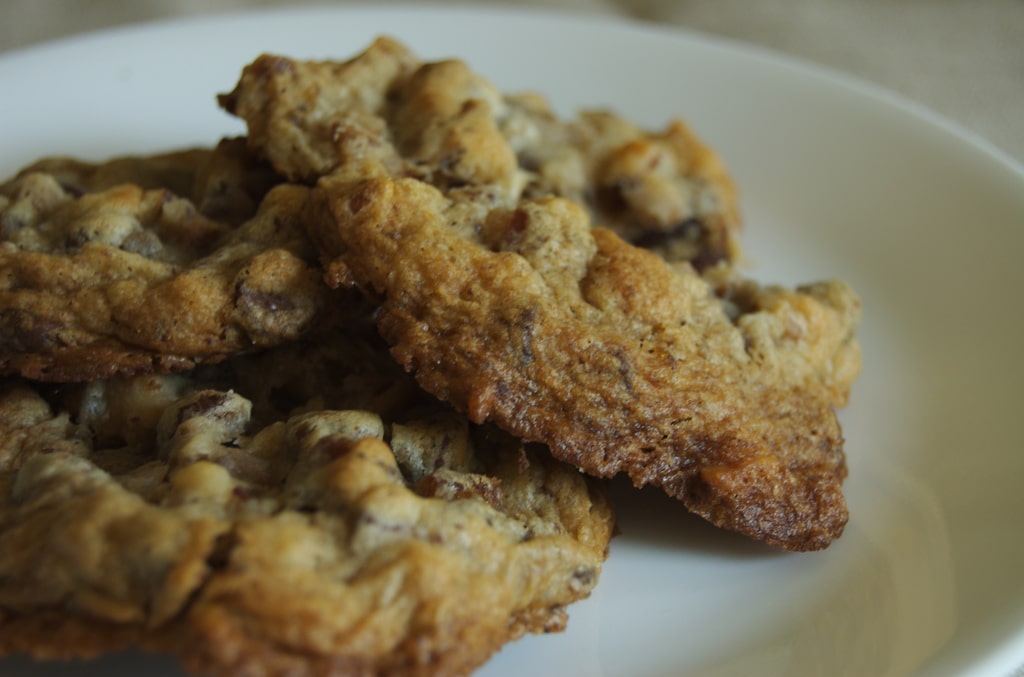 An alternate name for these cookies would be Cleaning out the Pantry Cookies because that's basically what I did. I was staring at my pantry shelves trying to think of something to bake when I realized that I had accumulated so many different things from my baking exploits that they were taking over the whole space. The discouraging thing, though, was that it was maybe a half cup of this and a quarter cup of that. Not really enough to use for a single recipe. That's when it hit me. Why not just throw it all together and see what happens?
So, I made a big batch of a basic cookie dough with flour, baking soda, salt, butter, sugar, brown sugar, eggs, and vanilla extract. Once this was mixed, I just started throwing stuff in. Pecans (of course), almonds, macadamias, and hazelnuts. Chocolate chips. And some dates, too, for good measure. Feel free to substitute whatever you happen to have on hand. Trust me – it's liberating.
What resulted was not pretty, but very tasty. I made them quite big, too, so you were guaranteed a little bit of everything in one cookie. As I told someone to whom I gave a bagful, if you don't like your first bite, keep going because you may like your second. An added plus to these cookies is that I now have a bit more room in my pantry. Of course, I'm likely to fill it right back up before too long. After all, it is almost holiday baking time.
Chocolate Chip Date Nut Cookies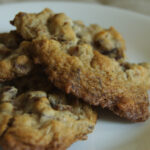 Ingredients
2 & 1/4 cups all-purpose flour
2 teaspoons baking soda
1/2 teaspoon salt
1 & 1/4 cups butter, softened
1 cup sugar
2/3 cup brown sugar
2 eggs
1 & 1/2 teaspoons vanilla extract
1 & 1/2 cups chopped pecans
1/2 cup chopped macadamia nuts
1/4 cup chopped almonds
1/2 cup chopped hazelnuts
8 ounces chopped dates
12 ounces semi-sweet chocolate chips
Instructions
Preheat oven to 350°. Line baking pans with silicone liners or parchment paper.
Combine flour, baking soda, and salt, and set aside.
Beat butter, and then add both sugars. Next, add eggs, one at a time. Then, add vanilla extract. Slowly add nuts, dates, and chocolate chips.
Drop by tablespoonfuls onto prepared pans. Bake for 10 to 12 minutes. Cool for a few minutes on cookies sheets, then finish cooling on wire racks.
http://www.bakeorbreak.com/2006/10/chocolate-chip-date-nut-cookies/
Copyright 2016 Bake or Break