September 9, 2006
Cream Cheese Biscuits & Chocolate Gravy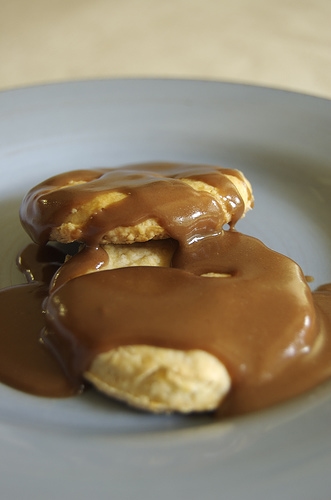 Yes, that's right. Chocolate gravy. Quinn had never heard of chocolate gravy when we met, but I quickly introduced him and he's been much happier ever since. Basically, imagine chocolate with the consistency of gravy. I am quick to tell you that I don't like gravy at all. Not even a little. But, chocolate gravy… well, that's another story. I mean, just look at it. Thick and chocolate-y. It's more than wonderful, and I'm not sure any words I can use here would do it justice.

Let's get the biscuits out of the way first. These are extra simple, but they are a perfect match with the gravy. This is another recipe from Paula Deen, with only one modification – more cream cheese. Combine 2 cups of Bisquick or other baking mix and 4 ounces of cream cheese. A pastry blender works beautifully. Add enough mik to moisten the dough. I usually use 1/2 to 1 tablespoon. It's really a preference thing. Put the dough on a lightly floured surface, and knead it a few times. Roll out the dough to whatever thickness you like, cut out, and place on a greased/sprayed/Silpat-ed baking sheet. Bake for about 12 minutes or until browned.
While the biscuits are cooking, there's just enough time to whip up some chocolate gravy. I admit that I don't know the exact origin of this recipe. I've tried many recipes over the years, and this one works best for me.
In a small saucepan, whisk together 1/3 cup of sugar, 1 & 1/2 tablespoons of flour, 1 & 1/2 tablespoons of cocoa, 1/2 cup of milk, and 1/2 cup of water. Bring this mixture to a boil over medium heat. Be sure to whisk constantly. Continue to boil until the mixture thickens. Stir in 1/4 cup of butter and 1 teaspoon of vanilla extract. Mix well and ladle over warm biscuits.
This is one of our favorite lazy day breakfasts. For those of you unfamiliar with chocolate gravy, I suggest that you become familiar with it as soon as possible. It is definitely one of my favorite things, and an honorable mention to my guide to the globe. It's good on any kind of biscuits, but the cream cheese biscuits are especially good. Feel free to use it on ice cream, shortbread, or whatever else you can think of.
Cream Cheese Biscuits & Chocolate Gravy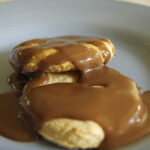 Ingredients
For the biscuits:

2 cups Bisquick
4 ounces cream cheese, softened
1/2 to 1 tablespoon milk

For the chocolate gravy:

1/3 cup granulated sugar
1 & 1/2 tablespoons all-purpose flour
1 & 1/2 tablespoons unsweetened cocoa powder
1/2 cup milk
1/2 cup water
1/4 cup unsalted butter, cut into small pieces
1 teaspoon vanilla extract
Instructions
To make the biscuits:
Preheat oven to 375°. Grease or line baking sheets.
Combine Bisquick and cream cheese with a pastry blender or a fork. Add enough milk to moisten the mixture and form a dough.
Transfer dough to a lightly floured surface. Roll out dough to desired thickness. Use a biscuit cutter to cut out biscuits. Place biscuits on prepared pans.
Bake 12-15 minutes, or until browned.
To make the gravy:
In a small saucepan over medium heat, whisk together sugar, flour, cocoa, milk, and water. Bring to a boil, stirring constantly. Continue cooking and stirring until thickened.
Remove from heat and stir in butter and vanilla. Serve warm over biscuits.
Notes
Biscuit recipe adapted from Food Network.
Chocolate gravy recipe adapted from many sources.
http://www.bakeorbreak.com/2006/09/cream-cheese-biscuits-chocolate-gravy/
Copyright 2016 Bake or Break