September 27, 2006
Almond Pear Cream Cheese Tart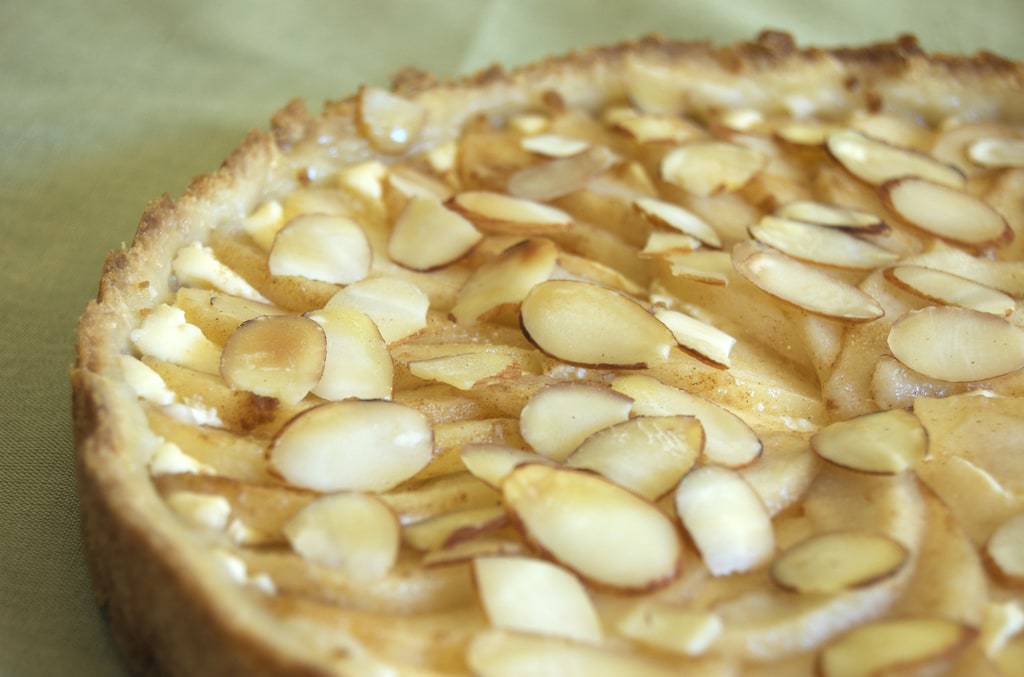 When I first saw this recipe, I thought it was a beautiful dessert. Then, I read the recipe and was shocked at how simple it sounded. I decided to try it out for myself, especially knowing how much Quinn likes pears. And, of course, how much I like cream cheese.

One little thing. The original recipe calls this a "torte." A quick internet search told me that a torte is a cake made with very little flour. A tart, however, is a single layer pie with a sweet or savory filling. That's more like it, so I am taking the liberty of renaming this recipe.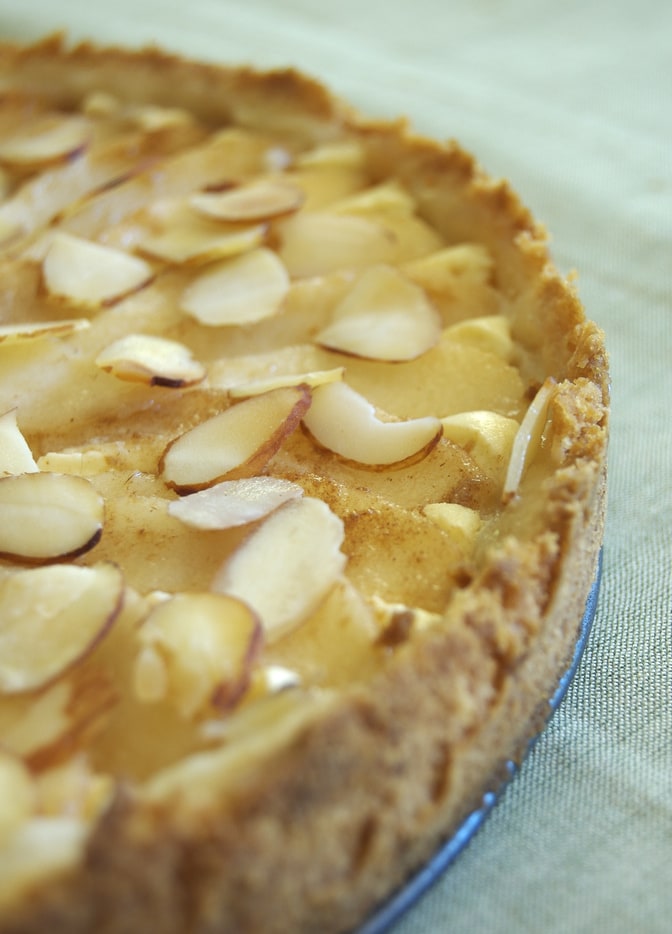 It did prove to be a pretty simple recipe. The only tedious part was arranging the pears, but it was actually fun to layer them because it made the tart so lovely. If I were to make it again, I would take a little different approach with the pears. I think sprinkling the pears with a mixture of cinnamon and sugar might get a bit more even distribution of seasoning. Tossing the spices with the pears was a bit tough because the sliced pears were so delicate.
The finished product is quite good. The texture is very light and smooth. The cream cheese filling itself is very light, almost custard-like. The almonds are the perfect complement to the tart. The crunch they add is just right. You should all be proud of me for going ahead with the almonds even though the recipe specifically suggested substituting pecans. It just seemed like almonds would be perfect. Of course, I mean no offense to my beloved pecan. I'm sure it will resurface here before too long.
Almond Pear Cream Cheese Tart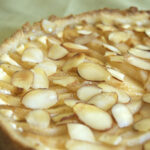 Ingredients
For the crust:

1/2 cup unsalted butter, softened
1/3 cup granulated sugar
1 cup all-purpose flour

For the filling:

8 oz cream cheese, softened
1/3 cup granulated sugar
1 large egg
1/2 teaspoon vanilla extract

For the topping:

1/3 cup granulated sugar
1/2 teaspoon ground cinnamon
4 cups sliced peeled pears (about 4 medium pears)
1/4 cup sliced almonds
Instructions
To make the crust:
Preheat oven to 425°. Beat butter and sugar on medium speed until light and fluffy. Add flour, and mix well. Spread onto bottom and about an inch up the sides of a 9″ springform pan.
To make the filling:
Beat cream cheese and sugar until blended. Add egg and vanilla extract, and mix well. Spread over crust.
To make the topping:
Combine sugar and cinnamon. Put this mixture in a bowl with the pears, and toss. Arrange pears on top of cream cheese filling. Sprinkle with almonds.
Bake about 10 minutes. Reduce temperature to 375 degrees. Bake for 20 to 25 minutes or until set. Cool on wire rack. Loosen sides from pan. Cover and refrigerate 3 hours.
Notes
Recipe adapted from Kraft.
http://www.bakeorbreak.com/2006/09/almond-pear-cream-cheese-tart/
Copyright 2016 Bake or Break