March 27, 2012
Cinnamon Cream Cheese Coffee Cake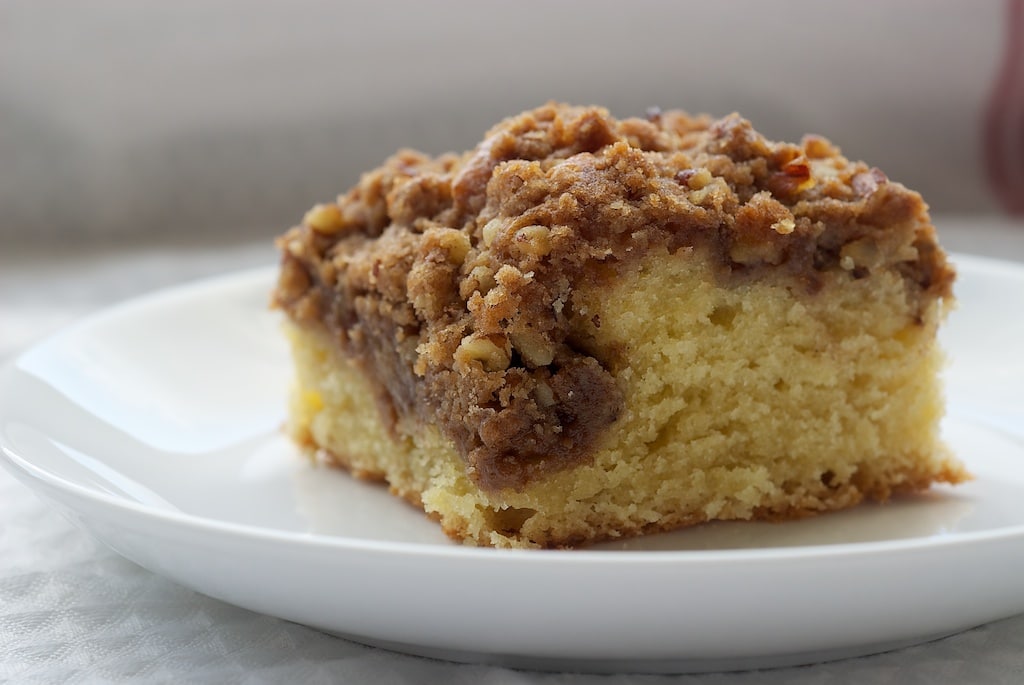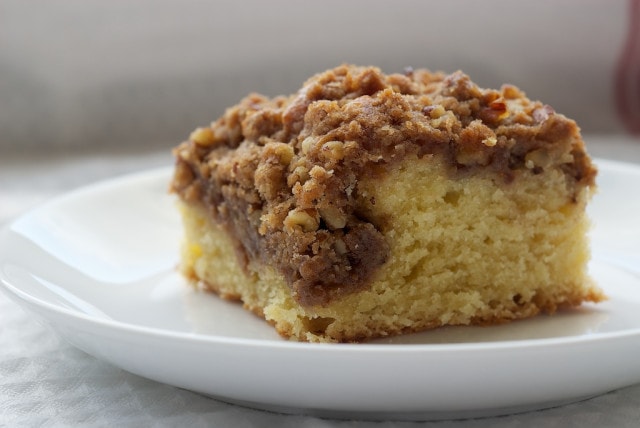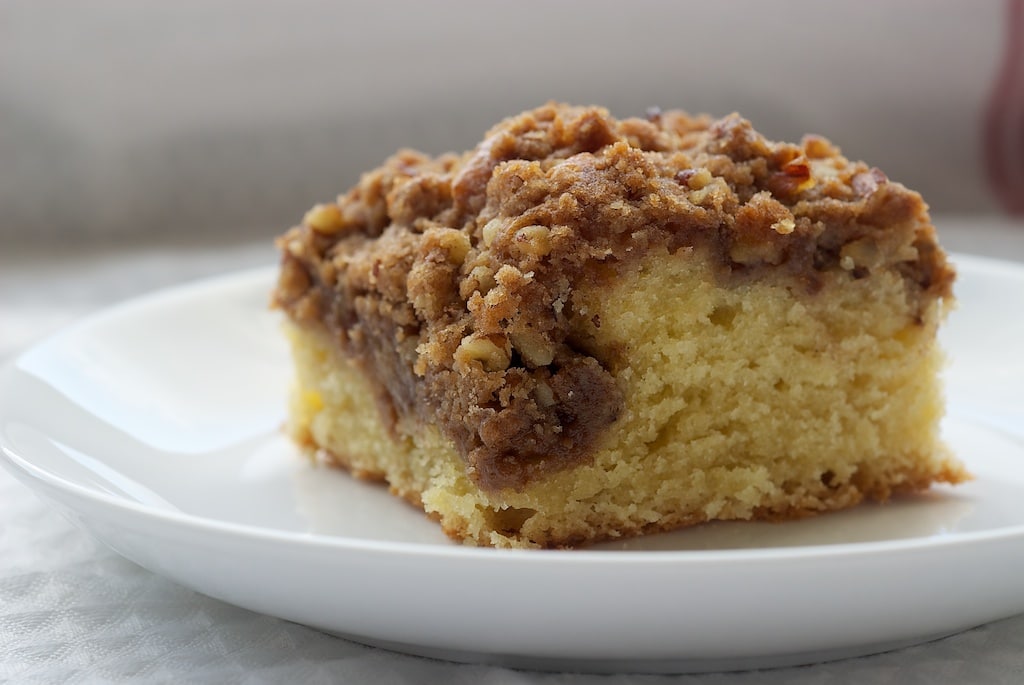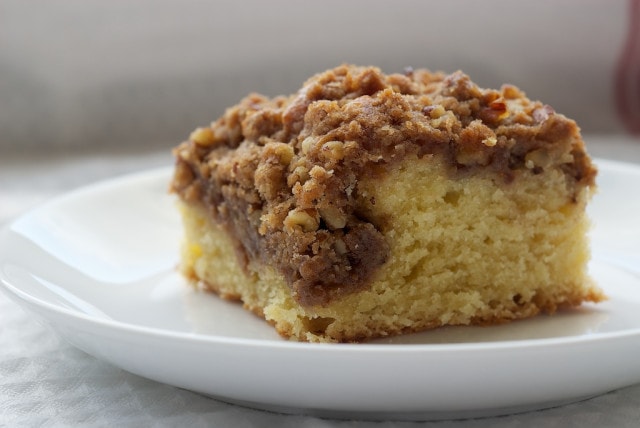 How great is coffee cake? There aren't that many cakes that can justifiably be eaten at any time of day. While we may not always need an excuse to eat cake for breakfast, it's nice to do so with a tad less guilt sometimes.
This particular coffee cake is a slight twist on the traditional with the addition of a cream cheese swirl. All the things we love about coffee cake are still there — cinnamon, nuts, crumb topping. There just happens to be some cream cheese goodness swirled into it the delicate cake to take it to new levels of fabulousness.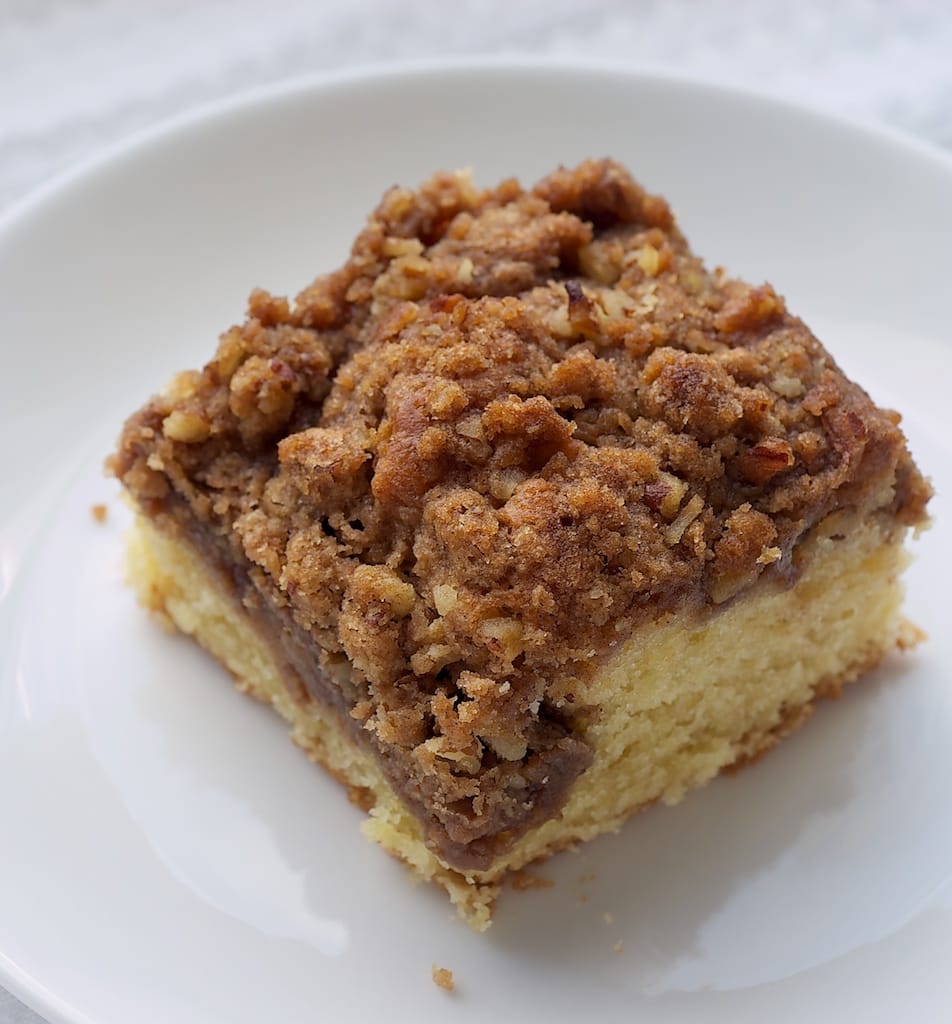 Don't be put off by the long-ish recipe. This is really far quicker and easier to put together than it appears. You will go through a lot of measuring spoons, bowls, and such, so make sure your dishwasher is ready for that. But, once you take a bite, you'll know it was worth every dirty bowl.
Click here to see more coffee cake recipes!
Cinnamon Cream Cheese Coffee Cake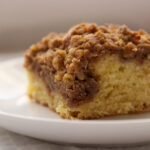 Ingredients
For the crumb:

1/4 cup unsalted butter, softened and cut into small pieces
1/3 cup all-purpose flour
1/2 cup packed light brown sugar
1 teaspoon ground cinnamon
1/4 cup chopped pecans
pinch salt

For the cream cheese swirl:

4 ounces cream cheese, softened
1/4 cup packed light brown sugar
1/2 teaspoon vanilla extract
1/2 teaspoon ground cinnamon
1/4 cup chopped pecans

For the cake:

3 cups all-purpose flour
1 teaspoon baking powder
1 teaspoon baking soda
1/2 teaspoon salt
1 cup unsalted butter, softened
1 cup granulated sugar
2 large eggs
1 teaspoon vanilla extract
1 & 1/4 cups sour cream
Instructions
To make the crumb:
Combine all crumb ingredients in a small bowl. Mix with a fork until mixture resembles crumbs.
To make the cream cheese swirl:
Beat cream cheese and brown sugar until fluffy. Mix in vanilla and cinnamon. Stir in pecans.
To make the cake:
Preheat oven to 350°. Grease a 9" x 13" baking pan.
Whisk together flour, baking powder, baking soda, and salt. Set aside.
Beat butter and sugar until fluffy. Add eggs, one at a time, beating just until combined after each addition. Mix in vanilla.
Gradually add dry ingredients, mixing just until combined. Stir in sour cream and mix just until combined.
Transfer batter to prepared pan. Top batter with spoonfuls of cream cheese swirl. Use an up and down motion with a knife to swirl. Sprinkle crumb mixture evenly over top of cake.
Bake 40-45 minutes, or until a toothpick inserted into the center comes out clean.
http://www.bakeorbreak.com/2012/03/cinnamon-cream-cheese-coffee-cake/
Copyright 2016 Bake or Break
This post contains affiliate links.