July 9, 2014
Peanut Butter and Jelly Icebox Pie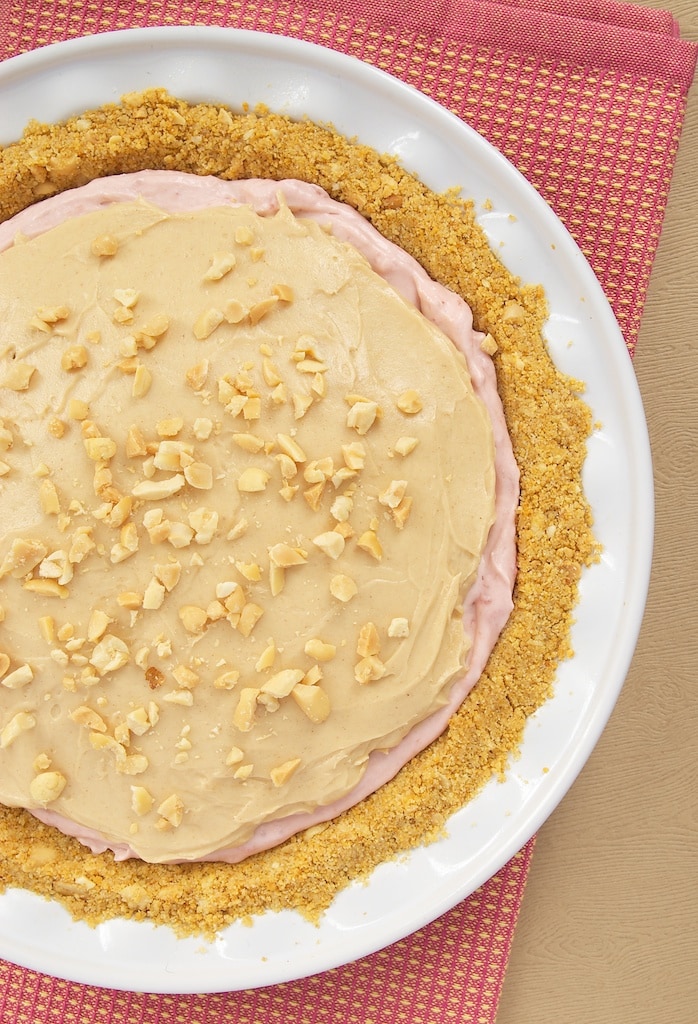 If you subscribe to my monthly newsletter, then you know that I've had chilled desserts on my mind lately. We are just starting to experience some super hot days here, and I find that a little bit of a cool dessert goes a long way toward helping my intense dislike of the heat.
This particular icebox pie benefits from the always popular combination of peanut butter and jelly. It features two different fillings – one made with peanut butter, the other with preserves. The result is a layered dessert that's sweet and nutty all at the same time.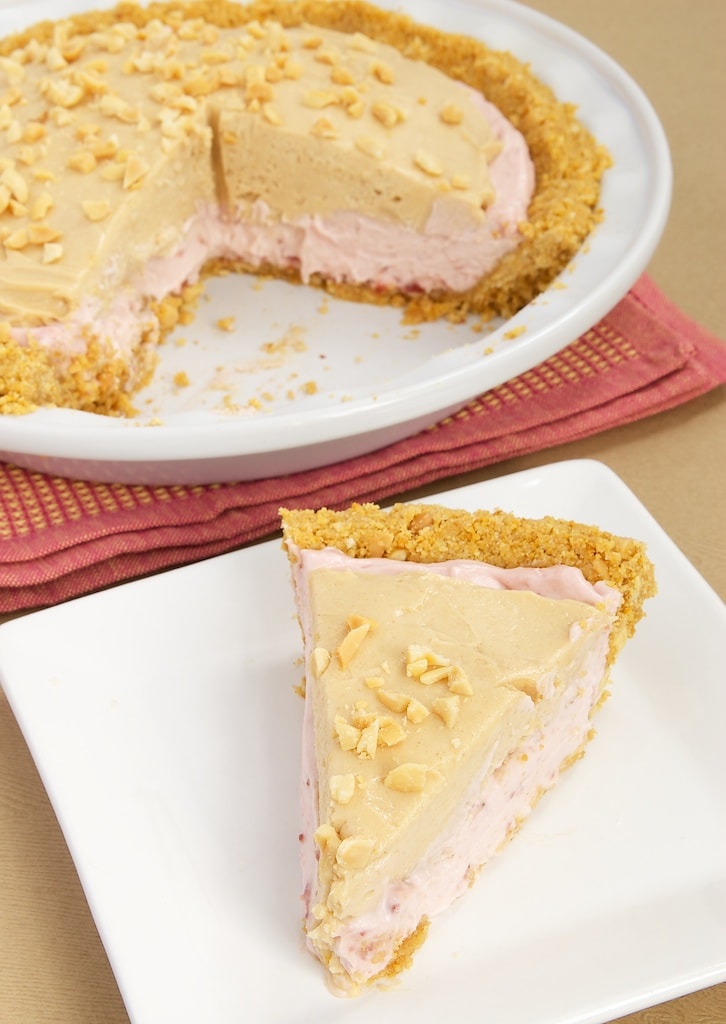 Making the two different fillings is much less labor-intensive than it sounds. You just make one filling, divide it in half, and then make the two fillings from there. You'll use an extra mixing bowl, but the increase in effort is negligible.
Although my sandwich preferences tend toward grape, I usually use strawberry with my peanut butter when I'm making dessert. You can, of course, use your favorite flavor of preserves to suit your tastes.
Peanut Butter and Jelly Pie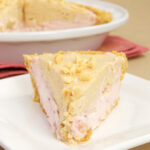 Ingredients
For the crust:

1 & 1/2 cups graham cracker crumbs
1/2 cup finely chopped peanuts
1/2 cup unsalted butter, melted
1/3 cup granulated sugar

For the filling:

8 ounces cream cheese, softened
1 cup confectioners' sugar
1 teaspoon vanilla extract
1/2 cup creamy peanut butter
1/2 cup strawberry preserves
1 & 1/2 cups heavy cream
Instructions
To make the crust:
Preheat oven to 350°.
Combine graham cracker crumbs, peanuts, butter, and sugar until throughly mixed. Press firmly and evenly into a 9-inch round pie plate.
Bake 10 minutes. Set aside to cool.
To make the filling:
Using an electric mixer on medium speed, beat cream cheese, confectioners' sugar, and vanilla until smooth.
Place half of cream cheese mixture in a separate mixing bowl. Add preserves and mix well.
Add peanut butter to remaining cream cheese mixture and mix well.
Place cream in a large mixing bowl. Using an electric mixer with a whisk attachment, beat at medium-high speed until soft peaks form.
Gently fold half of the whipped cream into the preserves mixture, mixing just until combined. Spread mixture in the cooled crust.
Gently fold the other half of the whipped cream into the peanut butter mixture, mixing just until combined. Spread mixture on top of the preserves mixture.
Refrigerate for 4 hours, or until set. Keep pie refrigerated.
http://www.bakeorbreak.com/2014/07/peanut-butter-and-jelly-icebox-pie/
Copyright 2016 Bake or Break
This recipe was originally developed in my continuing collaboration with Go Bold with Butter.