March 27, 2014
Hazelnut-Chocolate Chip Brown Butter Blondies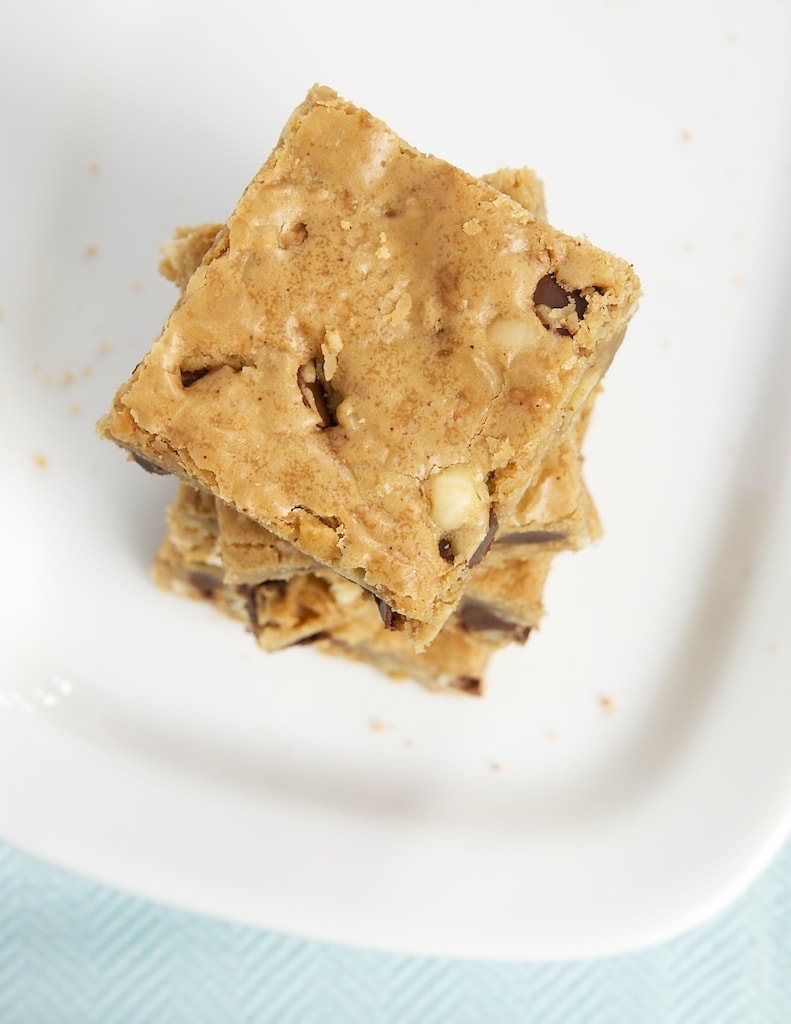 With spring comes spring cleaning. Specifically, I get an overwhelming urge to clean out my pantry. And, by pantry, I mean those couple of food-containing cabinets in my expectedly small New York apartment. The lack of space is good in that I don't tend to hoard ingredients, but it doesn't take long for it to have that feeling that it could all fall out on me when I open the doors.
Of course, with that cleaning comes the discovery of some ingredient odds and ends. I must confess that some of my favorite things I've baked have been a result of a little pantry purging. Combining handfuls of this or that can lead to a really great treat. And, that is exactly what we have here. A wonderfully delicious blondie packed with so many good things that I couldn't even attempt to include them all in the title of the recipe.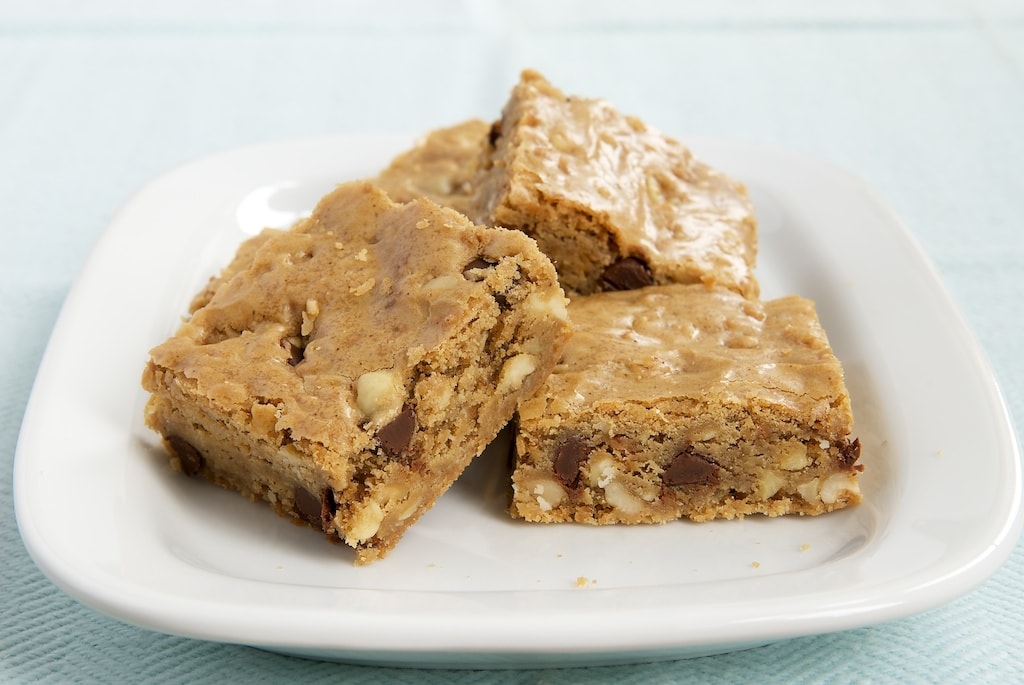 I opted for a denser blondie than I usually make. I also decided to go big flavor-wise by using browned butter. Hey, if you're going to melt the butter anyway, why not brown it? I just love the rich, nutty flavor it adds.
Then come all the extras. My first thoughts for add-ins usually turn to chocolate and nuts, so I made good use of chocolate chips and hazelnuts. Then I added in some toffee bits for a little crunch and for upping the buttery, brown sugar-y flavor.
These blondies are so wonderfully rich and flavorful. They are so adaptable, too. Substitute your favorite add-ins or do a little pantry purging and see what you can find to spruce up your blondies.
Hazelnut-Chocolate Chip Brown Butter Blondies
Yield: 24 2-inch bars
Prep Time: 20 minutes
Cook Time: 30 minutes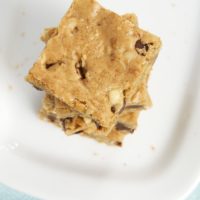 Ingredients:
1 & 1/4 cups unsalted butter
2 cups all-purpose flour
3/4 teaspoon baking powder
1/2 teaspoon salt
2 cups packed dark brown sugar
2 large eggs
2 teaspoons vanilla extract
1 cup coarsely chopped hazelnuts
3/4 cup semisweet chocolate chips
1/2 cup toffee bits
Directions:
Place butter in a medium saucepan. Cook over medium heat until butter melts and begins to foam.
Continue cooking, stirring occasionally, until brown specks begin to form at the bottom of the pan and the butter has a nutty aroma. Remove pan from heat and allow to cool slightly. If desired, strain the butter to remove the browned bits.
Preheat oven to 350°. Grease a 9″x 13″ baking pan.*
Whisk together flour, baking powder, and salt. Set aside.
Using an electric mixer on medium speed or mixing by hand, combine brown sugar and browned butter. Add eggs, one at a time, mixing well after each addition. Mix in vanilla.
Reduce mixer speed to low. Gradually add flour mixture, mixing until there are a few streaks of flour remaining.
Stir in hazelnuts, chocolate chips, and toffee. (Dough will be thick).
Transfer dough to prepared pan and spread evenly.
Bake 20 to 25 minutes, or until golden brown and a pick inserted into the center comes out clean.
Notes:
*If you want to make a smaller batch, simply half the ingredients and bake in an 8-inch square or 9-inch round pan.