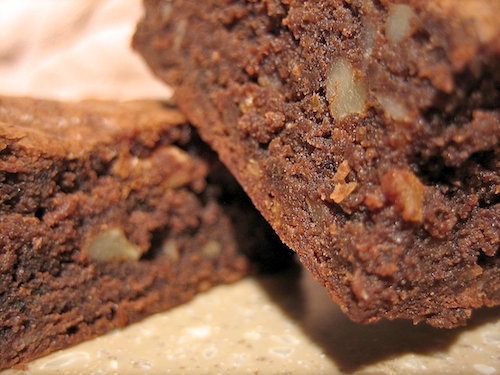 At first look, this recipe doesn't seem quite right. There are only 5 ingredients, and not one of them involves flour, sugar, or any standard baking ingredient. However, the combination of ingredients come together magically to become a very, very, very good brownie.
This recipe is from one of my most often consulted cookbooks, The Ultimate Southern Living Cookbook. There is a new version of this cookbook, but I don't know if the recipe is included. I didn't find the recipe on their website, although they do have quite an extensive recipe collection.
In a saucepan over medium heat, combine 1 cup of semisweet chocolate chips, 1/2 cup of peanut butter (creamy or chunky), and a 14 ounce can of sweetened condensed milk. Stir constantly until chocolate melts and the ingredients are well mixed. Next, remove the pan from heat and stir in 1/2 cup of toasted chopped pecans and 2 cups of chocolate graham cracker crumbs.
Press the (very thick) batter into a generously greased 8″x8″ pan. Bake at 350 degrees for 22 to 24 minutes.
The best description Quinn and I can come up with for these brownies is "surprisingly good." Our only complaint was that we didn't have any ice cream to top them off.